The Coolest Cafés in the World for Book Lovers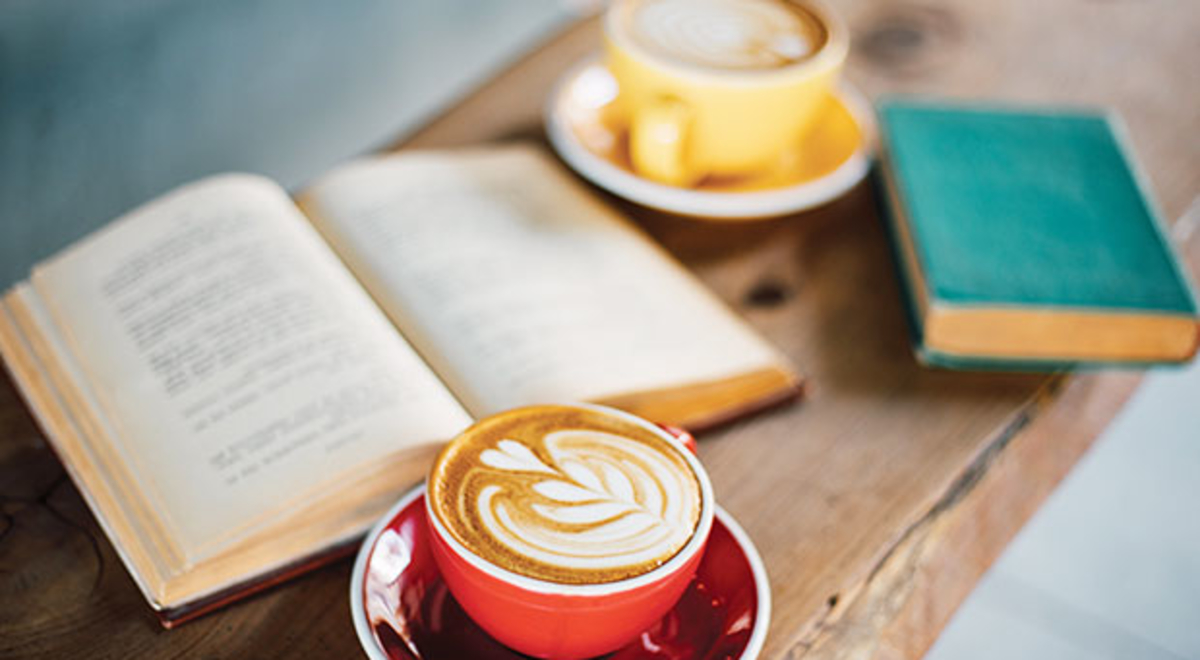 ---
---
The immeasurable power of the written word is both uplifting and transportive. It can erase cultural boundaries, racial differences, and nations' borders. Not only does literature expand our minds, but it also dares us to imagine, challenges convention, and gives birth to independent thoughts that can help push humanity forward. For all the book worms and lovers of prose, here we celebrate reading and take a look at some of the best cafés in the world for book lovers, as well as those that helped shape literary history:
Bookhemian, Phuket Town, Thailand
Address: 61 Talang Road, Talad Yai Subdistrict, Phuket Town, Phuket 83000, Thailand
Located in Old Phuket Town, Bookhemian's minimalistic shop offers a quiet refuge for those wanting a break from Thalang Road's bustling markets and vintage stores. Within the narrow confines of its concrete walls is the living space of a Sino-Portuguese townhouse stripped bare and repurposed as a dining room. Like the rest of Old Phuket Town, the coffeehouse is a mix of traditional Thai charm and raw urban grunge. Inside, customers can order Bookhemian's signature cold drinks, lattes, and dessert, and browse the rows fully stocked metal bookshelves for art and design magazines, photography books, and both English and Thai language novels.
Recommended Reading: "Bangkok Wakes to Rain" by Pitchaya Sudbanthad – An evocative portrait of Bangkok chronicled through the lives of several of its inhabitants, both past and present.
New Leaf Eatery, Siem Reap, Cambodia
Address: No. 306 Street 9, Group 10, Phum Mondul 1 Svay Dungkum, Siem Reap, Cambodia
A small, unassuming venue just off Siem Reap's busy 'Pub Street', New Leaf is hyper-local to the core. Both an authentic Cambodian eatery and a second-hand bookstore, the restaurant offers a sunlit dining room for travellers to slow down with a good book. It started in 2013 when a pair of expat volunteers at a nearby school decided to build a sustainable business that could help fund local education initiatives and charities. The result is a coffeehouse that sources locally grown Robusta coffee beans from farms in the Annamite Mountains and roasters in Phnom Penh. So far, it has contributed over $50,000 CAD to education, employment, and youth programs in the region. 
Recommended Reading: "The Lost Executioner" by Nic Dunlop – a photojournalist hunts down Comrade Duch, head of Khmer Rouge secret police and Pol Pot's chief executioner, who was responsible for the death of roughly 20,000 political prisoners during the regime's reign of terror.
Anjin, Tokyo, Japan
Address: 2F Tsutaya Bldg. II, 17-5 Sarugakucho, Shibuya-ku, Tokyo, Japan
An ultramodern library lounge on the second floor of one Japan's most prominent book stores, Tsutaya Books, Anjin resembles a 5-star hotel bar rather than a neighbourhood café in Daikanyama. The contemporary space, complete with plush leather sofas, Edo-period inspired gilded murals, and shelves brimming with Tsutaya Books' vast collection of international titles, rare books and magazines, is unmatched by any other bookstores in the area. Besides having a warm, dimly-lit, and relaxed ambience, Anjin also offers guests a gourmet food and drink menu on iPads.
Recommended Reading: "The Setting Sun" by Dazai Osamu – An aristocrat family is forced to suffer through the travails of the working class as each member struggles to come to terms with the loss of wealth, status, and social identity in postwar Japan.
Café Tortoni, Buenos Aires, Argentina
Address: Avenida de Mayo, 825, Buenos Aires 1084, Argentina
A favourite hangout for some of Argentina's most respected luminaries, artists, and intellectuals for over a century, Café Tortoni remains relatively unchanged since it was built in 1858. Modelled after 19th-century Parisian coffeehouses, Tortoni is a beautifully preserved cultural landmark made of Tiffany stained glass ceilings, chandeliers, marble top tables, and antique wood-panelled walls. In the back corner stand the wax figures of Jorge Luis Borges and other literati at their regular table, surrounded by paintings, sketches, photographs, and bronze busts that illustrate Tortoni's storied past. Although not the most casual café along Avenida de Mayo, it's one with the most history, decadent chocolate desserts, and some of the best El Submarino and café con leche in the city.
Recommended Reading: "Ficciones" by Jorge Luis Borges – Named one of Le Monde's 100 books of the century, Ficciones features a collection of Borges best short stories.
Café Pushkin, Moscow, Russia
Address: Tverskoi Blvd., 26A, Moscow 125009, Russia
Set within a centuries-old nobleman's mansion, Café Pushkin lets diners relive the glory of czarist Russia with an equally posh fine-dining menu to match. For fans of Alexander Pushkin, the venue captures the grandiose and extravagance of the poet's era. Parts of the dining room centre around a 19th-century library, complete with antique telescopes, artifacts, and Baroque bookcases filled with rare books that reach the ceiling. You'll also find the staff dressed like house servants moving about the grand halls offering old Russian greetings while violins and live music resonate from the dining rooms.
Recommended Reading: "The Bronze Horseman" by Alexander Pushkin – Arguably Pushkin's most successful narrative poem, it ushered in modern Russian literature and inspired countless Russian writers.
Housing Works Bookstore Café, New York, New York
Address: 126 Crosby St., New York, NY
Operated almost entirely by volunteers, this downtown Manhattan bookstore generates funds for Housing Works, a non-profit organization that provides support services for homeless people living with HIV/AIDS. With two floors of completely donated literary stocks, book collectors will have no problem finding both fiction and non-fiction titles, rare books and vintage comics. In the back of the store, there is a café that serves coffee, pastries, sandwiches, and wine and beer – all things that help fuel hours of reading.
Recommended Reading: "Empire City: New York Through the Centuries" by Kenneth T. Jackson and David S. Dunbar – An anthology of the best literary writing and essays about New York from politicians, journalists, philosophers, and people connected to the city through the centuries.
Battery Park Book Exchange and Champagne Bar, Asheville, North Carolina
Address: 1 Page Ave, Ste 101, Asheville, NC 28801
Good wine, coffee, and music – all things that a bibliophile thrives on are conveniently gathered in this used bookstore and bar lounge. With an eclectic collection of over 35,000 books occupying two levels of space, Battery Park Book Exchange is a maze of shelves connected by exotically decorated conversation pits. Among its clusters of varying Persian rugs, leather couches, tables, and ottomans are menus for Champagnes, wines, and espresso drinks named after writers including Thomas Wolfe, Carl Sandburg, and Zelda Fitzgerald. Visitors can also order charcuterie and sit in on a live jazz session.
Recommended Reading: "The Web and the Rock" by Thomas Wolfe – An autobiographical novel about a young writer's personal evolution while living in 20th-century New York.
Vesuvio Café, San Francisco, California
Address: 255 Columbus Ave., San Francisco, CA
Imagine if Jack Kerouac, Allen Ginsberg, and Neal Cassady walked into a bar – now pause for a long, meandering, and nihilistic punchline. In the 1950s, San Francisco's North Beach was an incubator for the Beat Movement. Radical and bohemian writers spent nights at the Vesuvio Café, attempting to pen the next great American counterculture lore. Then, subsequently alternating between bouts of drowning in broken proses, caffeine, and cheap drinks. Synonymous with Beat Generation mecca, Vesuvio is where fans of the literary movement can pull up a chair and order a "Jack Kerouac" rum cocktail and marvel at walls of disorienting psychedelic artwork. Outside, the Jack Kerouac alley connects the café to Chinatown with flowing murals adorned with poetry verses. While the iconic City Lights Bookstore, established by Vesuvio regular and Beat poet, Lawrence Ferlinghetti, is just across the street.
Recommended Reading: "The Dharma Bums" by Jack Kerouac – A story of two men's adventure through California in the 1950s while pursuing the Zen Buddhist way.
Café Gijón, Madrid, Spain
Address: Paseo Recoletos 21, 28004 Madrid, Spain
A cultural landmark right across from the National Library of Spain, Café Gijón was a popular meeting place for artists, writers, and intellectuals throughout the 20th Century. Since it began operating in 1888, the café entertained patrons such as Benito Pérez Galdós, "Generation of 36" artists, and American writers and Hollywood stars including Ava Gardner, Orson Welles, and Truman Capote. With an outdoor terrace, ground level café, upstairs bar, and a formal dining room in the basement, the café offers a wide selection of drinks, canapés, and dishes named after its most renowned patrons.
Recommended Reading: "Fortuna and Jacinta" by Benito Pérez Galdós – Considered Galdós' masterpiece, the story explores two married women's turbulent lives set against Madrid's intricate social classes in the 1870s.
The Winding Stair, Dublin, Ireland
Address: 40 Lower Ormond Quay, Dublin 1, Ireland
Named after William Butler Yeats' poem, The Winding Stairs is one of Dublin's oldest independent bookstores. Set within a heritage building across from the Ha'penny Bridge, the bookstore was a favourite hangout for bibliophiles during 70s and 80s but shuttered in the early 2000s due to bankruptcy. It reopened again in 2006 under new owners and renovated to include a second-floor café-style restaurant overlooking the River Liffey. On the menu are micro-brewery beer, modern Irish-inspired dishes, desserts, and an extensive wine list. Book lovers can swing by the cozily arranged first-floor bookstore that resembles the living room of a country house before ascending an 18th-century spiral staircase for a pint of Irish red ale.
Recommended Reading: "The Winding Stair and Other Poems" by William Butler Yeats – a collection of poems that include some of Yeats' most celebrated works.
Les Deux Magots, Paris, France
Address: 6 place Saint-Germain des Prés, 75006 Paris, France
Before it became a tourist landmark, Le Deux Magots was a favourite rendezvous for Existentialist writers, Surrealist artists, and literary powerhouses. This Parisian institution, once frequented by John-Paul Sartre, Albert Camus, James Joyce, and Ernest Hemingway, remains central to the neighbourhood of Saint-Germain-des-Prés. In the middle of the dining room, the café's namesake, two antique Chinese figurines (magots) watch from above the pillar as silent witnesses to decades of uninhibited exchange of ideas. Today, its lively terrace is a testament to the café's enduring popularity. Since 1933, Le Deux Magots has hosted the literary award, "Prix des Deux Magots", which celebrates less mainstream literary works.
Recommended Reading: "The Wall" by Jean-Paul Sartre – A collection of short stories with the Spanish Civil War as the backdrop and delves deep into the core of Existentialism and the human condition.
Café Central, Vienna, Austria
Address: Herrengasse 14, Corner Herrengasse / Stauchgasse, Vienna 1010, Austria
For the Viennese, imbibing a cup of fresh brewed coffee at their favourite coffeehouses is a daily ritual as vital as breathing. Among the many historic coffeehouses that dominate the streets of Vienna, Café Central is the oldest and most revered. Once a bustling social hub frequented by intellectuals, scholars, and revolutionaries like Leon Trotsky, Joseph Stalin, Theodor Herzl, and Sigmund Freud, the café remains popular among locals and tourists even today. With a palatial interior propped up by marble columns reaching vaulted ceilings and a dining room lit by chandeliers and grand windows, the café embodies the quintessential 19th-century coffeehouse. Not only is it celebrated for its rich literary history, but Café Central is also where you'll find every type of authentic Viennese coffee with whipped cream and delicately-made Austrian pastries and dessert.
Recommended Reading: "Vienna 1900 Complete" by Christian Brandstatter, Daniela Gregori, Rainer Metzger – An extensive compilation of nearly 1,000 images capturing all artistic fields, philosophical, intellectual movements bubbling in Vienna at the turn of the 20th century.
Imagine yourself at these places with good reads, wine, and coffee? Well, imagine no more, contact our Expert Travellers today and check out these stunning Cafés for yourself, call 1877-967-5302, or visit us in-store for more!