Cross The Pond With Alan Cross: An Epic London Music Tour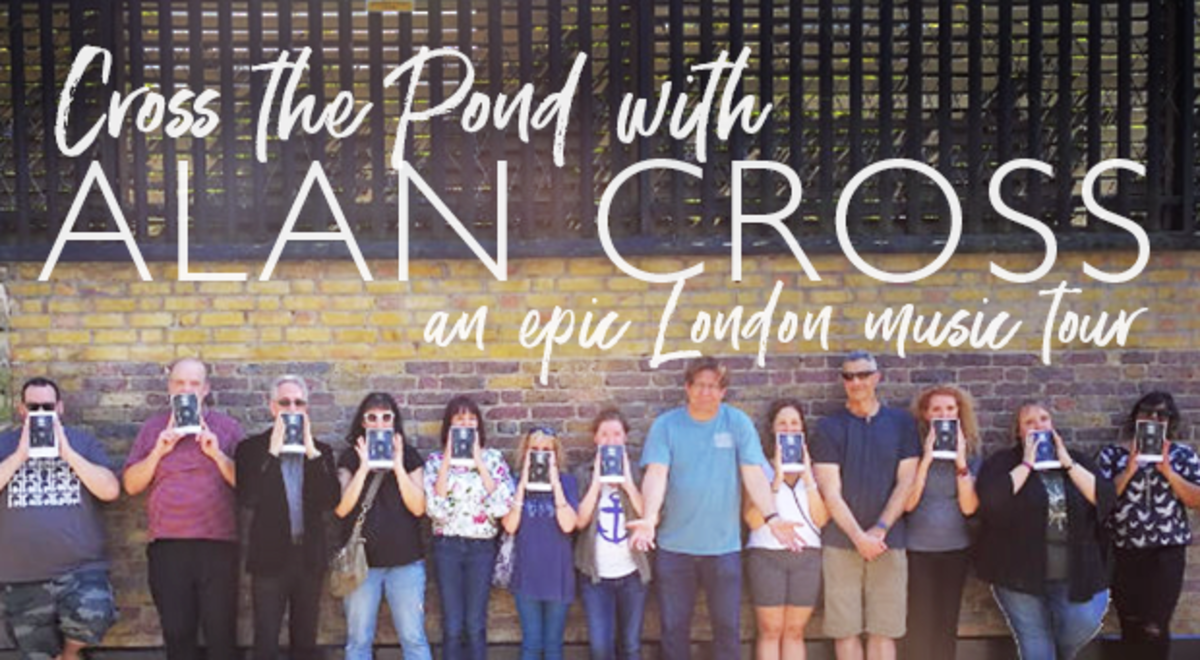 ---
---
Twelve radically different people. One VIP Canadian broadcaster. Seven days together in a foreign land. One common thread linking them all. What happened next? Stay tuned to find out.
No, this isn't a new reality show. I'm talking about an exclusive Flight Centre music tour, tailor-made by our group travel experts, that brought some of Canada's biggest music fans together. Over 7 days, we toured London's most famous (and more often than not, infamous!) musical landmarks. How does one sum up our unforgettable week? We rocked, we walked, we talked, we shocked (and in some cases, stalked.)
Alan Cross points out a few reasons why London rocks.
Alan Cross, the celebrated host of Canada's longest-running documentary radio show, The Ongoing History of New Music, teamed with Flight Centre to offer music fans this tailor-made tour of London. The English capital revolutionized modern music and produced some of the best bands in history. Our tour group discovered them up close and personally with Alan and passionate local guides. (If you or your friends are interested in joining our next Alan Cross music tour, don't miss the link to Alan's poll at the end!)
From Queen to The Queen (and everything in between!)
In London, history is everywhere. Priceless artifacts and architecture spanning centuries are omnipresent. The Middle Ages to the modern monarchy (incidentally, Harry and Meghan got hitched the week we were there) dovetail into one of Europe's most intriguing narratives. One just needs to walk a block to encounter bricks engraved with a 16th century date, or the blue heritage plaques honouring the notable people and events associated with a building.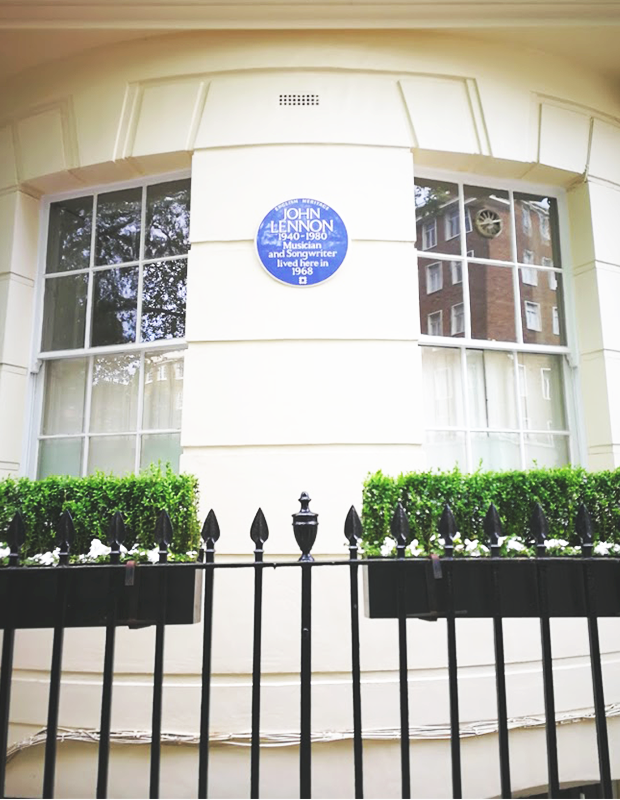 I spy with my little eye, the blue heritage plaque of a famous guy.
On a similar (musical!) note, music history abounds in London. If walls could talk, as the saying goes, in London they'd croon songs that changed the world. Or whisper the colourful stories and dark secrets of the famed musicians once housed within them. They'd creak with the choruses of Lennon and McCartney, or echo the lyrics scrawled on a pub napkin by Pink Floyd members (Not-so-deep thought: that would be a wall, singing from The Wall.)
There are few cities that rival London's sheer volume and variety of music. To quote Alan Cross, "How can a rainy island in the North Atlantic produce such great music over so many decades? Let's see if we can find out over the next seven days."
Top 5 Alan Cross Music Tour Highlights
Oh, and did we ever find out!  While I would love to tell you all about it, rock n' rollers know that what happens tour, stays on tour. Sorry folks.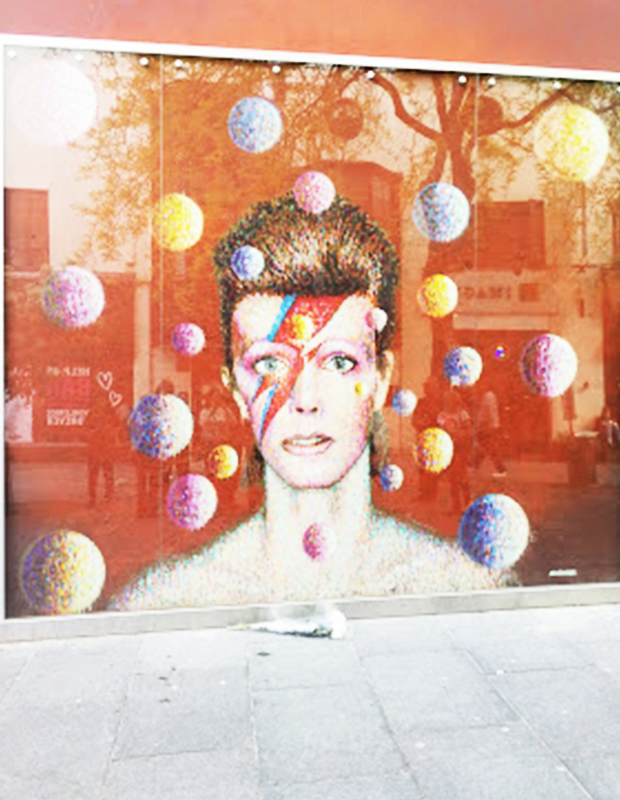 The David Bowie as Ziggy Stardust mural in his birthplace and hometown of Brixton, London.
Just kidding! Over those seven enlightening and exciting days, there were so many high notes on the Alan Cross music tour, to narrow down the top ones is a challenge, but here goes!
1. Rock 'n Roll Establishments
As any self-respecting punk rocker knows, it's all about being anti-establishment, so if this seems counter-intuitive, hear me out! I'm referring to the establishments that hold a myriad of musical memorabilia. Shrines to the gods of rock n' roll.
a) The Vault at the Hard Rock.
There are hundreds of Hard Rock Cafes across the globe, but London is home to the world's first. Despite having enjoyed beach vacations at two Hard Rock Resorts in Mexico, the brand wasn't relevant to me like once was. That all changed when the tour stopped at the original London outpost. I'd suggest it to any music fan and had to stop myself from spending on souvenirs. Beneath the flagship gift store is The Vault, a surreptitious, subterranean music museum that houses precious pieces once owned by rock n' roll's biggest names.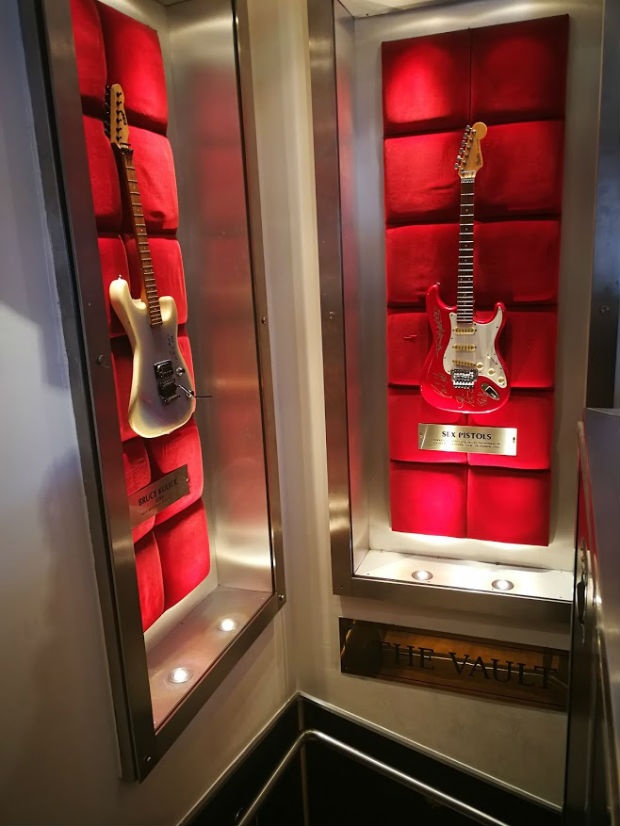 A signed Sex Pistols guitar from their reunion tour points the way deep into The Vault at Hard Rock Cafe, London.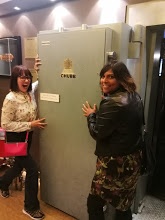 The writer and tour member Courtney make a successful attempt at entering The Vault (that's the original one from the old bank.)
The Vault gets its name from its past function, the vault of the former bank that once occupied this impressive building. You need a Hard Rock rep to get down inside The Vault, where you can experience iconic artifacts like:
John Lennon's hand-written lyrics to Instant Karma;
Acoustic, electric and bass guitars owned by Slash, Gene Simmons, Bob Dylan, Jimi Hendrix, David Bowie, Kurt Cobain and U2's Adam Clayton;
Madonna's cone-shaped Jean-Paul Gaultier bustier worn on her Blonde Ambition Tour;
Custom-made stage outfits worn by Elvis Presley, Eric Clapton, The Who and more.
Princess Diana supposedly tried on her top-secret wedding dress in this space. I took that story with a grain of salt, but our guide recited it as fact. Speaking of salt, enjoy some with a lemon and tequila inside the Hard Rock's Back Room across the street. Our group enjoyed cocktails and the VIP vibe in this jewel box of a room, which true to Hard Rock form, features significant UK music memorabilia.
b) Handel & Hendrix Museum.
Two music legends resided— albeit in different centuries—- within the walls of this soaring, stacked Georgian-period home, now a museum devoted to their musical lives. The composer Handel chose London as his adopted home and went on to write his greatest compositions there. 200 years later, a young American man named Jimi Hendrix lived this same story. (Can you say, "baroque n' roll"!?)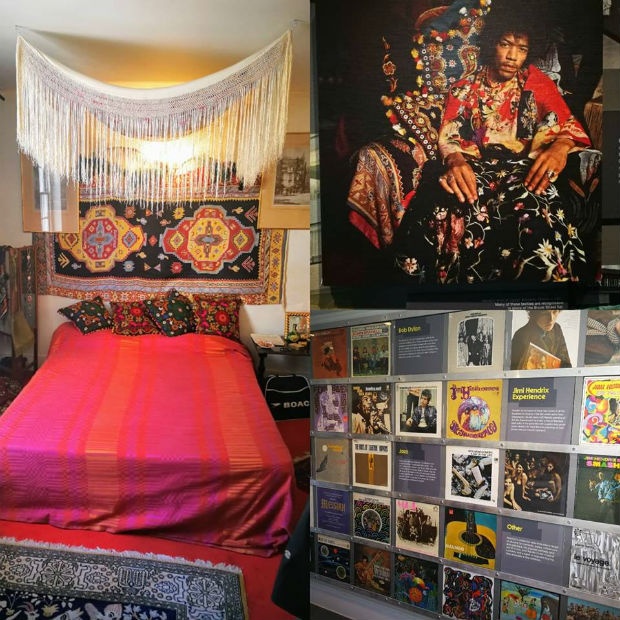 Clockwise from left: Jimi's bedroom as it as when he lived in the Mayfair house. A promotional shoot, showcasing the colourful fabrics he searched for in Portobello Market. A part of his record collection (which incidentally featured Handel's Messiah, a nod to the esteemed former resident.)
Since this is a modern music blog, I'm going to say Roll Over Beethoven, er, Handel, and focus more on Hendrix. I didn't know that much about him before, but the thoughtfully-curated, tiny museum for this larger-than-life rock icon, intrigued me. Things I found particularly poignant were:
Jimi's left-handed guitar and the touching stories associated with it (for example, his strict, religious father forced young Jimi to play with his right hand, as he believed the left was The Devil's hand);
a short, engaging documentary about his early life, rife with struggles in a poor Seattle neighbourhood, his military service as a paratrooper and his obsessive-guitar playing that got him gigs with bands and led him to drop out of school;
the original DigiTech pedal behind Jimi Hendrix & The Experience's distinctive sound;
the bedroom that is decorated as he had it, the museum doesn't take long to go through but left me with impression that I know will last a long time.
c) Sticky Fingers. This American-style diner is owned by Bill Wyman of the Rolling Stones.  I'll be honest, the burgers and fries our group ordered were nothing to write home about (even though I kinda am right now!) however the place is lined with Stones memorabilia and photos, so any fan should roll in for at least a milkshake, or something stronger.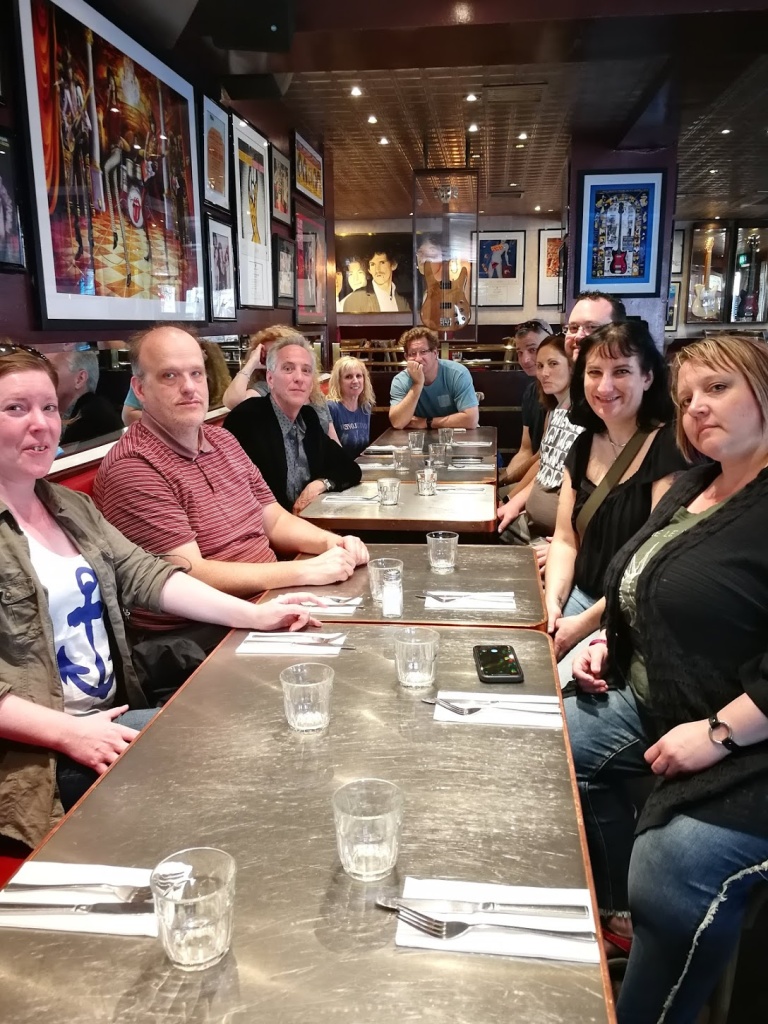 Alan Cross and some of Canada's biggest music fans lunch at Billy Wyman's Sticky Fingers (aptly named after the Stones album.)
d) The Clissold Arms. Thanks to our stealth local guide Lee from London Rocks (more on him a bit later) we were able to gain access into a closed pub (it was a Monday, when many close.) Sure, we were thirsty, but the ambush was to see The Kinks lounge, decorated wall-to-wall with Kinks memorabilia. One only needs to look out the lounge windows onto Denmark Terrace to see where the Davies brothers grew up and the distinct Kinks sound was born.
2. Celebrity House-Hunting
On the earlier subject of reality shows, this sounds like another one, but have no fear, I'm talking about the group touring houses belonging to celebrity musicians. Among the artists whose former and current homes we saw:
David Bowie. The birthplace of David Jones, later known as David Bowie, is a home in Brixton. To any passerby, there is nothing out of the ordinary, but one of the many advantages of this music tour was having a guide with us to take us there (incidentally Bowie fans, the house next to it is currently for rent!) A stone's throw away, across from the Brixton Underground station, is a stunning mural painting of Bowie's alias, Ziggy Stardust. The morning we visited, a fresh bouquet of flowers from a fan lay at the foot of the mural.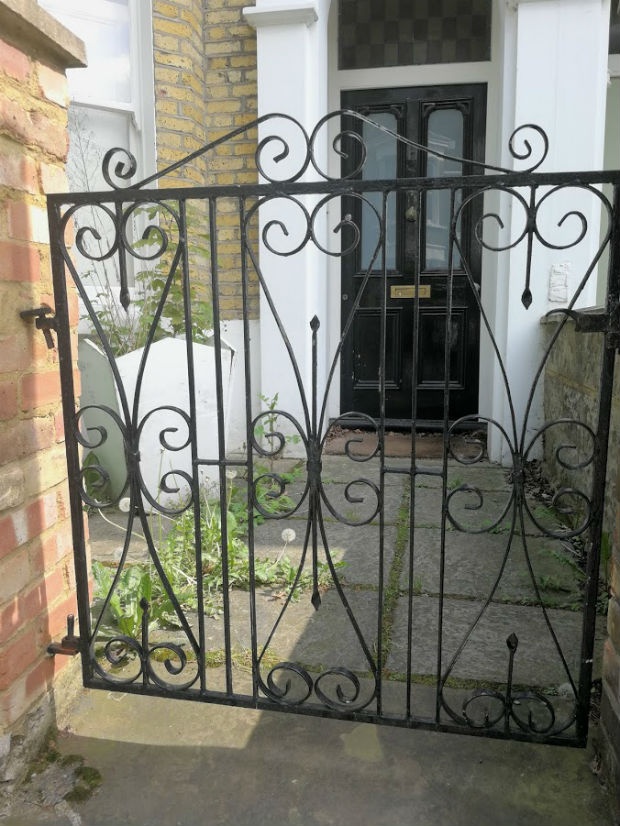 David Bowie's birthplace in Brixton, UK
Eric Clapton. That stalking I mentioned earlier? Thank goodness for those local London guides. How else would we get to see where living legend Eric Clapton resides?  Furthermore, without our guide, two of our tour's enthusiastic Clapton fans ventured out the following day to spot him— and only had to wait ten minutes!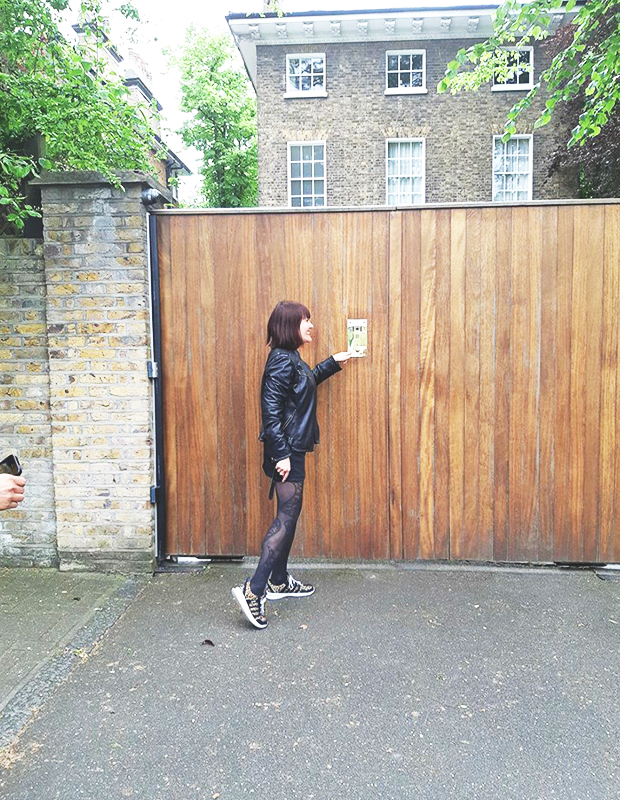 Oh, that's me just popping in on Sir Paul. A few seconds later, a blackbird flew by (we then realized it was a magpie. Too bad, how fitting to see a 'blackbird' at a Beatles house!)
Paul McCartney. In 1965, Paul married the love of his life Linda (for the young peeps, that was Stella's mum!) and this was their first matrimonial home. He still owns it to this day. So, we all piled out the tour bus and there was Sir Paul waving for us to come inside for a friendly chat and cup of tea! (Just joking.) In reality, we attempted to have a closer look, but the massive wall and security camera made it rather difficult. But we at least tried to say cheerio. Would've been rude not to, right?
Freddie Mercury. Another big wall surrounds the home of the late Freddie Mercury of the legendary band Queen lived. As a private residence we had to respect her space, but thankfully our guide had photos to give us a closer look at the house and grounds, including ones with Freddie pictured there. Three decades after his death, fans were still paying their respects (some might argue disrespectfully, as they were inclined to write on the stone walls), plexiglass has now been installed over the brick to prevent this.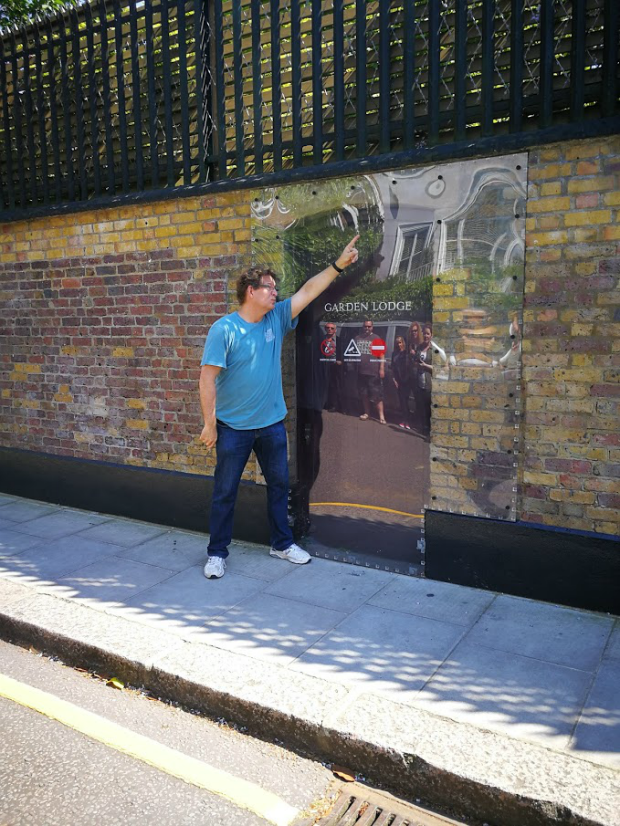 Alan Cross pays homage to Freddie Mercury outside the music legend's former home, still occupied by Mary, his ex.
Jimi Hendrix. We enjoyed our tour of Hendrix's former home, now the museum, but we also visited the house where he passed at the tender age of 27. Perhaps it was the overgrown ivy, or dusty windows, but there was a hallowed and somber atmosphere to the unassuming townhouse where he took his last breath.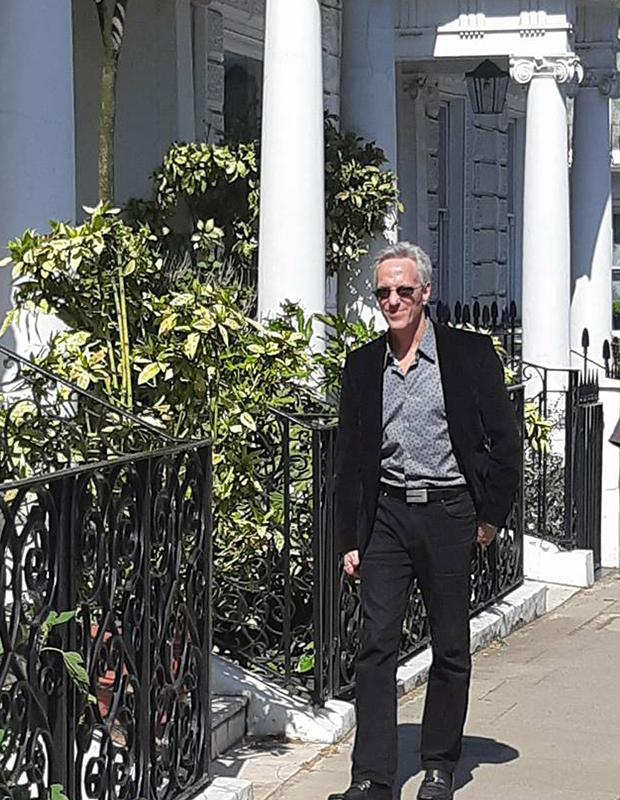 Tour member Brian outside the house and site of Jimi Hendrix's untimely death. Image credit: Jacqueline Watson, Flight Centre.
Amy Winehouse. Like Hendrix, Winehouse was another music legend who left us too soon at 27.  For me, it was tragically poignant seeing the Camden Town residence the paparazzi and media made us come to know so well. It was the backdrop of the young singer's shaky personal life, as well as posthumous documentary. Across the street from the house is a large tree, decorated by fans to this day in her honour. Particularly striking to me were Band-Aids stuck to the bark, recalling her bandaged heart tattoo. Beyond that is the park where she would write her ingenious poetic lyrics, and the very bench she sat on.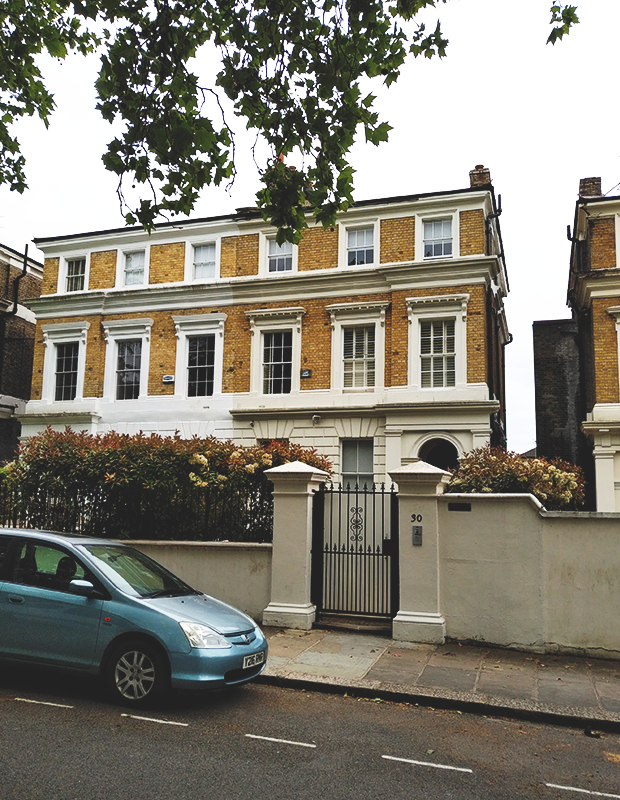 The Camden Town house where Amy Winehouse resided until her death in 2011.
Jimmy Page. Similarly, we happened to find out where this Led Zeppelin legend resides. Page's is a gorgeous turreted house, yet it still lacked the pretension and security of some other homes — namely that of his next-door neighbor, Robbie Williams. (Some of our rock n' rollers on tour didn't know pop star Williams, who is a household name in Britain. Others probably just didn't want to admit it!) Robbie's high walled security and egregious additions to his home have not made Mr. Jimmy Page terribly pleased recently.
3. Famous album covers brought to life
Millions of tourists each year flock to Abbey Road, featured on the Beatles album of the same name and where the world's most famous recording studio, Abbey Road Studios, is located. Incidentally, a disproportionate percentage of those tourists narrowly escape getting hit by oncoming traffic, attempting to recreate the cover. So of course, we did just that and thankfully kept our bones and limbs intact.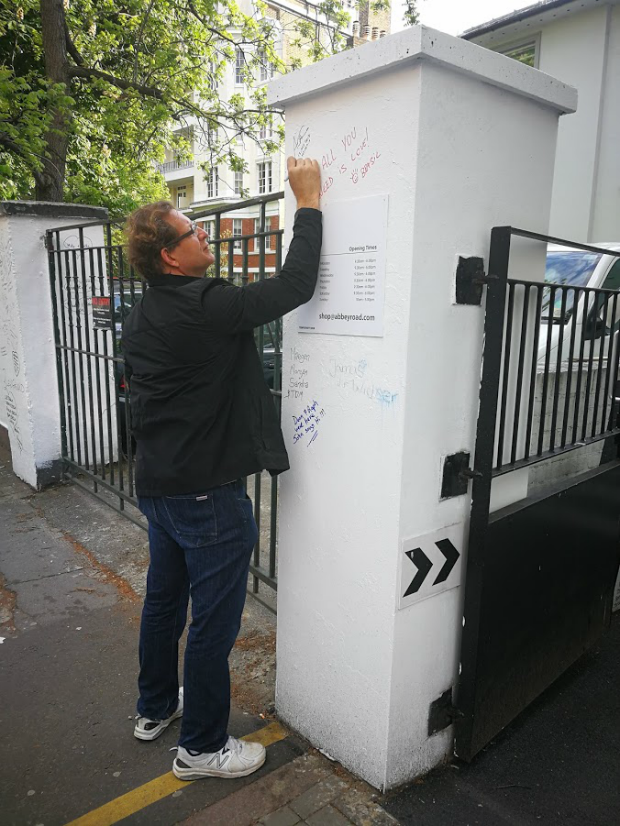 Alan signs Abbey Road Studios (no concerns of vandalism necessary -- ARS encourages it, if the $5 markers at sale for the gift shop are any indication!)
Also on our packed itinerary was driving to see the monolithic Battersea Power Plant, which dominated the album cover of Pink Floyd's Animals. Alan provided us with a humorous story on how the album cover's floating pig came to be (and no, there wasn't one in the sky when we visited.)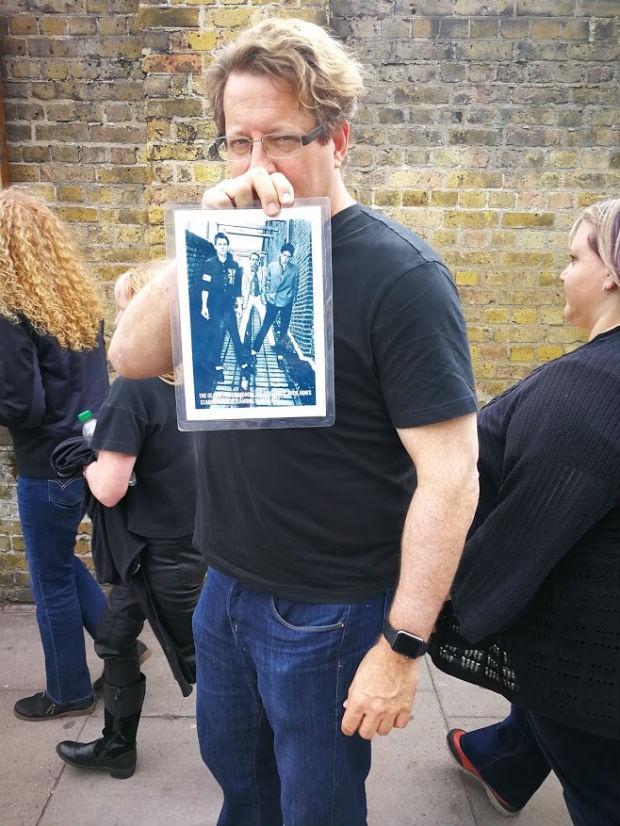 Alan Cross shows the cover of The Clash's self-titled album.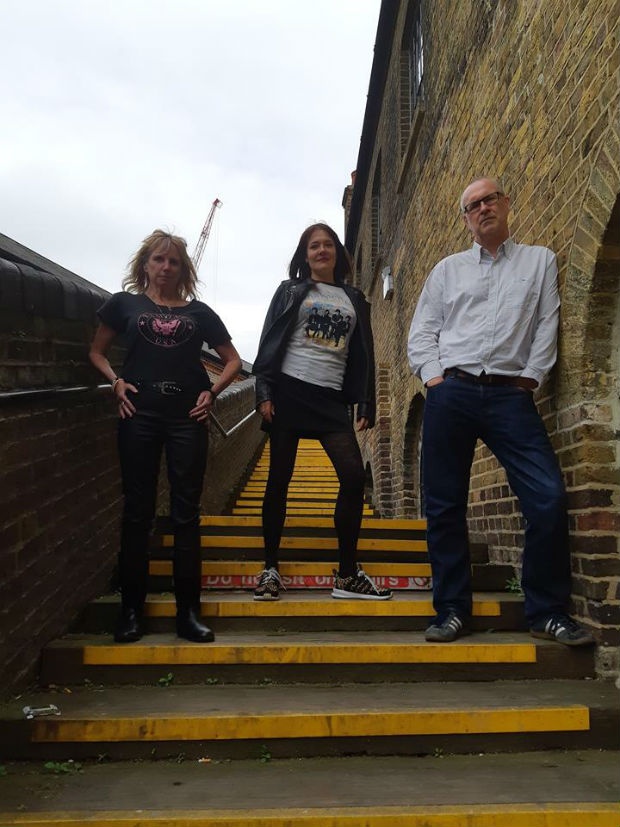 And voila! The recreation, on location in Camden Town.
At the risk of sounding like a broken record (pun intended), having an insider guide proved indispensable for bringing other British albums to life. In SoHo, we looked down the street from the vantage point of a longstanding record store to see Oasis's What's The Story, Morning Glory album cover come alive before our eyes. On a blissfully sunny afternoon in Chiswick Park, our guide Lee styled us to recreate  two The Beatles album covers.  At The Stables in Camden Market, our guide brought us to the very staircase The Clash posed on for their self-titled album cover, where we recreated it.
4. Musicality Hilarity
As if impromptu visits to celeb homes and re-enacting album covers wasn't funny enough, allow me to re-introduce Lee, one of our local guides. He was not only very funny in his deadpan British way, Lee was a spitfire information. The knowledge between him and Alan Cross nearly made our heads explode (in the best possible way, of course.)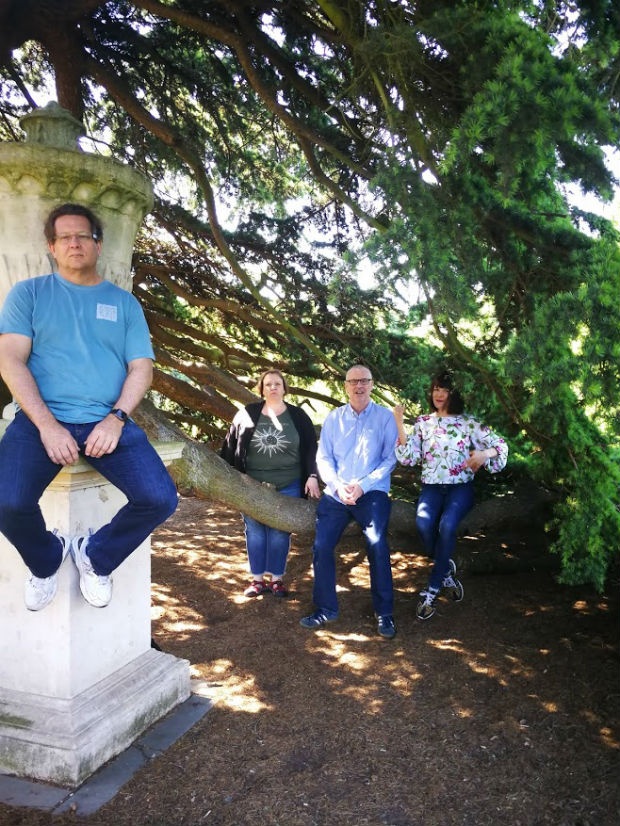 Recreating The Beatles Nowhere Man album cover. (From left: Alan captures Ringo's unimpressed expression, Susan as George, Lee the Tour Guide as John and myself as Paul-- hence the lefty guitar "skills.")
As we did our punk rock leg of the tour, Lee shared his personal insights. "I was a punk rock teenager, angry at society! I didn't know what society was, but I sure as hell was furious with it." These stories were juxtaposed with touristy stuff, as Lee drove our bus along the famous red road towards Buckingham Palace, looking extra ceremonious with the fanfare of the imminent Royal Wedding. We oohed and ahhed, (especially when we saw The Royal Standard flag was being flown, signifying her Her Majesty was in residence) and Lee cued up a song for us: God Save The Queen.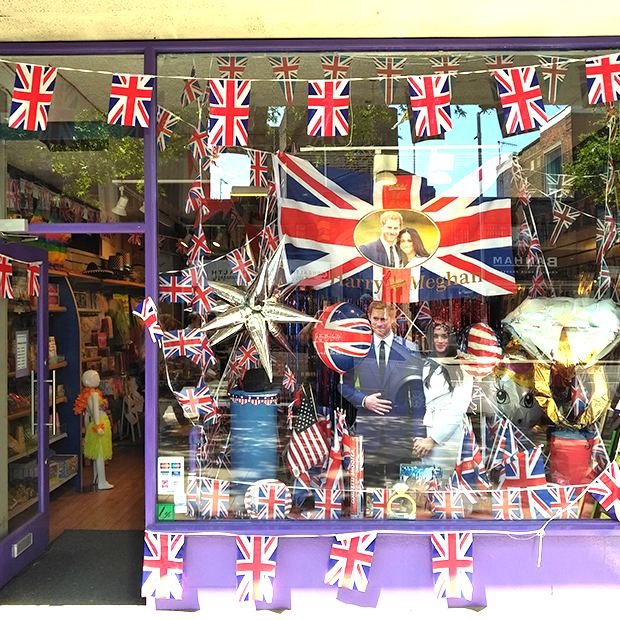 You never know what to expect on an Alan Cross Music Tour. You could even get invited to a Royal Wedding that happened to coincide with the tour dates.
Now, may I remind you this is a rock n' roll tour I'm talking about -- Lee put on Sex Pistols' God Save the Queen! I will never forget approaching, and then driving alongside, Buckingham Palace, with the punk anthem blasting. One of the funniest moments of the week (maybe of my life.) Check some of it out here.
Similarly, Lee, always filled with comical surprises, drove us to a high school where music notables attended (the only one I can think of right now was Rod Stewart, but there were more.)  As it happened to be lunch hour, a slow procession of uniformed students came out the stoic building. Cue Lee, cuing up Pink Floyd's "We Don't Need No Education." Ha!
5. New friends on tour
Alan Cross, local guides and an amazing group of people on the tour were the trifecta that ultimately made this trip. Even in our free time, we'd venture out together. Music-related interests included seeing a Depeche Mode tribute band whom were astonishingly identical to the New Wave English legends. Another night out in Camden Town ended up at a laugh (and ear worm) inducing heavy metal karaoke. The tour members balanced this with London tourist must-sees and refined pursuits like traditional Harrod's high tea. (After writing these activities, I now want to make a movie about us called Heavy Metal at Harrod's. A modernized, edgier sequel to Breakfast at Tiffany's.)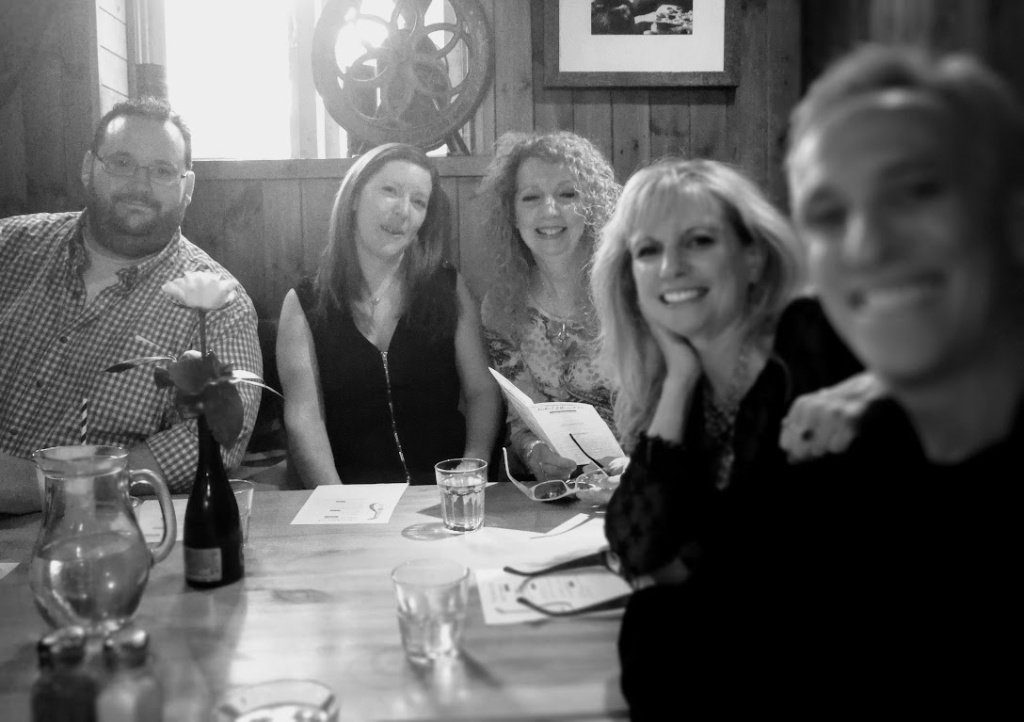 The multiple bonds and zero dramas of the group underscored how harmoniously music brings people together. Music's ability to unite and unify is a powerful thing. Our wonderful group, representing different generations, backgrounds and lifestyles, was a microcosm of that theme personified.
Jacqueline Watson, a Flight Centre travel consultant who was also a tour member summed up the tour component. "The beauty of being on an organized tour like this one is the simplicity; all the planning is done by experts and your experience unfolds as you go. This itinerary included ample free time, so a first time visitor to London I saw bucket list attractions and did not miss a beat of the Alan Cross music tour!"
Are you ready to go on tour with Alan Cross?
If you have FOMO, then we have good news! If you're ready to rock out on another exclusive Alan Cross tour, tell us where you want to go. Back to London, or to another great city?
Tell Alan Cross where you wish to go next on tour with him, by entering his rock n' roll poll!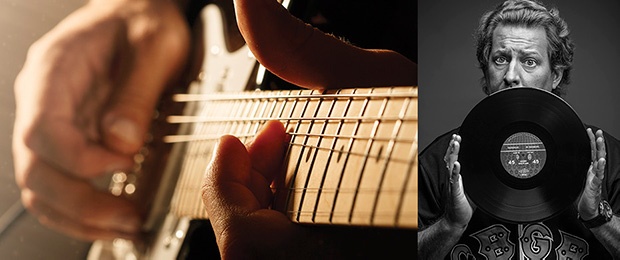 Already know where you want to go? Talk to a Flight Centre travel agent to put together a tailor-made vacation at 1 877 967 5302, or enlist the expertise of a group tour specialist at 1 866 940 0209.