Europe for One: 20 Best Trips for Solo Travellers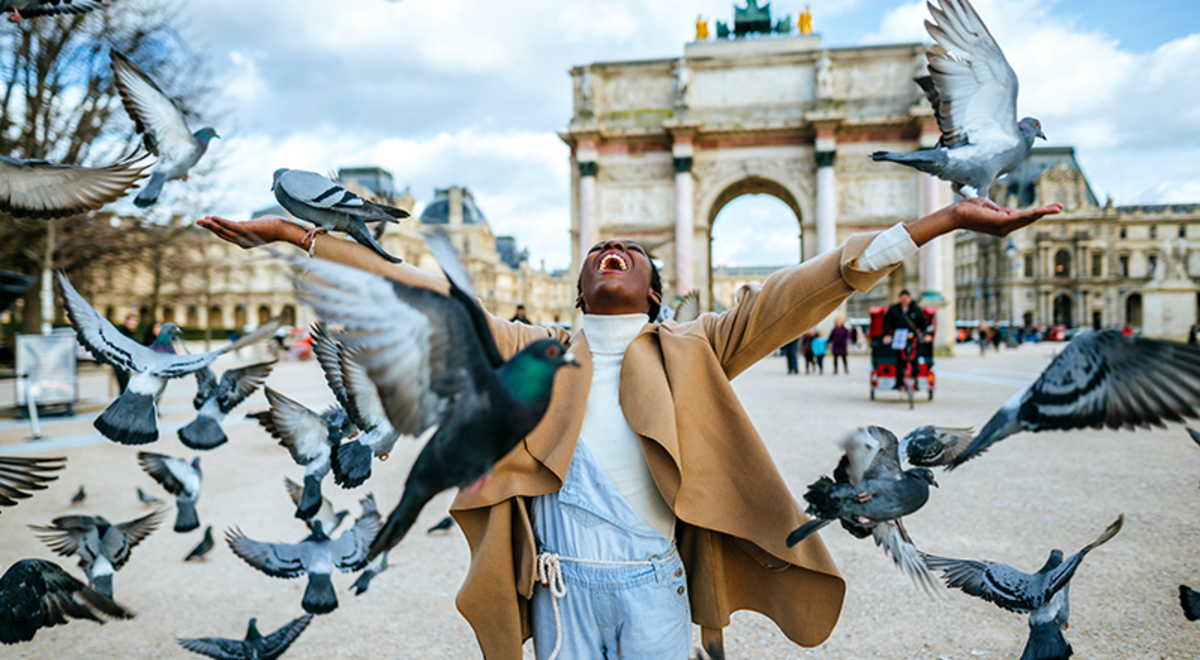 First-time solo tripper. Budget backpacker. Travel addict whose friends are too lame to keep up. Welcome! You're in good company. Stick around for our Travel Experts' fun and handy tips for your next solo getaway to Europe.
So many of Europe's cities are solo travel friendly. You'll enjoy plenty of options in the way of hostel stays or hotel rooms for one, heaps of things to see and do, and a welcoming environment for all, including LGBTQ+ travellers. Let's dive in!
How to Travel in Europe by Yourself: Tour or DIY?
Guided Multi-Day Tours
For the solo traveller who's looking for an epic experience without too much hassle, guided tours are the way to go. Especially when you throw in the guaranteed company!
Our Travel Experts are happy to help you choose a tour company that matches your travel style, budget, and interest. Of course, we do have a few favourites when it comes to tours for single travellers:
Just You is 100% dedicated for solo travellers, offering guided tours in 12 European countries.
G Adventures travels to 29 European countries, with no single supplement in sight.
Intrepid Travel offers both single supplement and no single supplement options, depending on your preference for having a room to yourself. Their tours span a whopping 51 European destinations.
Among Insight Vacations' tours are options for women-only departures. They'll often offer discounts on single supplements for select trips (as much as 100% off) to their 40 European destinations.
Trafalgar is also a great choice for finding discounts on single supplements on select trips to their 45 European travel destinations.
If you're looking to travel with a younger crowd, Topdeck specializes in tours for 18-30 somethings, with 20 European countries to choose from.
DIY Solo Travel
Guided tours are by no means the only way to visit Europe on your own. A tailor-made holiday lets you pick out the perfect travel dates, hostel or hotel, and things to do along the way. You get to enjoy all the flexibility and independence you want, and if anything goes amiss, our 24/7 Customer Care line is just a quick dial away.
Top 20 European Cities for Solo Travellers
Amsterdam
Thanks to its friendly and hip reputation, (along with easy travel to and from other European capitals) Amsterdam is a great place to meet other solo travellers. Start with a canal tour or bike hire so you can work up an appetite before hitting up the city's trendy restaurants and pubs. Then tour the city at your own pace, visiting parks, museums, galleries, and the city's 8 windmills.
Round trip fares to Amsterdam range from $400 on the low end to $1000 from Toronto or $700 to $1300 from Vancouver, depending on when you're travelling.
Athens
Athens is a stunning collection of old and new. You can walk around the Dionysiou Areopagitou promenade, then hang out at Latraac skate bowl. Check out the famous architecture, then scope out some urban statues and street art. Find a place to cool off in Athens' riviera, perfect for swimming and waterfront dining. Then soak up the city's nightlife with live contemporary and traditional Greek music. Yamas!
Round trip fares to Athens typically run you about $1,100 from Vancouver and $800 - $1000 from Toronto, depending on seasonality and how early you book.
Barcelona
Tapas bars, cava, wine, vermouth, Catalan cuisine. Barcelona is a must-stop for food and wine enthusiasts! Pair your eating adventures with laidback tours of the city's famous architecture and trips to its 28 blue flag Mediterranean beaches. We recommend spending at least a few days of your solo getaway in El Raval and El Born, two of Barcelona's coolest districts.
Round trip fares to Barcelona range from $600 to $1200 from Toronto and $1,100 to $1,500 from Vancouver, depending on when you book and travel.
Berlin
There are so many ways to tailor-make a solo trip to Berlin. Of course, you can work through the list of must-sees: the Brandenburg Gate, Museum Island Berlin, Tiergarten park (and you can spend all day at the UNESCO listed Potsdam and still leave something to discover on a second trip).
But don't stop there! Find a unique perspective of the city to match your travel personality. Film and TV lovers can go hunting for cool filming locations (like the ones in The Queen's Gambit). Adrenaline junkies can head to Park Inn Hotel Berlin Alexanderplatz' rooftop to try base flying. You get the picture.
For round trip tickets to Berlin, you're looking at about $1,200 - $1,600 round trip from Vancouver and $600 - $1,400 round trip from Toronto, depending on the timing.
Brussels
A very central capital, Brussels makes it easy to plan day trips to Amsterdam, Ghent, Bruges, and beyond. It's ideal for those who don't like to overstuff their trips but prefer a more open-ended and flexible itinerary. It's also a foodie must: chocolate, beer, waffles, oh my!
Round trip tickets range from $500 (if you catch a good deal from Toronto) to $1,500 or $1,100 to $1,600 from Vancouver.
Cappadocia
It's difficult to understand how special Cappadocia is until you've seen it in person: until you've slept in a cave house, explore underground cities, gone horseback riding through a national park, and taken a hot air balloon ride at golden hour. Experience Cappadocia to the fullest with live music performances, open air museums, winery tours, and trips to Uchisar Castle, Rose Valley, the Urgup chimneys, and a stop to see the famous pottery at the Gurary Ceramic Museum.
With most guided tours to Cappadocia departing from Istanbul, you're looking at return fares ranging from $1,000 to $1,700 from Toronto or $1,200 to $1,900 from Vancouver. The earlier you book, the cheaper the price!
Copenhagen
Seafood, Danish cuisine, cheap eats, cool bars, international foods. It's all here. And when you're not tucking into Copenhagen's tasty dining, you can have your fill of fun! Whether you're screaming your lungs out at the world's oldest amusement park (that's Bakken), taking photos of the glass Botanical gardens, catching a ballet, exploring castles, or wandering around Copenhagen's cultural district, you'll never forget this European getaway.
Naturally, last-minute planners will pay more than those who book about 2 months in advance. Round trip fares to Copenhagen range from about $700 to $1,200 from Toronto and $1,000 to $1,500 from Vancouver.
Glasgow
Where's that recipe for a perfect trip to Glasgow? Ah, here we go. Mix creepy, kooky, and unique with a show at Sharmanka Kinetic Theatre. Pour at least two cups of a patio lunch on Ashton Lane. Sprinkle selfies (to taste) at Glasgow Botanic Gardens and Kibble Palace. Then toss with vintage shopping, a Balloch Castle Country Park picnic, and top it off with some outrageous fun at Pinkston whitewater course. Serve with a Bliss Trail hike and a side of outdoor art installations.
Round trip tickets from Toronto range from $600 - $1,000. Flights from the West Coast to Glasgow are surprisingly cheap! From Vancouver, round trip fares range from $700- $1,500 depending on how early you book your flights (Early bookers will be rewarded very well, as you can see).
Hvar
Hvar is a great choice for experienced solo travellers, as there are fewer group tour options than other European cities and you'll need to make your way from the airport in Dubrovnik by boat to Hvar. There's plenty of payoff for anyone who's comfortable with making their own way.
Visit the Paklinski islands, take a hundred selfies at St. Stephen's Piazza. Bounce from pebble beaches to lavender fields, to sea caves. Indulge in the local wine and seafood or get some diving lessons and explore the coast from a fish-eye-view.
Flights to Dubrovnik vary by seasonality. You're looking at about $900 - $1700 from Toronto and $1,200 to $2,000 from Vancouver.
Lisbon
There's no better cure for a case of wanderlust than to wander Lisbon. You'll never know what you'll find! Maybe it's a scenic river cruise or a street artist making the final touches on their masterpiece. Maybe it's the perfect find at a local market (we'd recommend Feira da Ladra Flea Market, Fusion Market, Agrobio Organic Market, and Benfica Handicrafts Market). Or maybe it's the obvious come to life: a tour of the Jerónimos Monastery and the Tower of Belem, a fun day at the Museum of Fado, and beautiful tile work everywhere.
Depending on how early you book your tickets, a round trip fare to Lisbon will run you up about $900 to $1,300 from Vancouver or $600 - $1,000 from Toronto.
London
London's a great destination for first-time solo travellers. With low airfares, no language barrier, and something for absolutely everyone, you really can't go wrong.
Try pairing classic sightseeing with a delicious multi-course meal on Bustronome, a double decker bus that serves a multi-course gourmet meal. Watch a football game at a local pub, plan a DIY museum crawl, and enjoy a scenic hike in The Coves, Meadowlily Woods, or Fanshawe Conservation area.
Not to mention all of the fabulous destinations outside of the city – truly too many to count!
Good news for West Coasters! Round trip fares range from $500 to $800 flying out of either Toronto or Vancouver, depending on how early you book. It's an incredibly affordable destination with a lot of bang(ers & mash) for your buck(ingham palace).
Lyon
Get your Renaissance on at Vieux-Lyon! This French city offers many self-guided tours so you can get to know the history of your surroundings at your own pace. But best of all, naturellement, is the food. Lyon is famous for its gourmet culture, so a food tour a day is not just a want, it's a need.
Round trip flights to Lyon usually range from $900 to $1,200 from Vancouver or $700 to $1,200 from Toronto.
Madrid
It's not every day you get to visit a new UNESCO listed heritage site. Madrid just recently gained UNESCO status for El Retiro Park and Paseo del Prado. If you haven't had the pleasure of visiting these iconic destinations yet, don't wait for a travel buddy – just go!
Solo travellers will also love Madrid's unique culture. Whether you're enjoying a late dinner for one, exploring local markets (like San Miguel, San Anton, and Vallehermoso, or as many parks and palaces as you can handle, Madrid will capture your heart.
Depending on which season you're travelling and how early you book, round trip flights to Madrid can range from $650-$1,000 from Toronto and $1,000 to $1,300 from Vancouver.
Oxfordshire
Oxfordshire county is overflowing with charm and fun. Fill up your itinerary with tours and adventures or explore slowly – either way, your trip will feel magical.
Try visiting Blenheim Palace, tour the University of Oxford, and check out Ashmolean Museum (the world's oldest public museum!). You simply must poke around Oxford Castle, have some fun on the Thames with boat tours and rentals, and spend at least one day in the Cotswolds taking the quaintest pictures ever.
Good news for last-minute trip planners: Round trips to Oxford airport tend to go for only $700 to $900ish from Vancouver and $500 to $700ish from Toronto.
Paris
Say ouis to Paris and find out why pretty much everyone dreams of visiting the city of lights. You'll find it's not just the famous attractions that become the highlight of your trip (a day at the Louvre, a picture from the top of the Eiffel Tower, a magical visit to Disneyland), but the moments that catch you off guard.
Experience Paris beyond the postcards. Try every ride at Parc Asterix, learn to wakeboard on the Seine, rollerblade around the city, book a hot air balloon ride, or catch a free cooking class at a local farmer's market. Not to mention yoga in the park, cabaret shows, and far too many baked goods.
Paris is a great starting point for a backpacking trip through continental Europe, with affordable round trip flights that usually range from just $450- $800 from Toronto and $600 - $900 from Vancouver.
Porto
We don't want to give too much away, because we have a whole blog dedicated to a solo Porto trip, and it's absolutely worth the two minutes to read. But if you're into spoilers… Rooftop bars! Miradouros! So much public art!
While you can always add a few days at Porto to your trip to Lisbon, flying straight into the city is a fabulous option, too. Depending on the timing, you'll be looking at round trip fares ranging from $900 to $1,600 from Vancouver and $600 to $1,000 from Toronto.
Positano
Ah, the Amalfi coast. Leisurely sailing tours, limitless fresh seafood, and lazy days along the beach. One of the best ways to experience Positano and the surrounding areas is with your own two feet. Active solo travellers can hike the Path of the Gods, explore citrus orchards, and meander across cobblestoned streets.
$800 to $1,300 from Toronto
$1,100 to $1,400 from Vancouver
Reykjavik
Reykjavik is usually treated as the starting point on a guided tour of Iceland. But there's heaps to do in the city itself. Check out Nauthólsvík Geothermal Beach, the Old Harbour, the Punk Museum, Museum of Photography, whale watching tours, and Reykjavík Art Museum Hafnarhús. Have your fill of vegan and vegetarian fares, then just walk around and enjoy the public art and local sights.
Booking even a little bit earlier than normal pays off quite a bit. Round trip fares to Reykjavik can range from just $600 from Toronto and $1,100 from Vancouver (compared to late bookers who are looking at closer to $1,600 and $1,800, respectively).
Rome
Rome doesn't have to be intimidating! Stay a while and spread out the big attractions like the Colosseum, Pantheon, Vatican City, Roman Forum, St. Peter's Square, and Galleria Borghese. In between, feel free to roam about Rome and discover the less populated squares, beautiful architecture, and mouthwatering food. Leaving the tourist centres will pay off handsomely with your own take on the Eternal City.
Round trip fares to Rome typically range from $700 to $1,200 from Toronto and $1,100 to $1,400 from Vancouver, depending on when you book and travel.
Stockholm
Solo travellers love Stockholm, and the feeling is mutual! Find foodie paradise in the city's Garden cafes, Michelin star dining, and traditional Swedish eats at the likes of Sturehof, Tennstopet, and Tranan. Get a taste of adventure with kayaking, canoeing, skiing, skating, and day trips to Björnö, Tyresta, and Gålö nature reserves in the Stockholm archipelago. Craving culture? Get in on the guided city tours, museums, and Viking history.
Depending on how early you book, you can score round trip flights to Stockholm from $1,000 to $1,500 from Vancouver and just $800 to $1,400 from Toronto.
---
Find cheap flights to Europe!
Flight Centre's Travel Experts offer trip consultations in-person, by phone, email, online chat, video chat, and our 24/7 Customer Care line. Whatever works for you!