Expert Travel Guide: Barcelona Art, Architecture & Culture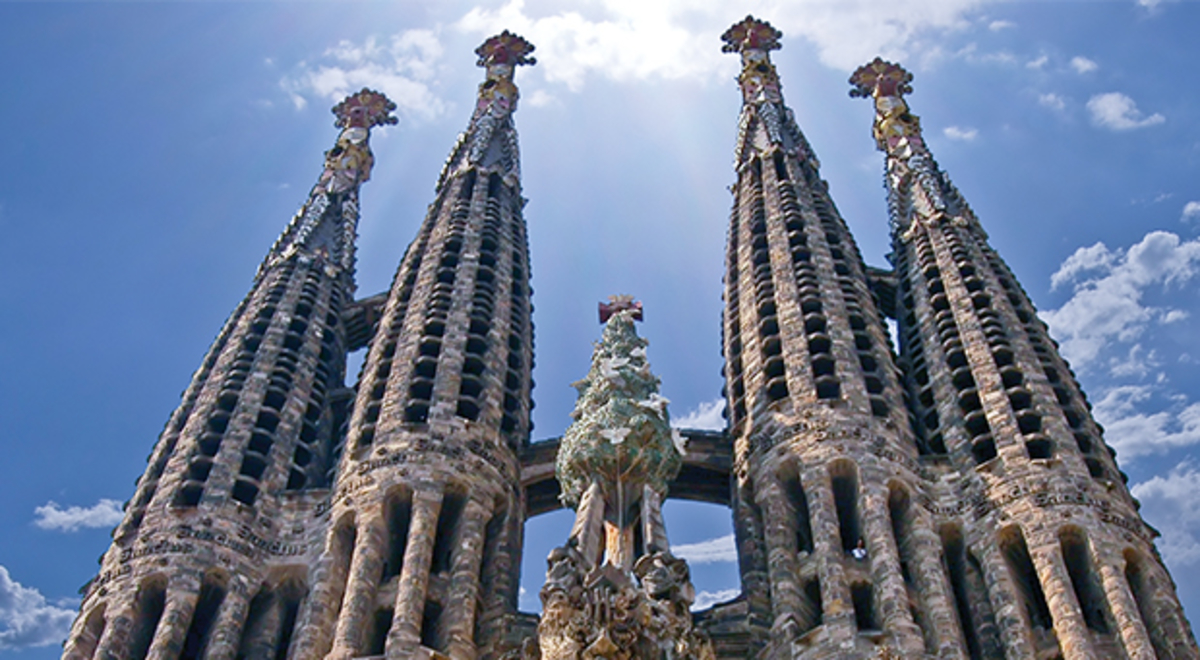 ---
---
Antoni Gaudi was a Spanish architect from Catalonia who is revered as one of the greatest figures of modern Barcelona architecture. He was the master visionary behind Barcelona's most famous landmarks, seven of which are UNESCO World Heritage Sites, and is beloved for his original, inventive, thoughtful design. Here are a few of our favourites and must-see Barcelona museums:
1. La Sagrada Familia
The story of La Sagrada Familia is all in the details. Montserrat-shaped bell towers stretch towards the sky. Archways branch out like tree trunks planted firmly into porticos, framing allegories of the birth, the passion, and eternal glory of Christ. Symbols sculpted out of stone punctuate parables with subtle, thoughtful effects. Chameleons represent constant change, while a tortoise and a turtle represent land and sea. Natural sunlight filters through stained glass windows, between canopies in a forest of columns.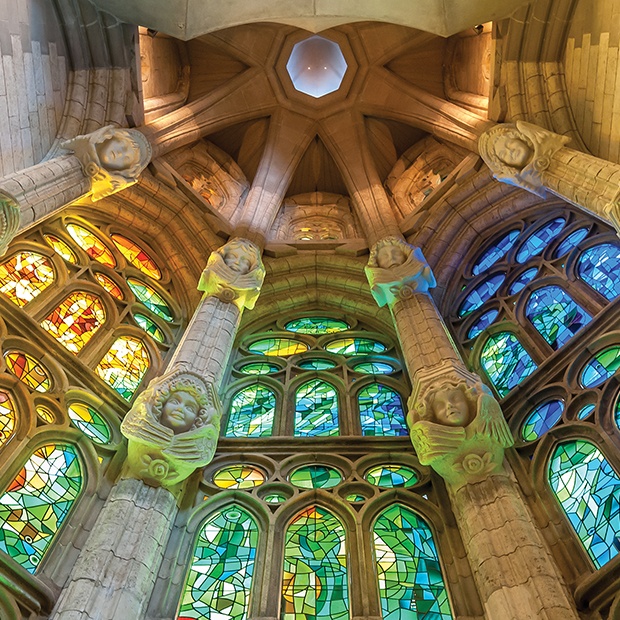 La Sagrada Familia defines the Barcelona skyline, and is one of the top Barcelona attractions.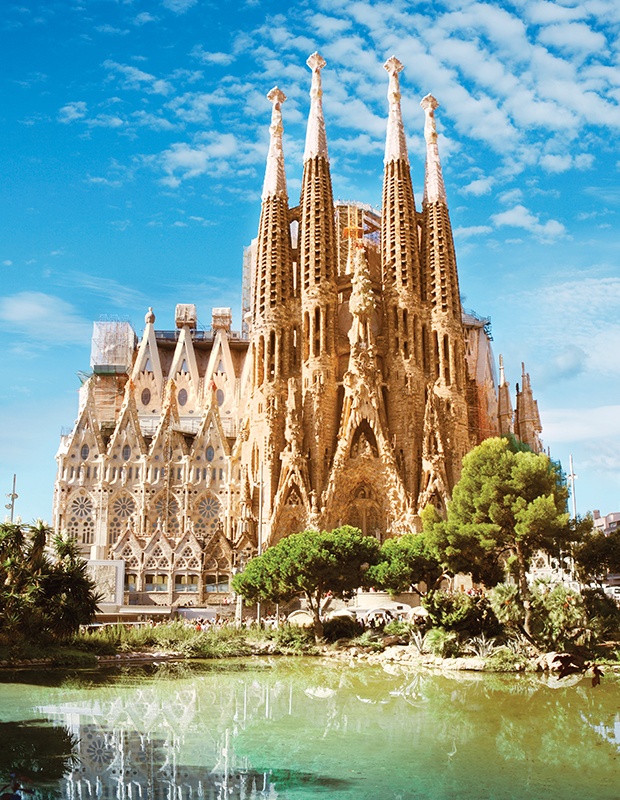 The most visited monument in Spain, La Sagrada Familia was Antoni Gaudi's most ambitious and crowning achievements. Eighteen towers, three grand facades, and hundreds of inspired intricate details throughout, Antoni Gaudi (1852-1926) had plans on such a grand scale that even he knew he wouldn't see the completion of the basilica in his lifetime. Construction began in 1882 and is set to be finished in 2026, a century after Gaudi's death.
Most of La Sagrada Familia is open to the public to attend mass or to walk around and explore. You can climb the spiral staircase in the bell towers for a stunning view of Barcelona you can otherwise only get from the summit of Montjuic Mountain.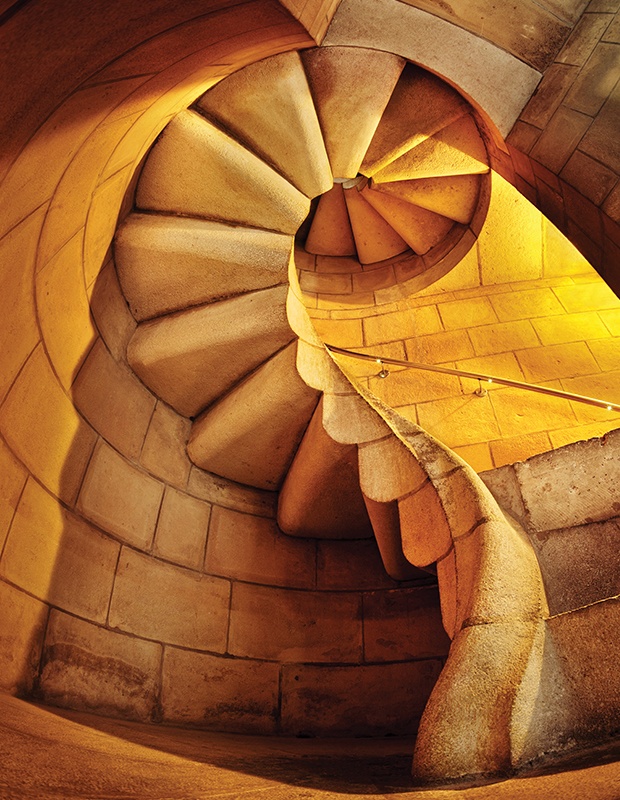 Gaudi was inspired by nature and God. From tree-inspired columns to mountain-shaped spires, to facades dedicated to the life of Christ, he believed that "nothing is art if it does not come from nature" and that everything has a meaning and a purpose.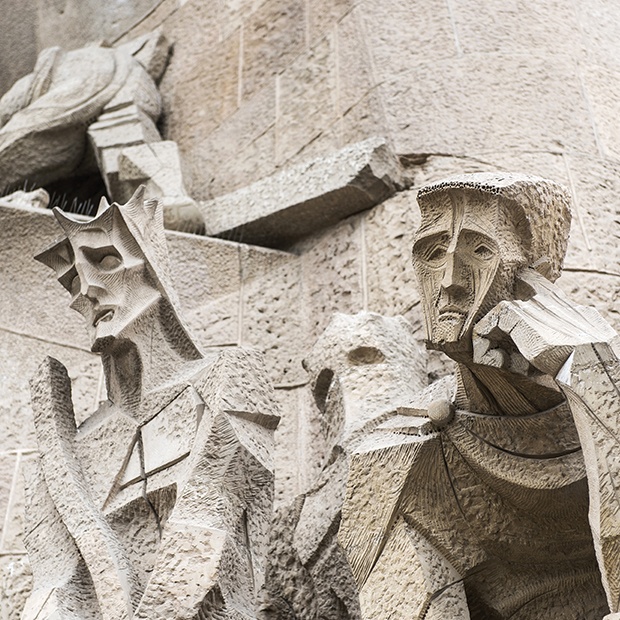 Gaudi's use of inverted models
Gaudi was a visionary. He used scale models made of chains and weighted strings to calculate the structure and architecture of his designs. He would take photos of the scale models and flip them upright, or use mirrors, to analyze them. If you notice the shape of the archways in Gaudi's designs, including La Sagrada Familia, you'll see that they're somewhat unusual. Instead of arches derived from the shape of a circle, he used arches with non-circular shapes, called 'catenary' arches which curved in a certain way as a result of how the weighted strings behaved upside-down.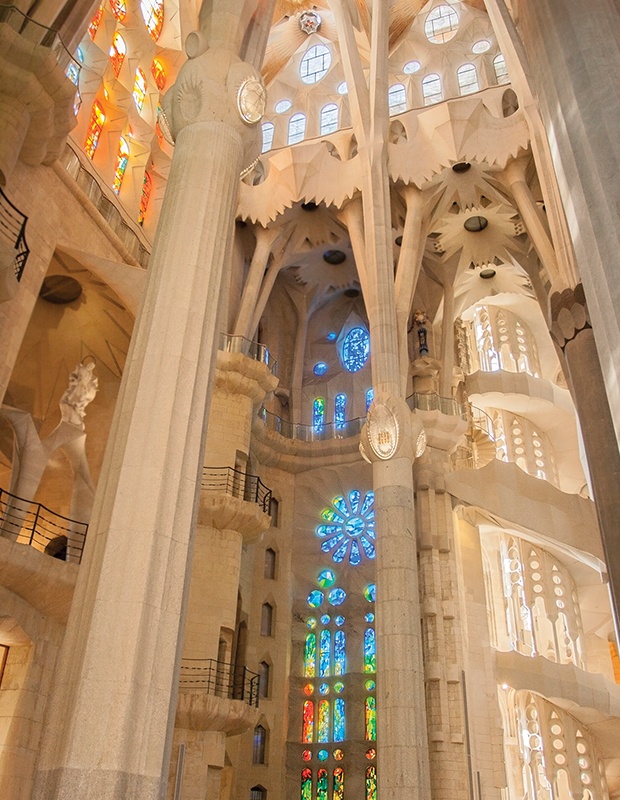 After Gaudi died, his workshop at La Sagrada Familia was turned into a museum to preserve his work. Although it burned down no more than 10 years after his death, most of his workshop was restored, reproduced, or remodelled, to continue to inspire people today. Check out the intricate drawings, photographs, and reproduced plaster models that Gaudi used to construct his designs, and marvel in the creation of La Sagrada Familia.
2. Casa Batllo
Casa Batllo illuminates 6 floors of a building on the corner of a busy boulevard called Passeig de Gracia. Originally built in 1877 and re-designed by Gaudi in 1904 for the Batllo family, themes and symbols present here foreshadowed designs that would eventually be found throughout La Sagrada Familia.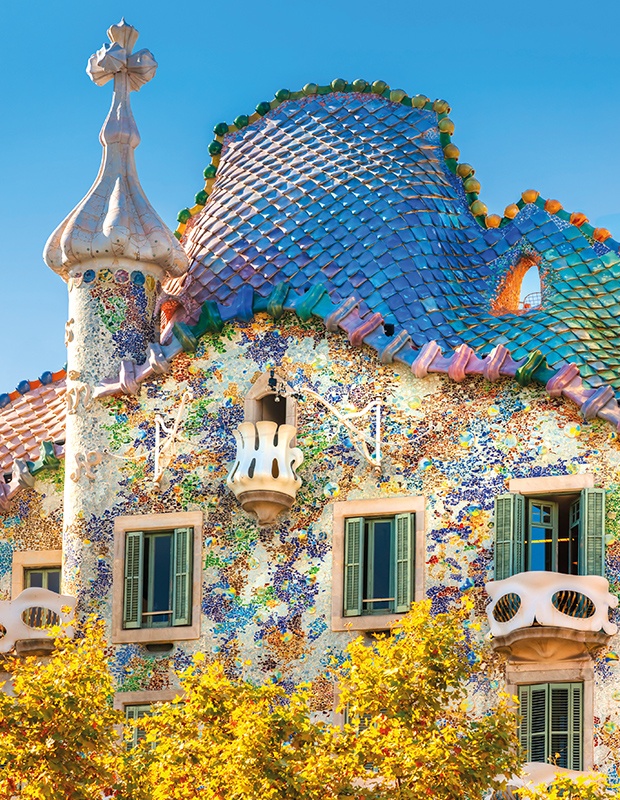 Gaudi used fived different tones of blue arranged chromatically, as well as skylights, and windows to make Casa Batllo feel like an underwater cavern. The door frames look like eddies of water, while the sea glass-hued stained glass windows filter in waves of blue light. Throughout the building, you won't see a single straight line, as Gaudi believed that if they don't exist in nature, they don't belong in his design. However, you will see sandstone columns shaped like bones, and enchanting, nature-inspired imagery.
Along the rooftop, chimney stacks resemble the head of a dragon and the roof behind arches like a spine. Below the roof is a row of 60 arches that look like the dragon's ribcage, and providing structural support to its vaulted frame. Audio tours are available to guide you through the Casa Batllo. It's a building you'll want to take your time walking through to make sure you don't miss a thing.
3. Park Guell
One of Barcelona's most visited and recognizable landmarks, Park Guell is one of Gaudi's masterpieces. Built between 1900 and 1914, Gaudi designed Park Guell, a development project commissioned by Count Guell that was originally intended to exclusively house the wealthy.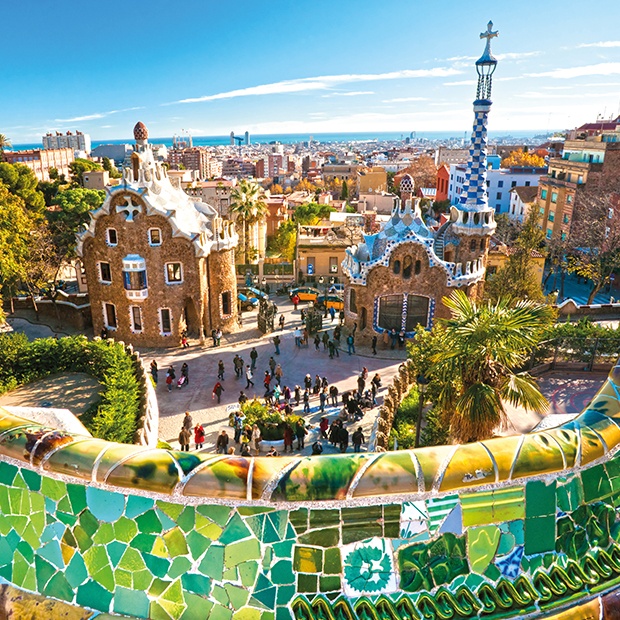 Located on a hilltop with breathtaking views of the city and sea, Gaudi designed a thoughtful complex of triangular-shaped plots of land, criss-crossing pathways, gatehouses, an esplanade, and a shelter for horse-drawn carriages, with his one-of-a-kind Catalan modernism style.
Park Guell was an unsuccessful real estate venture. The plots of land were difficult to sell and soon the project was abandoned. The city council purchased the complex and turned it into a public park. Gaudi lived in one of the houses for the last 20 years of his life, which is now Casa Museu Gaudi. Take a peek around to see furniture and other objects designed by the architect.
4. Barcelona Museums
Museu Nacional d'Art de Catalunya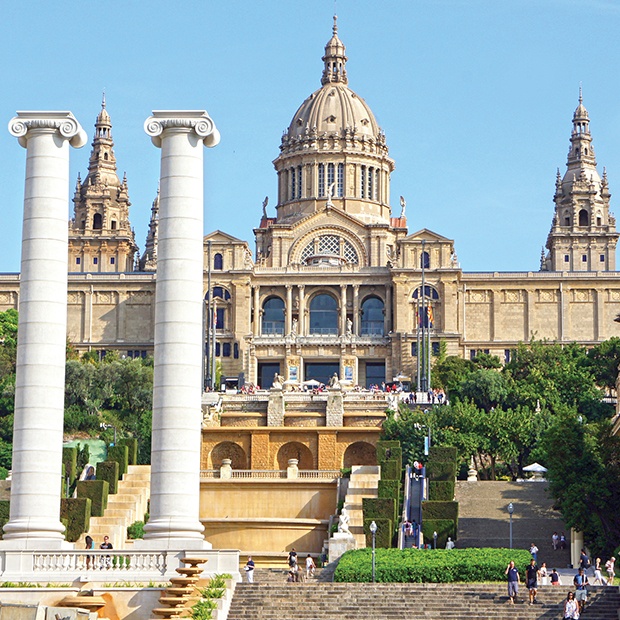 The national museum of Catalonian art, the Museu Nacional d'Art de Catalunya (MNAC) houses a collection of more than a thousand years of Catalan art, dating back to the 10th century. Four permanent collections showcase Catalonia's history with the museum's Romanesque, Gothic, Renaissance and Baroque exhibits, as well as an entire floor dedicated to modern art. Like the Fundacio Joan Miro, the Museu Nacional d'Art de Catalunya is also located at the top of the Montjuic Mountain.
Fundacio Joan Miro
Joan Miro (1893-1983) was a Spanish painter and artist from Barcelona. He captivated the art world with his abstract, colourful surrealism and his radical sense of visual style.
Not one to be pigeon-holed, Miro dismissed the notion of belonging to any art movement. He experimented with different forms of visual style, as Cubism was at the height of its popularity in France, and invented his own. Miro's individual style lies in his signature biomorphic forms, geometric shapes, and uniform colour palette of dark, warm hues.
Over 45 of his major works were donated by the artist himself and are part of the permanent collection at the Fundacio Joan Miro, including Chapel of Sant Joan d'Horta (1917), Painting (1925), and Morning Star (1940).
Fundacio Joan Miro was built in 1975 and designed by Josep Lluís Sert, a Catalan architect who was inspired by the work of Antoni Gaudi. The museum is located at the top of Montjuic Mountain, which is a great way to spend a day. Hike up, or ride the funicular, and admire the panoramic views of Barcelona before stepping inside to admire Miro's artworks.
Museu Picasso
Pablo Picasso (1881-1973) is the forefather of the Cubism movement. The famous Spanish artist's work is some of the world's most recognizable, romancing admirers with deconstructed depictions of his portraits and subjects which were often women, prostitutes, and beggars. Picasso was also known for his Blue Period (1901-1904), which were moody, sombre paintings in shades of blue and green only.
One of Barcelona's most popular museums, the Museu Picasso opened in 1963 and presently has more than 4,200 pieces in the permanent collection, including Man in a Beret (1895), Woman With Bonnet (1901), Still Life (1901), and The Pigeons (1968). The museum beautifully profiles Picasso's legacy from his formative years as an artist, throughout the Blue Period, up to when he co-founded the Cubism movement and beyond. Be sure to get there early to avoid line-ups and leave yourself enough time to marvel in Picasso's prolific artwork.
Fundacio Antoni Tapies
Crowned with a tangled mess of piping and wire, the Fundacio Antoni Tapies museum celebrates the life and artwork of one of Barcelona's most distinguished artists.
Antoni Tapies (1923-2012) gained popularity in the 1950s with his "matter paintings," collages layered with unconventional materials like theatre posters, wine bottle labels, marble dust, rags, and sand. Themes like emptiness, materialism, Zen Buddhism, and left-wing politics were present in many of his abstract works.
The Fundacio Antoni Tapies was created in 1984 and houses more than 800 original pieces, with regular rotating exhibitions by other contemporary artists. Tapies' work is displayed in some of the world's most prominent museums like the MoMA in New York City, the Tate Gallery in London, and the Reina Sofia National Museum in Madrid.
Where to Stay in Barcelona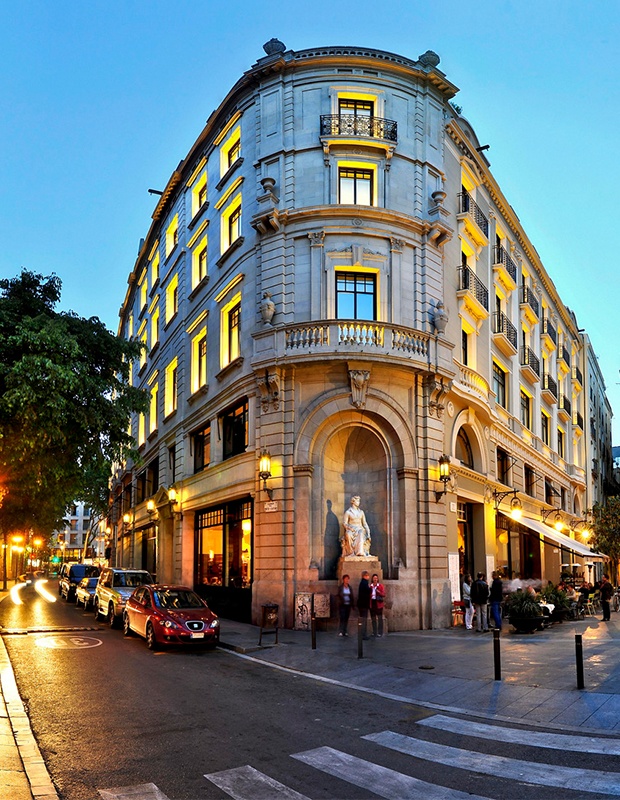 When a city captures your heart and gaze like this, stay at a hotel that does the same.
Built in 1881, Hotel 1898 was once the headquarters of the General Philippines Tobacco Company. The original structure was designed by Catalan architect Josep Oriol Mestres and eventually converted into a hotel in 2005.
Located on famous La Rambla near the Gothic Quarter, Hotel 1898 was restored to recreate the colonial opulence of 19th century Spain. Think wall-to-wall marble, warm oak, bold stripes, and chandeliers. Light grey marble columns and delicate brass sconces in the hallways lead guests to a grand lobby.
Have a seat in one of the dark leather club chairs, or marvel in the details of the heritage building on the way to your room. Wood trim, wainscotting, bold solid wall colours, and modern prints give rooms an ultra-luxe, yacht-like feel. Prepare for one of the best nights of sleep you could ever look forward to with a personalized selection of pillows from the pillow menu, adjust the personalized lighting system to fight off any lingering jet lag, and get some solid shut-eye on an exceptionally comfortable bed.
At the end of the day, be sure to watch the sunset from the rooftop terrace and take a dip in the heated pool.