A Perfect Winter Getaway Exploring the Oregon Coast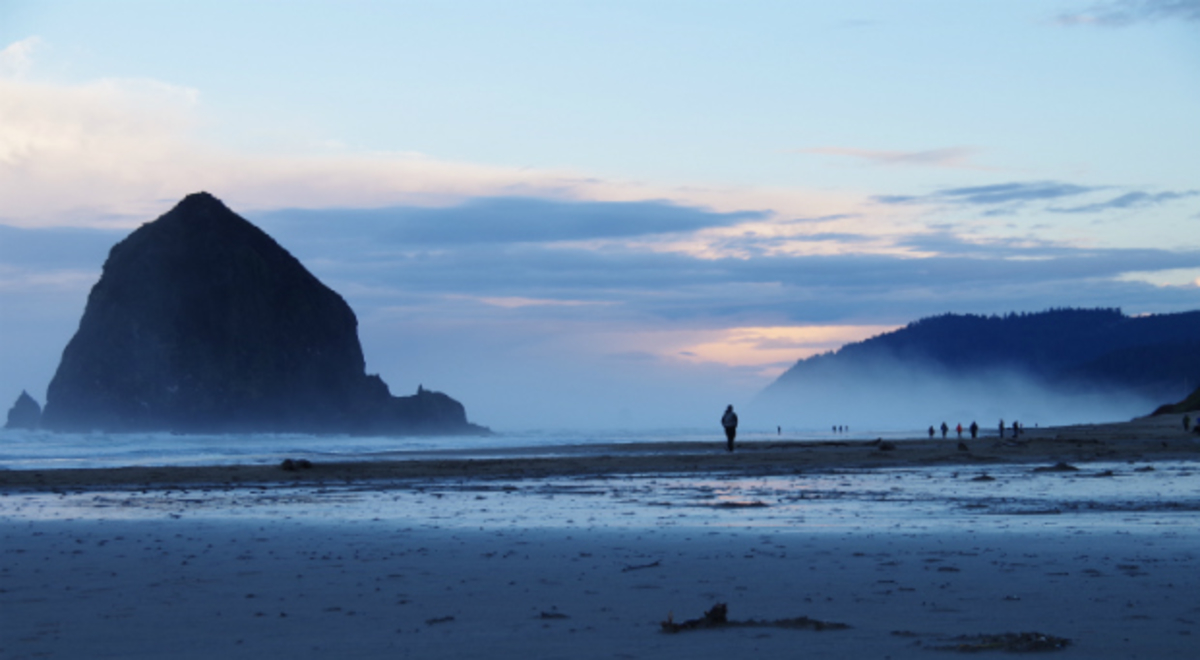 ---
---
There's a reason more than 2 million people flock to the Oregon Coast every year; long stretches of beach, ideal surfing waves, stunning coastal views, fantastic hiking trails and a myriad of natural wonders. It's family-friendly, pet-friendly, fit-friendly, and foodie-friendly. And while we understand why the majority of tourists visit 'The People's Coast' during the summer, we can absolutely attest to the fact that visiting during the winter months is an equally incredible time to be there. We would even argue better, particularly if you're looking for a romantic getaway. My husband and I started our road trip in Astoria (an easy 2 hour drive from Portland International Airport) and took us south through Gearhart, Seaside, Cannon Beach, Rockaway Beach, Tillamook, Pacific City, Lincoln City, Newport, and finally ended in Florence a week later. And while that might sound like a lot of ground to cover, the total distance between Astoria and Florence is just under a four and a half hour drive, so it was a perfectly relaxed pace over a week.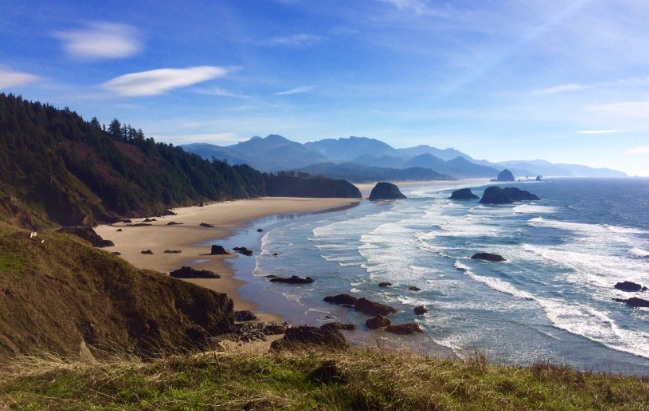 The scenic drive between the towns features stunning coastline viewpoints peppered with natural wonders and historical sights that make the drive both leisurely and interesting. There are also several National Parks which offer great opportunities to break up the journey with a picnic, hike, or photo opportunity.
What we discovered along the way were historical harbour fronts populated with art galleries and craft brew pubs, accommodations ranging from bed and breakfasts to 4 diamond hotels and several culinary gems offering everything from family diners to world-class dining experiences.
Astoria
Probably best known for being the setting of the 1980's movie "The Goonies", it deserves to be explored well beyond the local house made famous from the movie. It has a vibrant and colourful history from when it was once the main port city of the Pacific Northwest.
If you want to experience Astoria's history firsthand, make sure you stay at The Cannery Pier Hotel and Spa, a luxury boutique hotel built on the former site of a historic cannery at the end of a pier 600 feet over the Columbia River. Every single room has a water view with a private balcony and fireplace and includes breakfast, wine and hors d'oeuvres in the early evening, and freshly baked cookies with milk at night.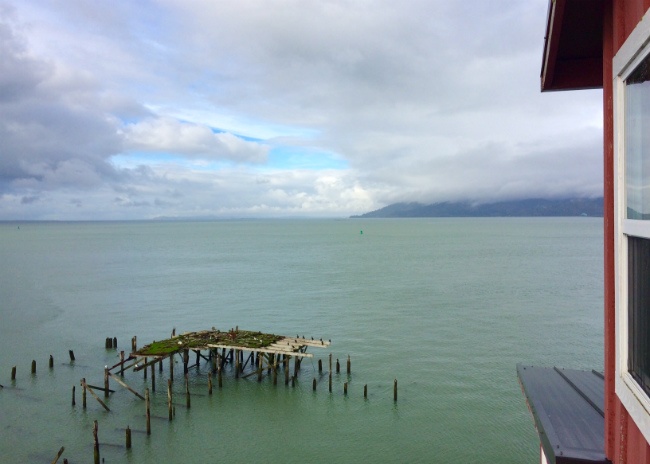 We spent a magical evening sitting fireside with glass of wine in hand as a magnificent storm passed through. This Hotel easily ranked as one of the most wonderfully unique places we've stayed.
Another great discovery along the Oregon Coast is the vast number of quality craft brews available. Astoria's Buoy Beer Company not only offers craft beer with great views along the riverfront, but they also have a glass bottom floor so you can view the local sea lions lounging on the beams below.
Seaside
Seaside touts itself as Oregon's first seashore resort and what a beautiful spot they chose! The beach is large and inviting for both kids and adults alike and rivals any family-friendly destination with something for kids of all ages to enjoy including the Seaside Aquarium, the largest arcade on the Oregon Coast, a carousel, bumper cars and a nearby family fun park.
Beyond the beach and its vintage attractions, Seaside also has some terrific options for those looking to explore more of its natural wonders. It provides miles of hiking and biking trails, has some of the best surf waves along the Coast, and its access to the ocean and nearby rivers provides unequalled options for canoes, kayaks and paddle boats which can all be rented in town.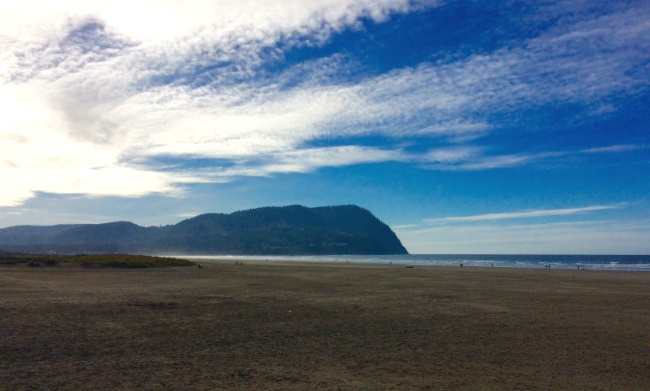 Seaside is also making its mark amongst the Oregon craft brew scene with its very own Seaside Brewing Company. Located in the 100 year old building that served as the City Jail, its storied history is alive and well complete with a restored original jail cell for you to enjoy your 'Lockup' IPA.
Cannon Beach
Just before reaching Cannon Beach city, it is well worth stopping at Ecola State Park for some absolutely spectacular views of Cannon Beach and Haystack Rock. We had high expectations going in based on what we had read and it still made our jaws drop upon first walking up the grassy bluff to the main viewing area. It's well worth the mere $5 investment for the entry fee to be rewarded with numerous trails to explore and access to Indian Beach; a gorgeous beach which we had pretty much to ourselves for a couple of hours on a cool, sunny afternoon.
Our stay in Cannon Beach was a highlight in itself. When we checked in to The Stephanie Inn, it was immediately clear we were about to experience something special. Despite the many quality oceanfront hotels along the Oregon Coast, this one is simply in a class by itself due to its location, amenities and service.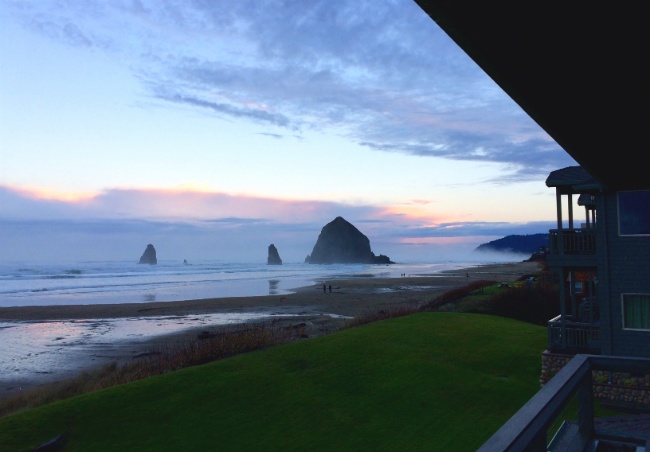 They have literally thought of everything to ensure you have a perfect stay including the gourmet chef's breakfast buffet, complimentary beer and wine each evening in the Library as well as a complimentary nightcap also in the Library (that of course sits oceanfront with a large bay window and unobstructed views of Haystack Rock and the ocean). Our stay at the Stephanie Inn was exceptional and we weren't surprised to learn after returning home that they had just been listed again in Conde Nast Traveler's "Best in the World" list and have also been listed in Travel & Leisure's "500 Best in the World".
Oswald State Park
As you continue your journey south from Cannon Beach, Oswald State Park is another must-stop just fifteen minutes into your drive. We stopped at the park to hike out to the beach on our search for yet another great coastal view, but it was the hike to get there that was the real find. We wandered along well maintained and marked trails through a beautiful rainforest of moss covered trees and across a wooden bridge over the river running alongside it....simply magical!
Rockaway Beach
Another great spot along the coast for families is Rockaway Beach and while we only drove through it, we did stop at Kelly's Brighton Marina which sits on Nehalem Bay and is known for its crabbing at this time of year.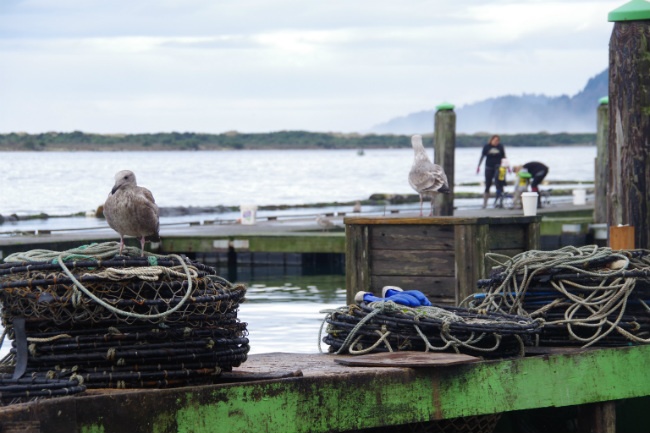 Our only regret of the trip was that we didn't time it better to be hungry when we arrived to enjoy the experience ourselves. You can crab right off the dock or rent one of their boats and go fishing. Kelly's then cooks up your catch which you can enjoy at a picnic table or by the fire pit they have set up beside the Bay.
Tillamook
If you know anything about Oregon, you'll know that Tillamook is home to the State's world famous cheese factory of the same name. The Tillamook Cheese Factory has been producing award winning cheese for more than hundred years and is also a co-op owned by 100 farmer families. A visit to the factory is well worth it whether you're a cheese fan or not; it's an amazing site to see the production of more than 160,000 pounds of Tillamook Cheese on a daily basis. If that's not enough to entice even the most staunch detractor of cheese, remember it's run by dairy farmers so they've also added an ice cream shop which we can attest is of the quality worthy to carry the Tillamook name!
Tillamook is also home to the Three Capes Scenic Loop, an approximately 64km drive on your way to Pacific City that showcases once again the breathtaking scenery offered up by the Oregon Coast including Tillamook Bay, Bay Ocean Spit, Oceanside, Netarts Bay and Cape Lookout.
Pacific City
At the end of the Three Capes Scenic Loop you'll end up at Cape Kiwanda, likely with an appetite so thankfully the Pelican Pub & Brewery sits right at the entrance ready to welcome you. But before you tuck into your pint of Pelican IPA, don't miss the opportunity to walk out to the beach and climb to the top of the sand dune. You'll find fantastic views in both directions not to mention a mini workout to truly earn your liquid reward!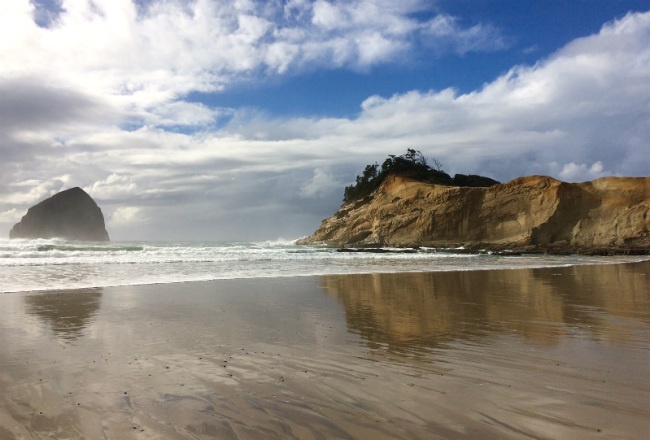 Newport
We made our way to Newport where we checked into the Hallmark Resort. Another spectacular oceanfront view awaited us and provided great proximity to everything we wanted to explore in Newport. This resort definitely caters to families which made up the majority of the other guests we saw during our stay. They have a heated indoor saltwater pool which was especially popular with the little ones. The Hallmark is also pet friendly so if you want to take advantage of those long walks on the beach with your dog, this is the place you want to be. Just minutes away sits Nye Beach a quaint seaside town worth spending some time to wander through. There are specialty shops, a few galleries and a number of places to eat ranging from seafood to Italian to Irish Pub fare.
Given Newport's long history of fishing, we went in search of the local fare and had another great dinner thanks to Local Oceans Seafood. Also serving as a fish market, the interior is simple and casual; the service warm and friendly, and the seafood as fresh and delicious as we had hoped. Their grilled calamari probably ranked as the best either of us had ever tasted.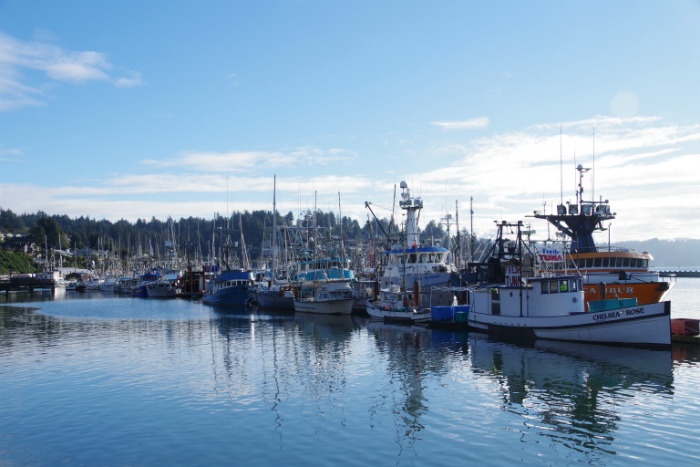 As we headed out of Newport toward our final stop in Florence, we spent most of the day discovering the impressive natural wonders along the way. Our one hour drive took us three times as long as we explored some truly amazing sites.
Our first stop was the Devil's Churn. It's a day use area that we suspect many people probably unknowingly drive right by but it's definitely worth taking a look. It's an incredible spot to view the power of Mother Nature as she beats the rocks with her fierce waves. What you see today is a result of thousands of years of that fierceness that formed a deep sea cave whose roof has since collapsed. As the tide comes in, the hole created by the collapse can create a spray several hundred feet high.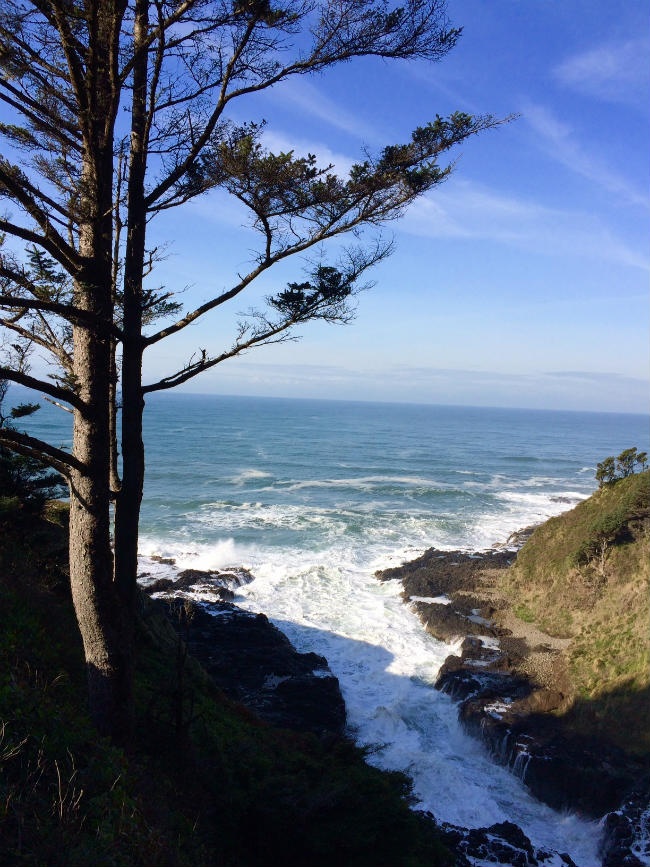 Just a bit further down Highway 101 is Cape Perpetua. As you drive up a couple of kilometers to the top of the bluff, you reach the highest point on the Oregon Coast and you're rewarded with expansive views as far as the eye can see. Within the area are several hikes of varying length and difficulty depending on your time and inclination.
Just a bit further down the road from Cape Perpetua and right off the highway is the turnoff for Thor's Well. It's a large hole in the rocks off the coastline that produces an incredible illusion of a massive drain in the ocean. As the waves crash in water is forced through the spouting horn creating a blow hole effect.
If those three stops weren't enough to wow you, not long after viewing Thor's Well, you will find the turnoff for Heceta Head Lighthouse. While there is no shortage of picturesque lighthouses along the coast, this one has the distinction of being the most photographed one throughout the country. Both the Heceta Head Lighthouse and the Keeper's House were built in 1984 and are listed in the National Register of Historic Places. Perched on a cliff overlooking the ocean, a short hike will take you past the Keeper's House and right up to the Lighthouse. Today, Heceta is still a working Lighthouse and the Keeper's House serves as a B&B. If you hope to stay there, plan ahead as the next available reservation is likely more than a year off! Not surprising as it's located in a beautifully preserved building with a storied history not to mention a remarkable view.
Florence
The final stop on our journey was the city of Florence. We checked into the Driftwood Shores Resort and Conference Center and (not surprisingly) we were treated to a room with a fantastic view of the ocean. And despite experiencing a week of this scenery, we were still wowed.
Florence sits at the mouth of the Siuslaw River just north of the famed Oregon Dunes. Its proximity to the Dunes makes it a popular stop for dune buggy adventurers and sand boarders, but there's also golfing nearby and (of course) great fishing, crabbing and hiking. The historic old town provides a delightful setting right on the river and, although small, has plenty of part of good quality shops including coffee roasters, art galleries, and several good restaurants.
As we made our way back to Portland International Airport to catch our flight home, we reflected on our incredible week exploring the Oregon Coast. We both agreed that while we wouldn't hesitate to visit anytime of year, winter showcased its beauty and diversity in an unforgettable way.
Plan your Oregon coast trip with Flight Centre. Visit a travel agent near you or find flights to Oregon online.