Road Tripping on Route 66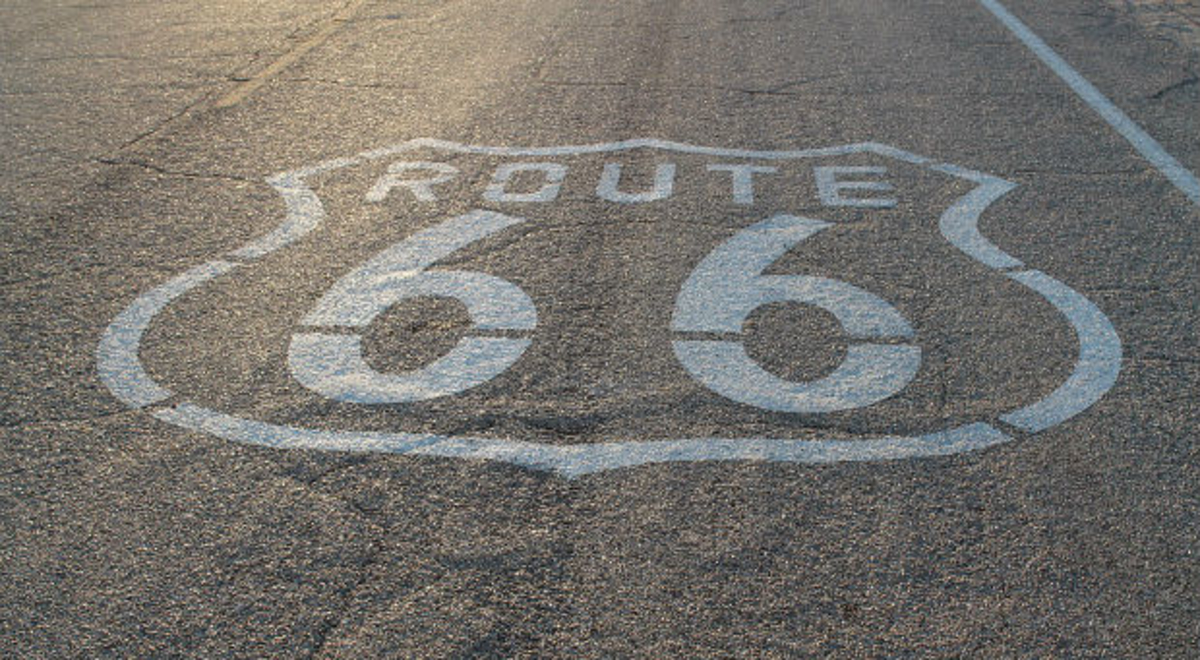 There's a certain freedom found on the open road. The freedom allowed by a full tank of gas, a map and some horsepower. The itinerary and schedule completely yours, not taking direction from anyone or anything but weather, road signs and perhaps some solicited restaurant recommendations. This is where it's okay to be selfish, where it's totally up to you and even though you're doing all the work, the most relaxing holiday you'll probably ever take.
Now, without a doubt, there is a plethora of amazing road trips to enjoy within Canada but arguably none match the history, fame and sheer coolness of America's storied Route 66. "Get your kicks, on Route 66" crooned Nat King Cole on the famous track that added to the mystique of one of America's first and longest highways, where hard-working  citizens, transients and shady characters helped shape the country, from the heartland through the Wild West to the California coast.
Built in 1926, spanning eight states and almost 2,500 miles, from Chicago to the Pacific Ocean in Santa Monica, California, the road captured the essence of the plight of those migrating west and proudly lived to tell about it, barely. Although some of its spots have long been shut down, falling to tough economic times, there is still a lot left to see and stretches of the road and its sideshows are slowly being restored to their former glory, making the "Mother Road" still the quintessential American road trip.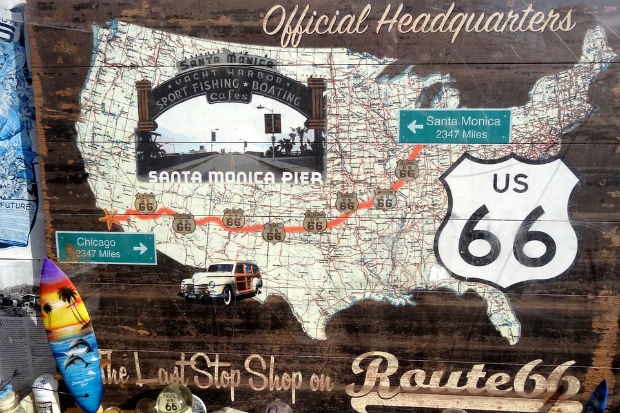 Today's Route 66 has been described as a virtual outdoor museum; where abandoned drive-ins, old-school gas stations and classic diners meet you in every state. It's eclectic, kitschy, telling and rich. Ostrich farms and antique shops rub shoulders with ruins of trading posts and weekend flea markets – this is Americana at its finest. This is where you'll find the first McDonald's restaurant and unofficial museum, the country's oldest Baptist church and cemetery, working ranches and legendary steakhouses. Neon signs adorn stylish 1930's Art Deco buildings that light up the hot summer nights in fluorescent yellows and electric blues, screaming everything from "Vacancy" to "Get hitched on Route 66."  It's Dennis Hopper and Easy Rider. It's the bootlegger tunnels of Cicero, Illinois. It's Steinbeck's The Grapes of Wrath. It's all that and more.
 Beds
From campsites and trailer parks to motels, inns, resorts and spa retreats, there is absolutely no shortage of both typical and unique accommodations to get some rest en route. Here is a couple that caught my eye.
-       Once a brothel for randy roadsters, the Wigwam Motel in Rialto, California, (there are seven in total and two on Route 66) gives guests an opportunity to sleep in an actual tee pee, with some modern conveniences. Your quarters have cable TV and air conditioning and the property does have a swimming pool but there is no internet access, there are no telephones or ice machines. When you see the cheeky sign reading "Do it in a Tipi!" you've found the right place. The route's other "wigwam village" is in Holbrook, Arizona and is within easy reach of some must-do side trips including the Petrified Forest National Park, the Painted Desert and the Grand Canyon.
-       In contrast, the almost ghost town of Topoc, Arizona is putting the finishing touches on one of the more spectacular properties you'll come across with the upcoming opening of the grand riverside Topock 66 Spa & Resort. The marina, massive pool, restaurant and microbrewery are already open for business and a top-of-the-line spa with conference and wedding facilities is being built as we speak. Rent a boat for the day and cruise the Colorado River, hop on the back of a Harley Davidson and join a Route 66 bike tour or simply sit back and relax in a mud bath at the spa.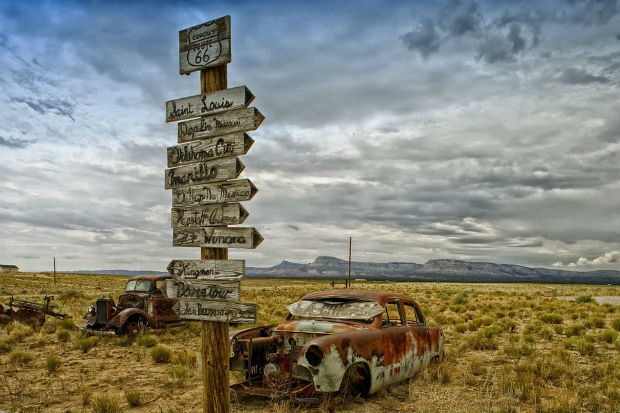 Eats    
Breakfast, lunch and dinner are highly anticipated events as restaurants, no matter your taste, are plentiful and a big part of the Route 66 experience. From Red's Giant Hamburg in Missouri, America's first drive-thru, to pop-up roadside fresh orange juice stands and the Big Texan Steak Ranch (72 ounce steaks!), there are countless mouth-watering options and reasons to pull over and taste, marvel and replenish.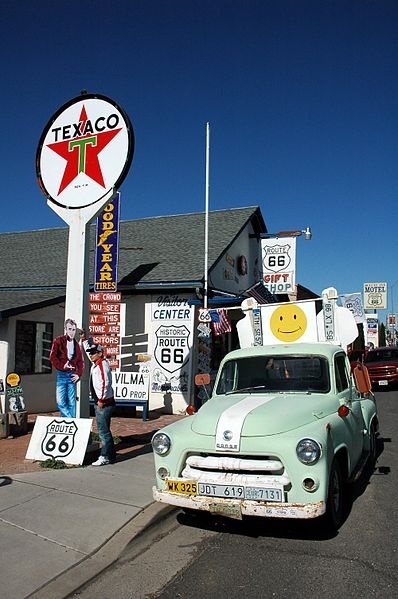 -       Joe Rogers' Chili Parlor in Springfield, Illinois dishes out world famous chili which you can customize to suit your taste. Affectionately called "The Den", it has become somewhat of an institution, drawing foodies from around the globe daily to sample their hearty beans n' beef concoctions.
-       Offering more than 25 different types of pies, Missouri's A Slice of Pie is a simple, cash-only gem where locals flock and tourists praise.
-       In 1876, infamous outlaw Jesse James robbed the Crowell Bank in Baxter Springs, Kansas. Today, the building houses the Café on the Route and for fans of Food Network's Diners, Drive-Ins and Dives, it should be a no-brainer.
-       Gourmet Magazine featured Oklahoma's Clanton's Café, naming their Chicken Fried Steak one of the best dishes on Route 66. Wash it down with one of over 500 house-made sodas at POPS and their "soda ranch" and you're ready to hit the road again.
-       Steaks aside, your Texas stop should include the Midpoint Café & Gift Shop - a landmark for being the exact mid-way point between Chicago and Los Angeles, and the only place to find the famous Ugly Crust Pies. They must be delicious to look so ugly.
-       New Mexico's Bobcat Bite in Santa Fe got its name after the bobcats that would come down from the hills behind the restaurant to feast on the chef's scraps. Today, the cats are gone but their Green Chili Cheeseburger isn't and is totally worthy of a visit.
-       At Delgadillo's Snow Cap Drive-In in Seligman, Arizona, the joke is on you. Practical jokes played on patrons by the staff are commonplace but play second fiddle to their delicious creamy root beer milkshakes.
-      The end of Route 66 in Santa Monica, California brings us to Ocean Ave Seafood and their award winning raw bar. The Los Angeles Times named their oysters the "best dozen oysters on the half shell" and it's the perfect place to sit back and stare out into the Pacific blue, reminiscing about your still-fresh trip of a lifetime.
Experiences
If you were to do it all, with so many places to visit and possible side-trips to take, it may be hard to keep this to a one or even two week drive. It's best to have even a simple plan and whether you are looking to tour places of historical significance, natural wonder or the campy and the fun, buckle up and enjoy, here are a few.
-       One of the most photographed and iconic Route 66 symbols is found in a field just off the road, west of Amarillo, Texas. The Cadillac Ranch art installation has been wowing passers-by since 1974 when land owner and eccentric billionaire Stanley Marsh III wanted some public art to decorate the sparse long horn landscape. San Francisco hippie art collective Ant Farm drove 10 Cadillac cars out to his field and buried them, nose down, as a tribute to the evolution of the Cadillac tail-fin. It is said that they sit at the same angle as Egypt's Great Pyramids of Giza, facing west and in a perfect line. Over time they have been defaced and vandalized repeatedly, creating a forever changing installation that is as much the visitor's as it is "the Route's." Go on and sign your name, it's almost expected.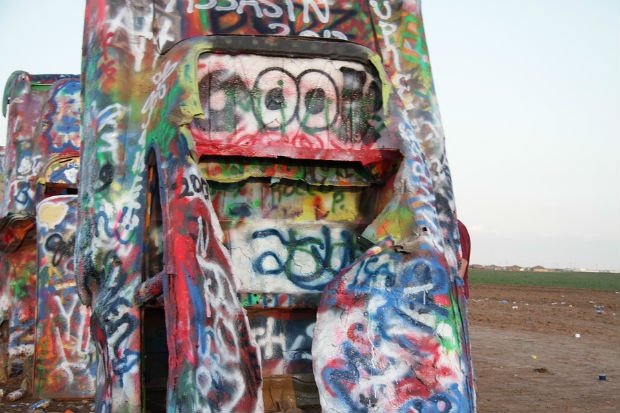 -       The Santa Anita Race Track in Arcadia, California has a skeleton in its one hundred year or so old closet. Originally built in 1903, its new grandstand enveloped by the stunning San Gabriel Mountains, thoroughbreds raced and entertained the greater Los Angeles area crowds until the state banned gaming a few years later. The property was sold back to the government who used it as an Army balloon school during World War I. After the war, it was transferred back to the city and revived as a county park until the gaming ban was lifted, re-opening the track once again only to close it a few years later. World War II and the Japanese attack on Pearl Harbor shot fear through the nation which, in response, rounded up Japanese-Americans to stash in makeshift concentration camps. The site of the Santa Anita Race Track housed almost 20,000 detainees and was the largest such facility in the United States. The race track re-opened after the war and still stands today, sending several of its horses on to win the prestigious Kentucky Derby.
-       The route is also your gateway to several lesser known archaeological and fabled sites worthy of exploration. The Meramec Caverns, The Ice Caves, Calico Early Man Site and the 10,000 year old Bandero Volcano are just a few examples of the history that comes alive as you snake your way through the vast countryside. Missouri's limestone Meramec Caverns are said to be where the outlaw Jesse James hid from authorities and eventually escaped through a network of tunnels and the underground river where tours are available. New Mexico's accessible Bandero Volcano left a lava trail to the blue-green glistening Ice Caves, whose year-round freezing temperatures created natural layers upon layers of perpetual ice. Perhaps the most intriguing however, is California's Calico Early Man Site in the central Mojave Desert. Excavations have garnered fossils of everything from camels to saber-tooth cats and the debate continues today whether other pre-historic findings dating back 100,000 years resembling tools are in fact human made artifacts or geologically shaped. If human made, these would predate other verified findings by thousands and thousands of years.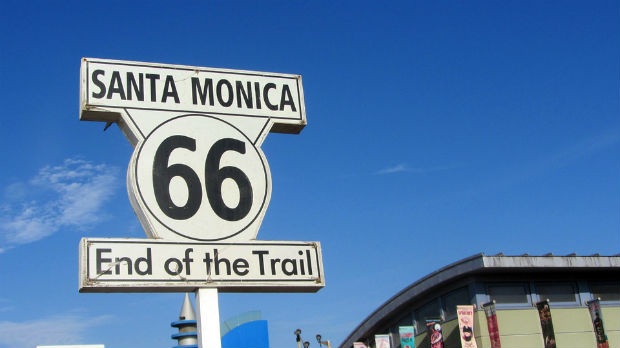 So, gas is cheaper, there are plenty of great eats, folks are friendly and you may even learn a thing or two. And while the interstate can get you there faster, I can't think of a better example of when it's best to take the road less travelled.
Summertime is road trip season and Flight Centre has your flights and car sorted. For questions or to make a booking, connect with us online, call us 1877 967 5302 or visit your closest Flight Centre store.