10 Traits That Prove You're A River Cruise Person After All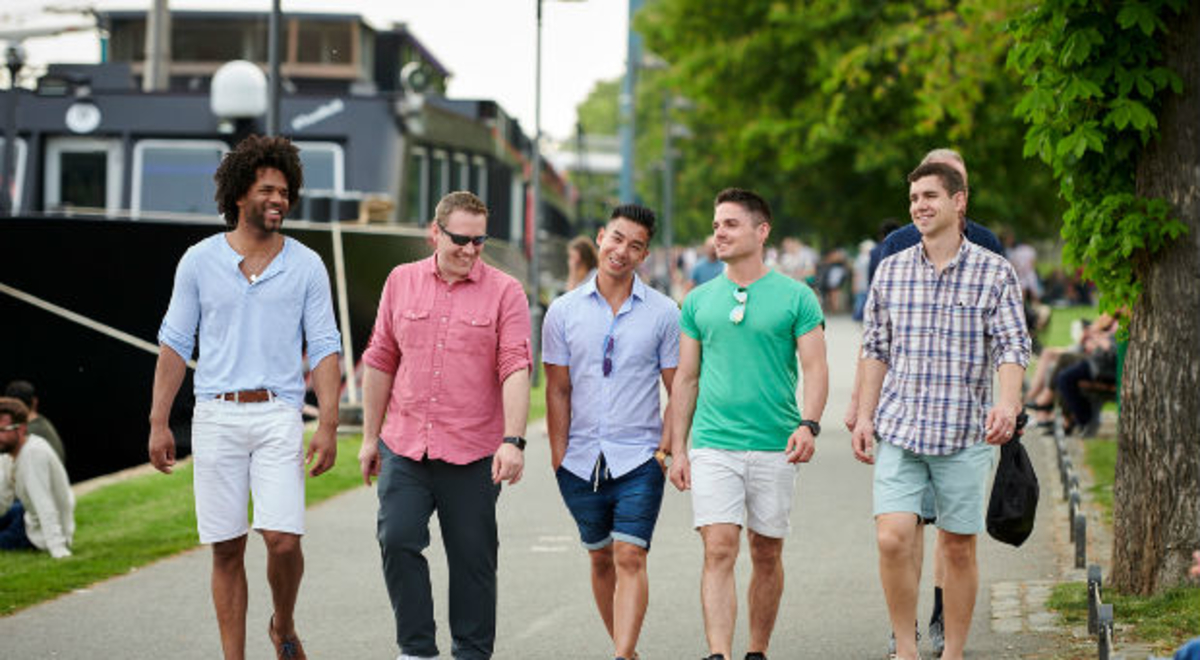 Unique and unforgettable, U By Uniworld's fresh approach to river cruising has re-invented this amazing way to experience the world's greatest cities. For those of us who didn't think we were the river cruise "type", this innovative brand is changing perceptions.
U By Uniworld River Cruises: An U-nbelievable Experience
Discover why a U By Uniworld river cruise will knock your socks off.
Last year, I wrote about the launch of the first river cruise line designed for millennials–-- U By Uniworld. In a market traditionally geared towards an older segment, this concept was groundbreaking.
U's modern ships are essentially floating boutique hotels, and include sexy rooftop lounges, DJ'd nightlife, yoga classes, craft beer tastings and coffee bars. Land excursions, onboard activities and experiences appeal to younger tastes and abilities. I was mesmerized by how cool this brand sounded and immediately added a U by Uniworld Europe cruise to my ever-increasing travel wish list.
U's 'Germany's Finest' river route. I began in Frankfurt, but you may choose to start in the opposite direction, too.
Little did I know, I'd check off this high-ranking item sooner than I dreamed possible. Earlier this month, I had the pleasure and privilege of being onboard The A, the first U by Uniworld ship, winding my way down the Main River, linking to the Rhine and Danube, admiring southern Germany's most historic and picturesque cities. My fabulous week with U exceeded my expectations, as did the gems of Germany we visited.
River Cruises, Re-invented.
Perhaps you can relate to what I'm about to share. I've been enthralled by river cruises for a long time, with their appeal of ever-changing scenery, waking up to a new destination every morning, and seeing more than you would with land travel. However, I associated Europe river cruises with wealthy retirees, and both my budget and sensibilities stopped me from pursuing it further. That was until U by Uniworld stopped me in my tracks.
U By Uniworld offers itineraries to Europe's great cities, which were built on waterways. Even if you've done the backpacking through Europe thing, this is a fresh way to revisit your favourite cities, plus explore others that may not have been on your radar. Oh, and although it's marketed to a younger crowd, U By Uniworld doesn't discriminate or have an age limit, welcoming all passengers that feel they'd be a fit.
On a regular Uniworld cruise, many passengers have visited Europe before, and choose a river cruise to leisurely travel it in a new and stress-free way. With a U itinerary, you have more opportunities for:
Physically challenging yourself -- on my itinerary, there was cliff climbing. (For me, it was enough of a challenge doing early sundeck yoga after our silent disco night!)
Trying new, culturally-relevant things - German pretzel-making class, anyone? We had a lesson with the owner of the country's oldest pretzel bakery, a family dynasty. A master baker, he could take his comedy act on the road, too with his "knotty" sense of humour as he taught us the art of making pretzels.
Visiting places you wouldn't have thought to see on your own - I fell in love with Miltenberg. If you haven't heard of it, neither had I, and it was one of the most picturesque places I've ever seen, nestled in the mountains and home to a Medieval castle and Germany's first inn.
Time travelling – I have been to the future, people! I'm talking about touring the state-of-the-art BMW factory, an excursion offered when we docked in regal Regensburg. I was also transported to the past, thanks to the rich history of our destinations, highlighted by U guides.
So, for those of you who don't think you're the "river cruise type", here are some reasons U by Uniworld is blowing other cruise experiences out of the water.
The sleek and sexy lounge is the heart of the ship, by day you can sip a hand-crafted coffee and play board games, by night, watch the twinkling lights glitter on the river with a cocktail and live music.
Why choose U by Uniworld?
You are looking for a holiday that:
is youthful and active
is more affordable than a traditional Uniworld river cruise, yet still luxe
incorporates technology for an immersive experience
brings together like-minded travellers
takes you to culturally significant destinations
provides cool and authentic excursions
balances group tours with ample personal time
is sophisticated yet laid-back
maximizes leisure time
eliminates hassles of travelling and navigation
allows you to be waited on hand and foot
looks after everything for you, while giving you individual choice and autonomy
includes chef-prepared meals and customized menus

Choose from shared, single and suite cabins, some with a river-facing balcony. Pictured is the suite. Pretty sweet!
Is U is for You?
Intrigued, but still not convinced? Check out the travel types that would love a river cruise:
Luxury Lover
U's sleek black fleet receives a lot of attention. The inky ships are such a stark contrast from conventional white river boats, whose passengers' heads would turn when we passed by. As our cruise director told us on the first day, be prepared to hear, "Hier kommt das schwarze Boot!" (German for, "here comes the black boat!".) But it's the interior that really feels luxe. Cabins are beautifully appointed with quality hair and body products, wooden hangers, Egyptian cotton bedding and electrical outlets that accommodate plugs from around the world (that was a hyge relief for me!) Other elements, like massage treatments and attentive, professional service, put you in the lap of luxury, making this a vacation where you can spoil yourself without even trying. Thanks to the fun vibe of the U brand, the luxury translates into relaxed sophistication.
Fanatic Foodie
If you haven't figured it out already, this isn't your grandma's cruise line. The stylish dining room, located in the ship's lower level, offers aquatic views and attentive service. Uniworld is already known for its gastronomic offerings in the river cruise space, and U By Uniworld is no different. Except that, it is different in many of its selections.
Millennial palates will be pleased with breakfast buffets that include green smoothies, fruit bowls and chia puddings, and yes you guessed it, avocado toast. You also get your mouthwatering breakfast staples that are taken to the next level: made-to-order omelettes and gourmet French toast. Buffets epitomize quality over quantity, and every menu is infused with locally inspired and sourced foods.
Craft Beer Connoisseur
You can't be on a river cruise that goes through Bavaria, without enjoying beer. It flows like water there, and the rumours I'd heard were true—it's often cheaper than buying water. The craft beer connoisseurs on the trip were in their "hoppy" place with an excursion to one of Germany's oldest breweries in beautiful Bamberg, dating back to the 16th century. Since beer is such a part of the German culture, we had some non-beer drinkers come along, too, showing an appreciation for the history behind the process.
Outdoors Adventurer
If you want to quench a different kind of thirst, namely that of adventure, a U By Uniworld itinerary will do the trick. Whether you're a full-throttle thrill seeker, or wannabe one like me, every day there are opportunities to get you active and moving. The first morning in Miltenberg, we had the choice between a cycling tour or hike (I chose the latter). Both required a decent degree of fitness level, as the hike had a steep summit to climb. There would be other opportunities to use the U bikes throughout the trip; I took one out to ride around quaint Kelheim. The U bikes are deserving of a section of their own; never before had I taken such a smooth cycle, and the helmet and gear was top-notch.
Smartphone Savvy
U By Uniworld has its thumb on its target demographic, choosing progressive technology over printed schedules. The cruise manager created a WhatsApp group for the hosts to communicate itineraries, real-time events and important updates. With free WiFi on the boat, this was a simple yet super helpful way to disseminate daily schedules, deliver updates and deal with any questions that might arise. Our group was encouraged to share photos; the perfect way to get pics we'd missed taking ourselves, as well as foster interactions with the staff and passengers.
Culture Vulture
Visit a German abbey for an intimate wine tasting.
The myriad cultures of Europe always amaze me; the variety and vast differences one finds in a small geographic proximity. One of the many wonderful things about river cruising is covering a few countries in one trip. U by Uniworld itineraries include Paris to Budapest, covering three countries over the course of a week. This would be challenging if not impossible to do on land; not only would it be exhausting to travel, it would be expensive, far less the headaches that would come from navigating the route on your own.
As mentioned, my itinerary was exclusively Germany, however, the same sentiment about experiencing different cultures remains. German culture and customs vary by region; even town to town in some places. Consider this, for example; we associate lederhosen with Germany; however, this iconic attire is only worn in a select part of Bavaria. I learned this tidbit in our final stop, Regensburg. It was only here that we saw lederhosen and dirndls being sold, and on occasion, worn as everyday clothing.
Art & Architecture Aficionado
Another vital selling point for me with river cruising is being able to admire the passing scenery while on board. Don't get me wrong, the sweeping and sparkling vistas of the ocean on a conventional cruise are nothing short of breathtaking. As we cruised through Bavaria, we admired its characteristic domed cathedrals that you won't find elsewhere in Germany, riverside towns and lush, green foliage. If you're into architectural engineering, the canals and locks through which we travelled were also something to marvel at. On land, there is no shortage of opportunities to admire the great artworks and significant architecture of European destinations.
Nomadic Nut
Who said it's just millennials that have short attention spans? Ever-changing scenery is one of the popular selling points of river cruising. If you're one of those travellers who gets bored easily, or likes a change of atmosphere on the daily, a river cruise vacation has your name all over it.
History Buff
Tours are paired with guides who are experts in their fields, and this includes historians. An optional excursion, that the the vast majority of our group elected to take, was a tour of Rothenberg, replete with a guide who gave a captivating glimpse into the romantic town's fairy tale past. In Nuremberg, my interest in World War II history was piqued by our knowledgeable guide, who took us to some of modern history's most horrendous places, coupled with educational insights. A monolithic coliseum Hitler commissioned, still standing half-built, among other monuments and rally sites, served as a grotesque and chilling reminder of the Nazi regime. Nuremberg, of course, is most notably where war criminal trials were held, and we visited the Palace of Justice, moving back in time to the city's castle, where our guide enlightened us with her impressive knowledge, coupled with a great sense of humour.
Entertainment Junkie
Ever participated in a silent disco? Sample craft beer and regional delicacies, take a painting class with a local artist, pamper yourself with a spa treatment and mingle with your fellow passengers with the daily signature cocktail (usually with a cheeky name.) During our sunset rooftop session, we were entertained by live saxophone complementing the DJ's chilled out set. Whether it's onshore, or floating along the river, U by Uniworld curates the must-see attractions of each port, as well as localized and secluded sights, to give you a truly entertaining immersive experience of these captivating destinations.
Go With the (River) Flow
Whether you're more about geography or gastronomy, adrenaline boosts or laid-back lounging, partying into the night or sunrise yoga, U By Uniworld will deliver an unforgettable vacation.
Put it this way, if I were to win the lottery, I'd book all of my friends on a U By Uniworld cruise. Until that happens, I can only highly recommend that they—and you—experience this new brand of river cruise for yourself.
Photos published with permission by Uniworld