Where Our Consultants Have Been Travelling Lately
Our consultants spend a lot of time exploring the world — so we asked a few of them to share highlights from their recent trips.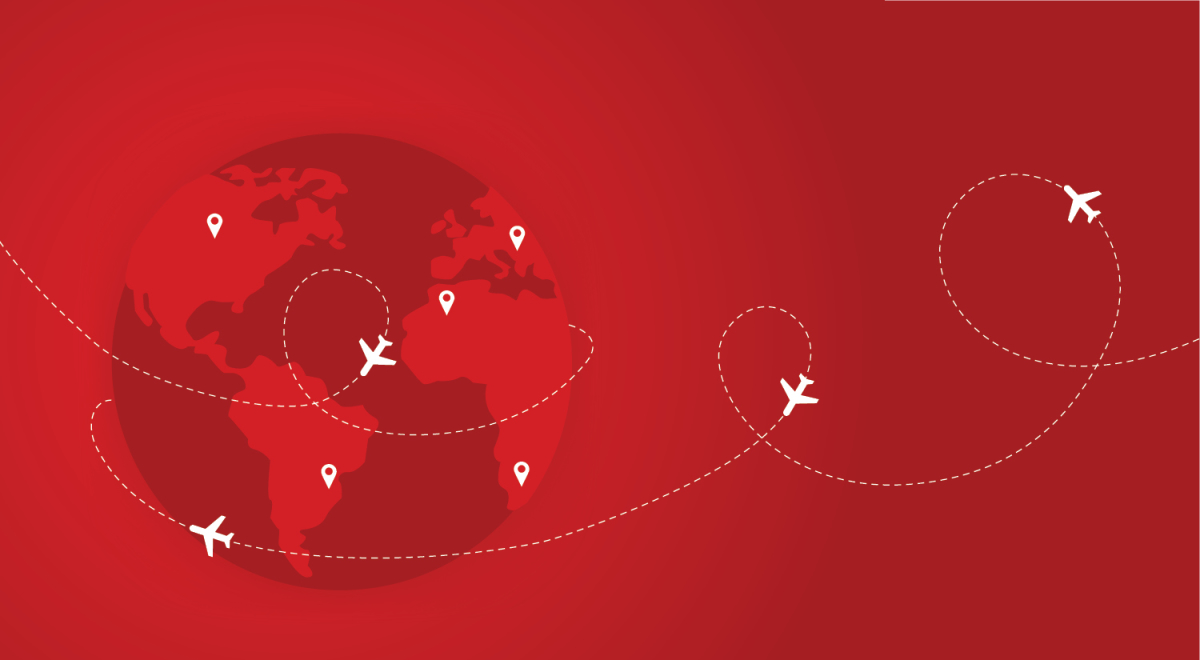 ---
---
Our consultants spend a lot of time exploring the world — so we asked a few of them to share highlights from their recent trips.
---
One of the things that makes our consultants so good at what they do is the fact that they're passionate world travellers. In between booking vacations for their clients, they spend a lot of time exploring new destinations, from Bali and Borneo to Chicago and Mallorca. Seriously…there's nowhere we haven't been. 
With that in mind, we chatted with seven consultants to get the inside scoop on their latest vacations. Keep on reading to learn about their itineraries, trip highlights and top pieces of advice.
---
---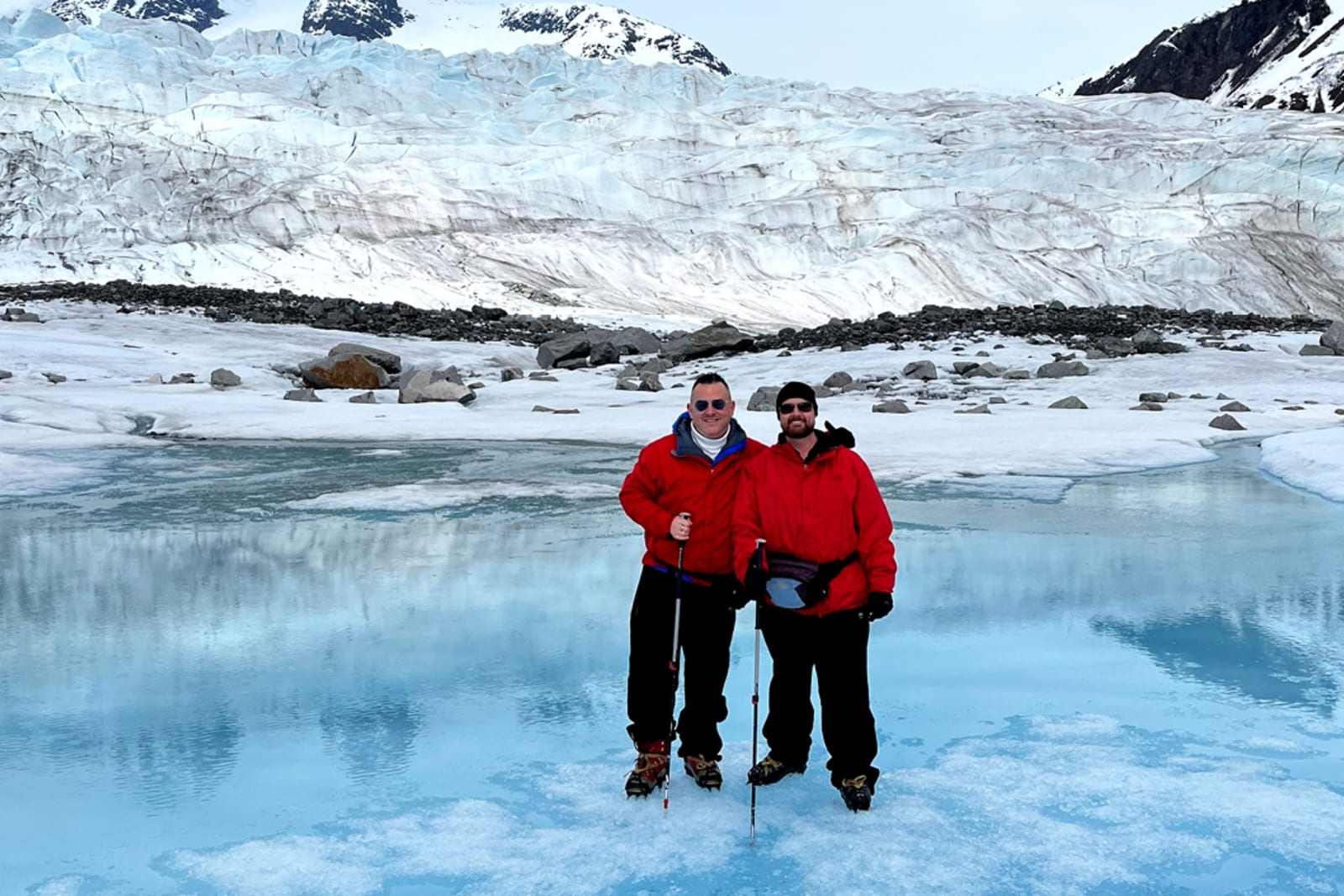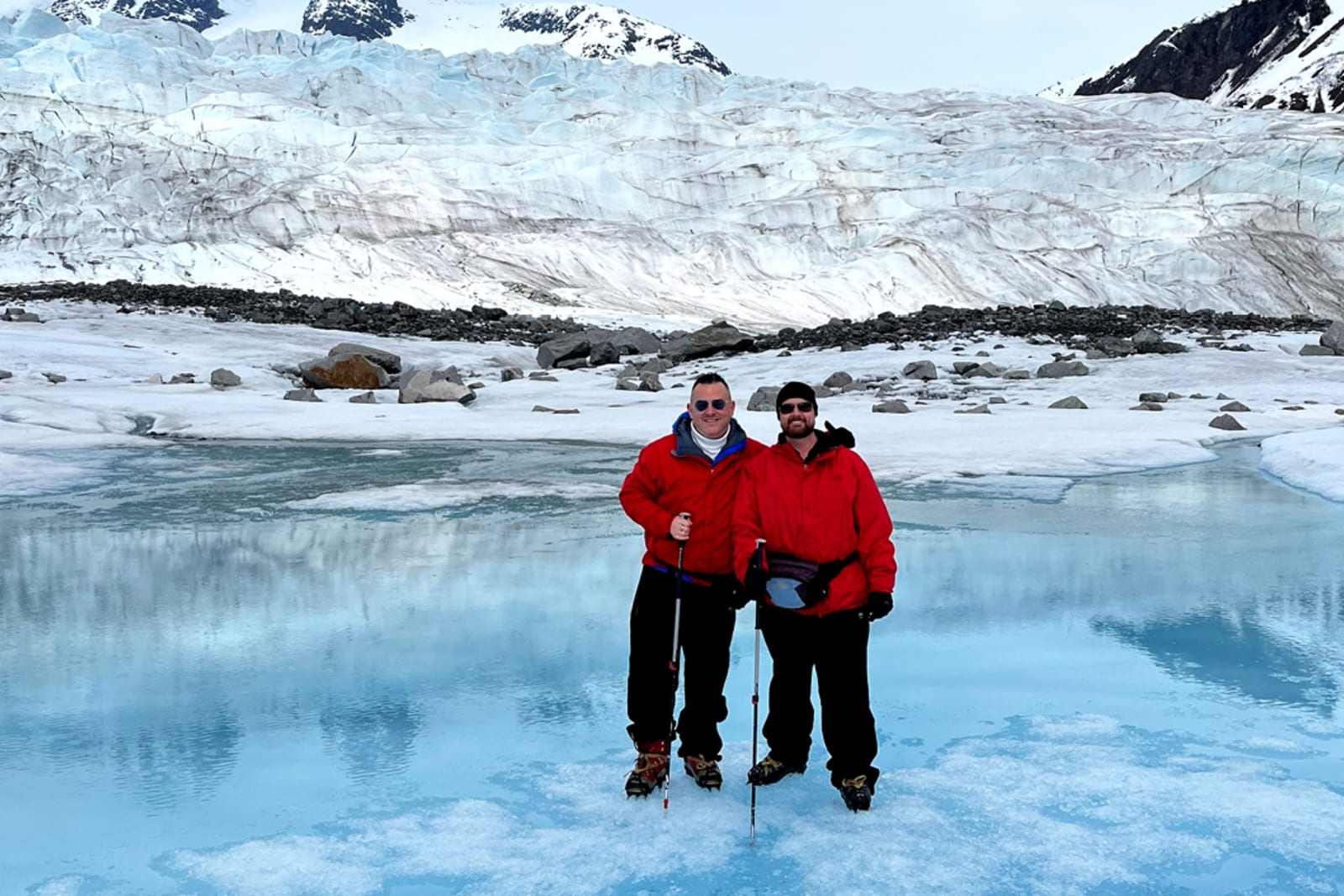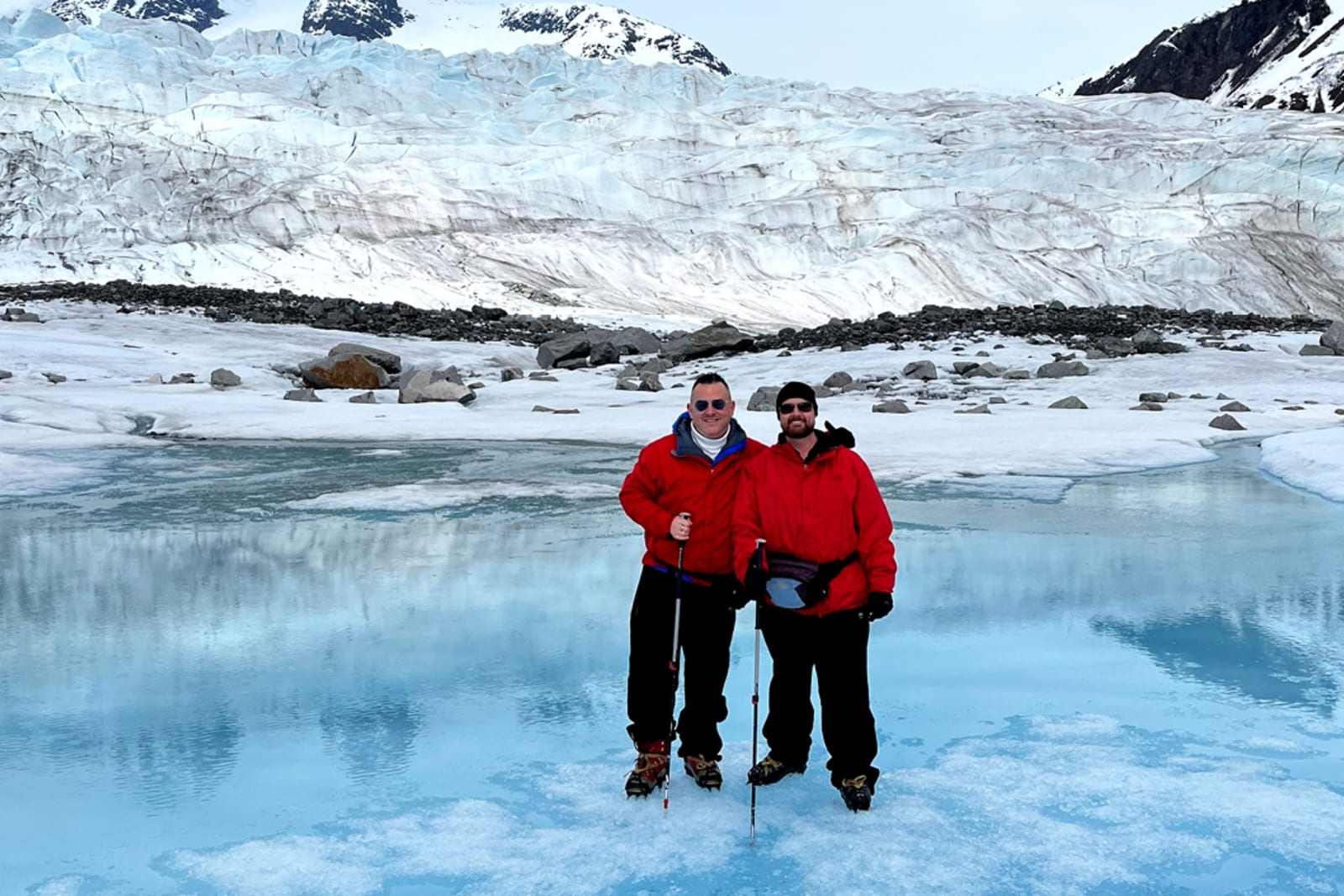 Brett Siborne's journey through the Inside Passage
Brett Siborne has been a Flight Centre consultant for almost 10 years — but of course, has been travelling much longer than that. In fact, he's been fortunate enough to visit 128 countries. He loves a sunny beach getaway, but most recently went on a journey through Alaska with Princess Cruises, a line he previously worked for.
Why did you decide to go on an Alaskan cruise? 
I wanted to know what it was like being a passenger. This was my first time being back on a cruise ship since I left Princess. It was also a ship that I had spent two years working on, so it was interesting to see it from the other side. Plus, I took my partner, who's never been on a cruise before. 
How did you like being a passenger? 
It was amazing! I actually saw quite a few people that I knew who I hadn't seen in 10-plus years. Even in line at the terminal building, this woman came up and said, "Oh my god, Brett, how are you?" It was a port agent, Monique, who happened to still be working there.
But it's funny…as soon as I got on board I switched into crew mode. I was holding doors open and directing people where to go before realizing I didn't have to do that. 
What was the biggest highlight from your trip?
We went on a helicopter ride that landed on the Mendenhall Glacier. When we got off, we were taken on a guided hike for about an hour. We saw these little river flows, they showed us where the glacier had receded and then we walked through different valleys of ice. It was just incredible.
What's one piece of advice you have for people going on an Alaskan cruise? 
Pack for all seasons. It doesn't matter what time of year you're going. You can experience all four seasons within a seven-day cruise, so pack lots of layers and a decent-sized backpack to walk around with.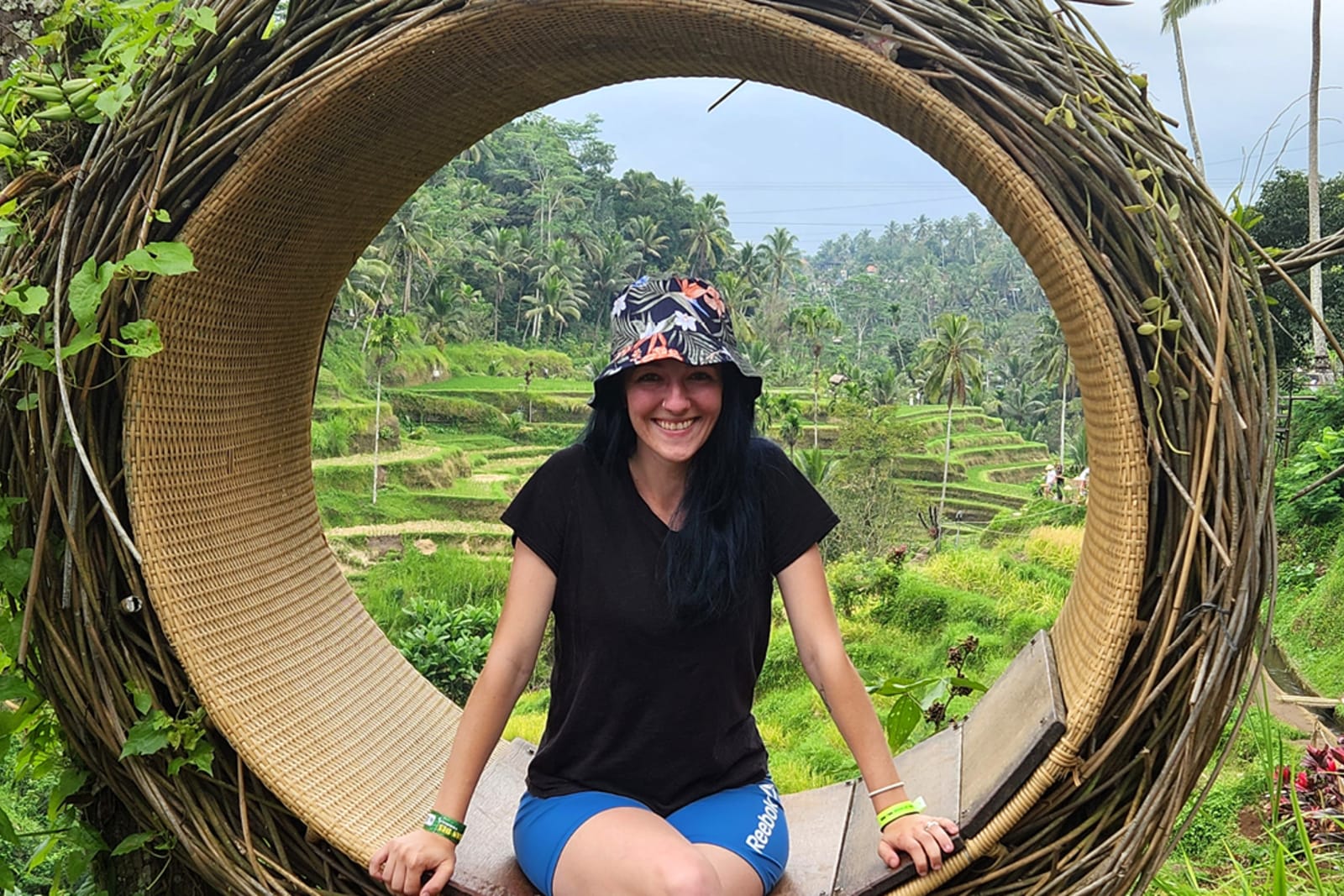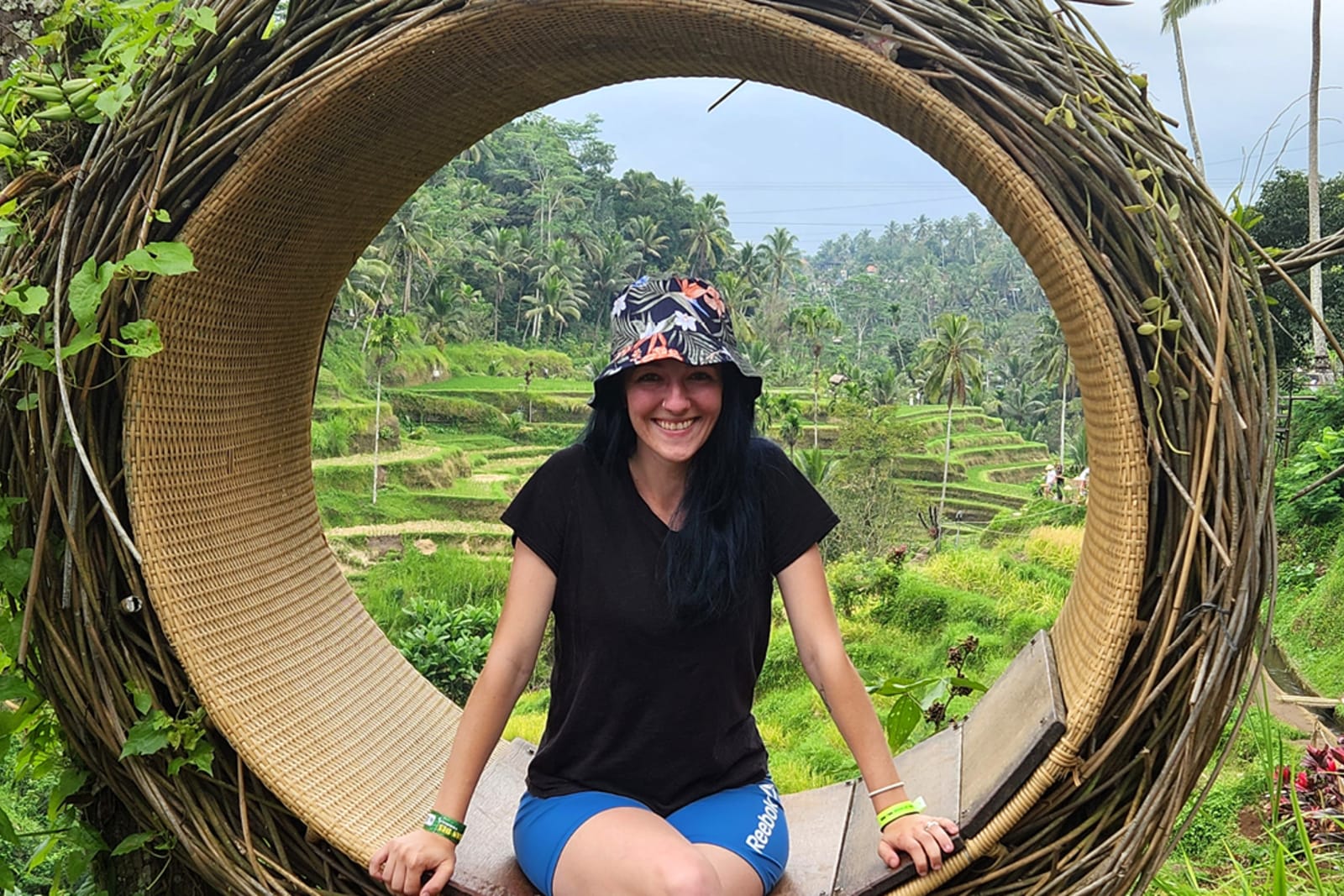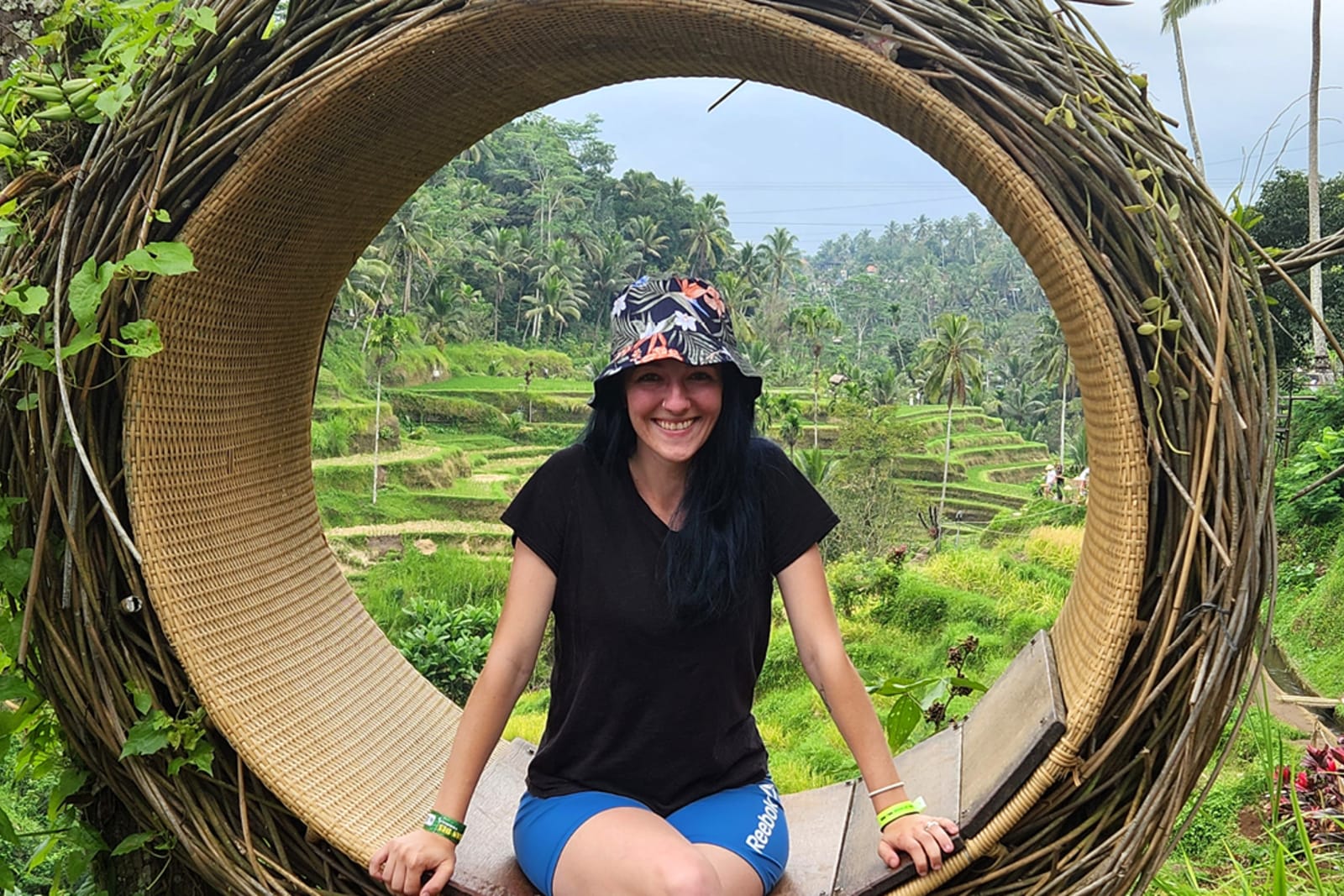 Mara Campbell's whirlwind tour of Bali
Mara Campbell is a self-proclaimed culture junkie. She loves learning about different people, religions, cuisines and ways of living. In July, she joined thousands of other Flighties at our annual employee celebration, which just so happened to take place in one of the most cultural destinations in the world: Bali!
What did you do during your time in Bali?
So, the first day that we were there, we had some free time. My friend booked a tour and asked if I wanted to go. Honestly, best decision of my life. It ended up being a private tour, and the local guide was amazing. He took us to the rice terraces and then we visited a couple of different temples. I remember looking around and thinking, "this is so peaceful." 
Then we went to a waterfall, where there were a lot of little spots to take pictures. And then we went to a shopping area where all the locals had set up their booths. It was really amazing.
I know you were only in Bali for a short time. If you were to go back, what would you want to do there?
I would probably do the private tour again. I did get our guide's contact information because I do plan on going back to explore different areas. There's an elephant temple that I want to visit. There's so much to do in Bali. You can probably spend a solid three weeks there and still learn new things.
A lot of travellers try to find hidden gems, but what's one "standard" tourist attraction that's worth doing in Bali?
The rice terraces. Tour guides will describe how the farmers maintain the fields, how they're part of the community. And then there's the ziplines and the swings. It's very picturesque. 
How would you describe your Bali trip in three words? 
Peaceful. Vibrant. Warm.  And not just temperature-wise! People-wise you just feel so loved and happy in Bali. 
---
---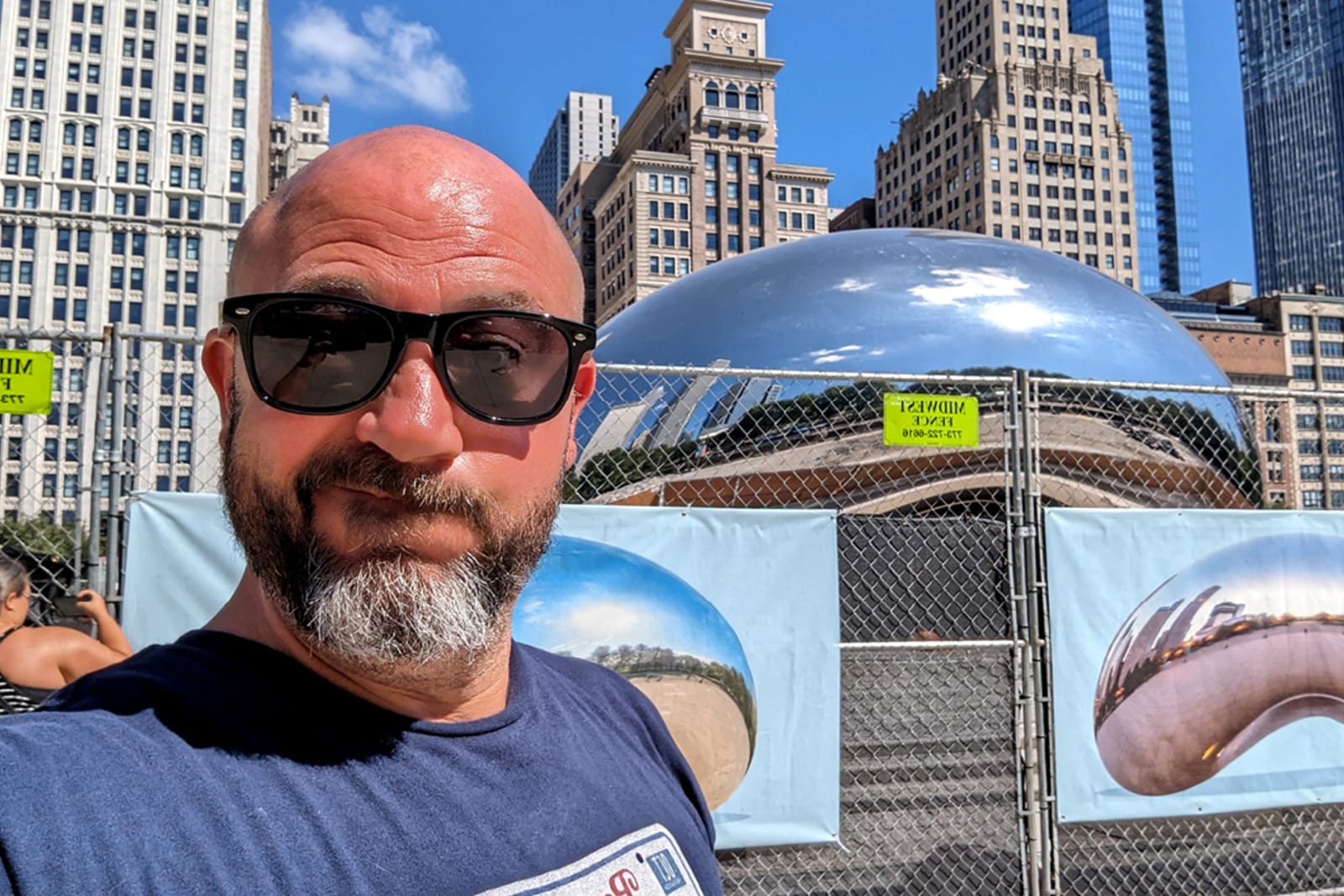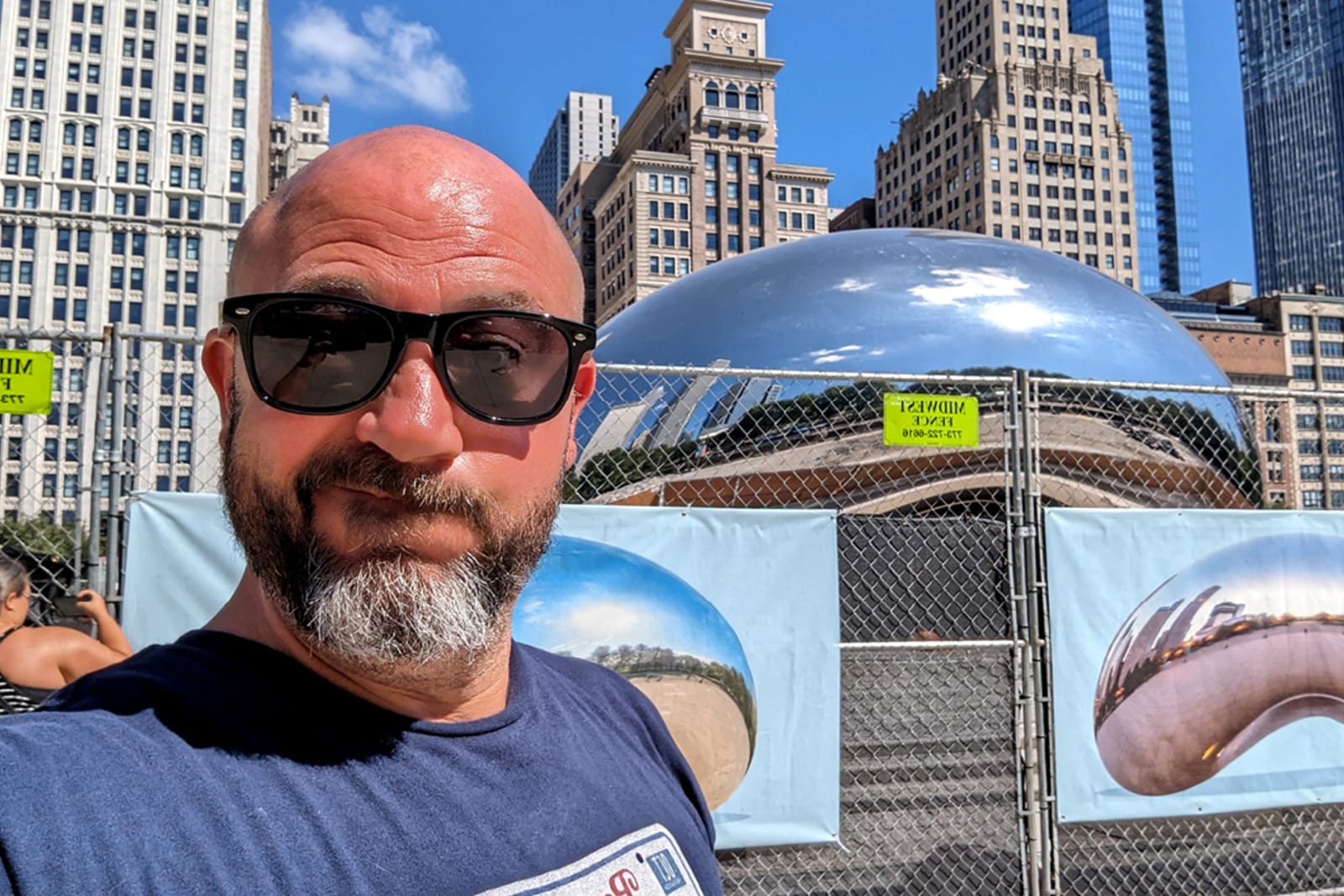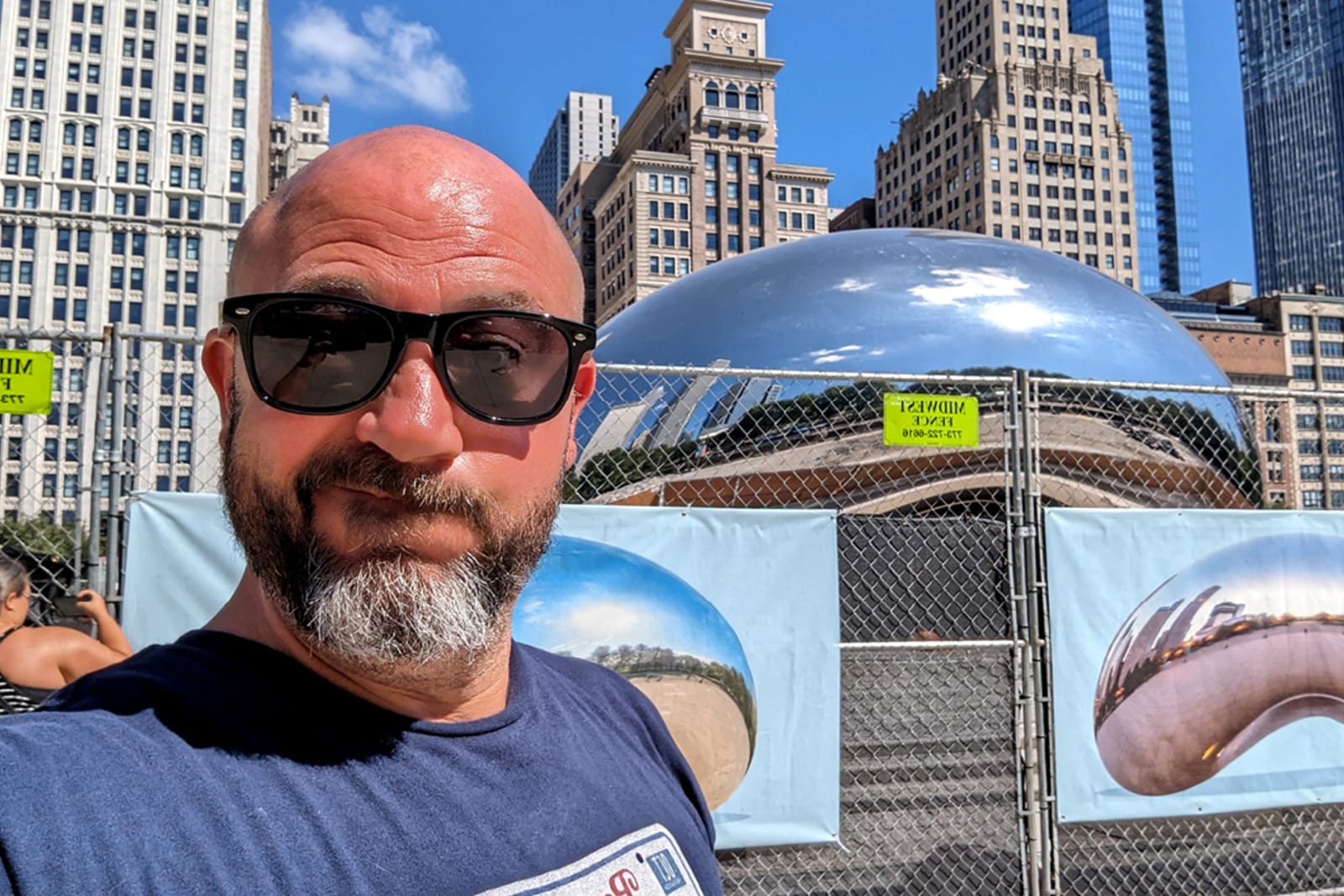 Omar Guechtal's trip to the Windy City
Omar Guechtal caught the travel bug while growing up in Switzerland. With Eurail (formerly Eurorail) passes in hand, he and his friends would often show up at the station, find a train that was departing within 20 minutes and hop on. Today, his travels are a bit more planned out — including a recent trip to Chicago, Illinois where he saw two incredible live events.
What were you doing in Chicago?
The original goal was to see Pearl Jam. I'm a big fan and usually follow them when they're on tour in Canada, but every now and then I'll go a little further. I'm also a big baseball nut, so it was a bit of a rite of passage to walk under the marquee at Wrigley Stadium and see the Cubs play. The rest of our time was spent wandering the city and admiring the architecture.
Aside from the concert and the baseball game, what was the highlight of your trip?
I loved taking the "L". We rode it from O'Hare into town. The Loop is so well known — you see it in movies — so it was really neat to use this public transit and to sit on the old, rickety train.
If you were to go back to Chicago, what would you do? 
Museums. A lot of our time was spent wandering around, walking up and down the river. We wanted to cover as much ground as possible. I'd also try to plan dinner a bit better. I love stumbling into places, but there are a lot of renowned restaurants in Chicago that I didn't get the opportunity to go to. But I did gorge on Chicago-style hotdogs, which are fantastic.
What's one attraction in Chicago that's not worth the hype?
I was a little underwhelmed by the Navy Pier. You get a really nice view of the city skyline, but it's very touristy. There were so many people and all the restaurants were, you know, big chains that everyone is already familiar with. You're not really going to get to experience anything new there.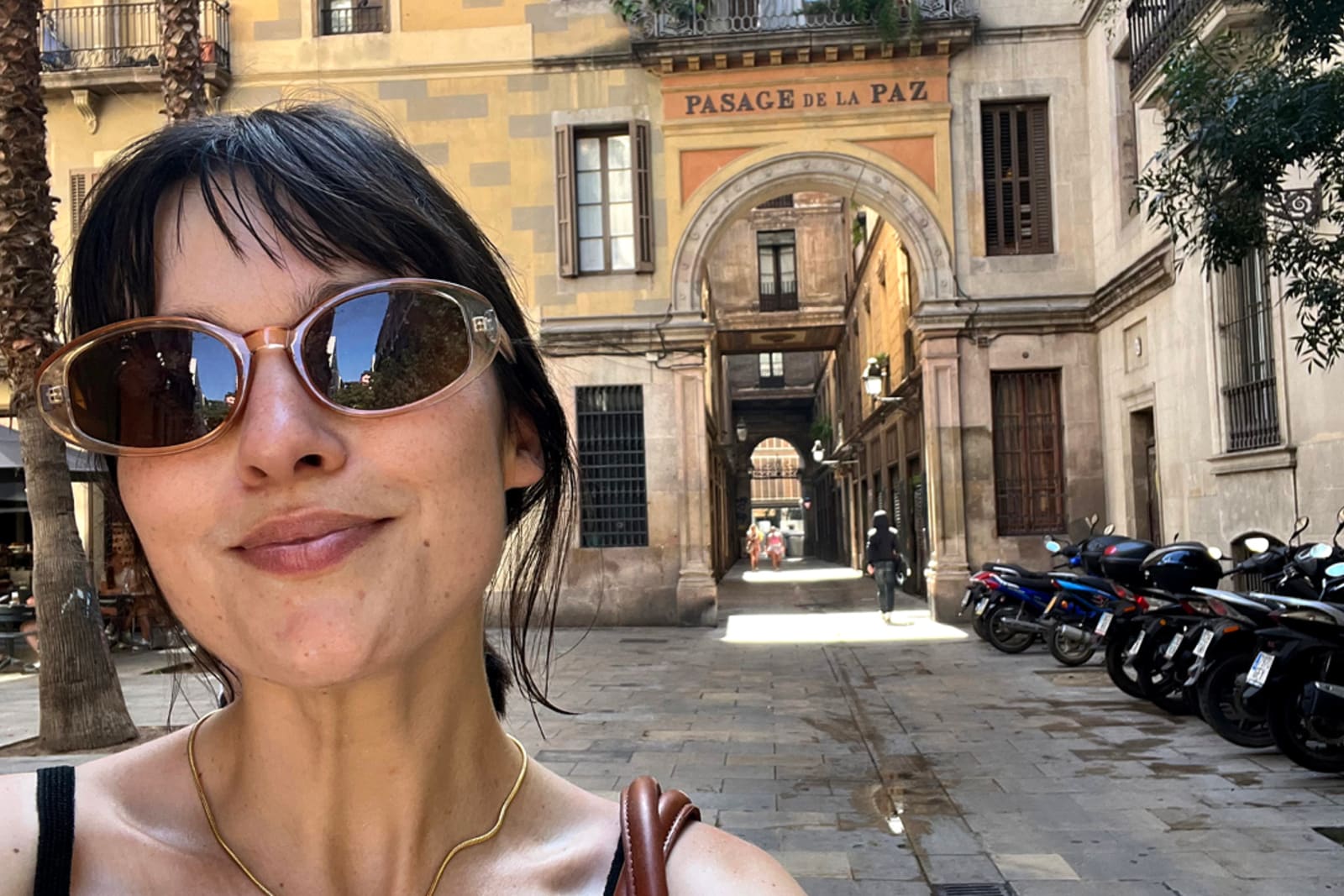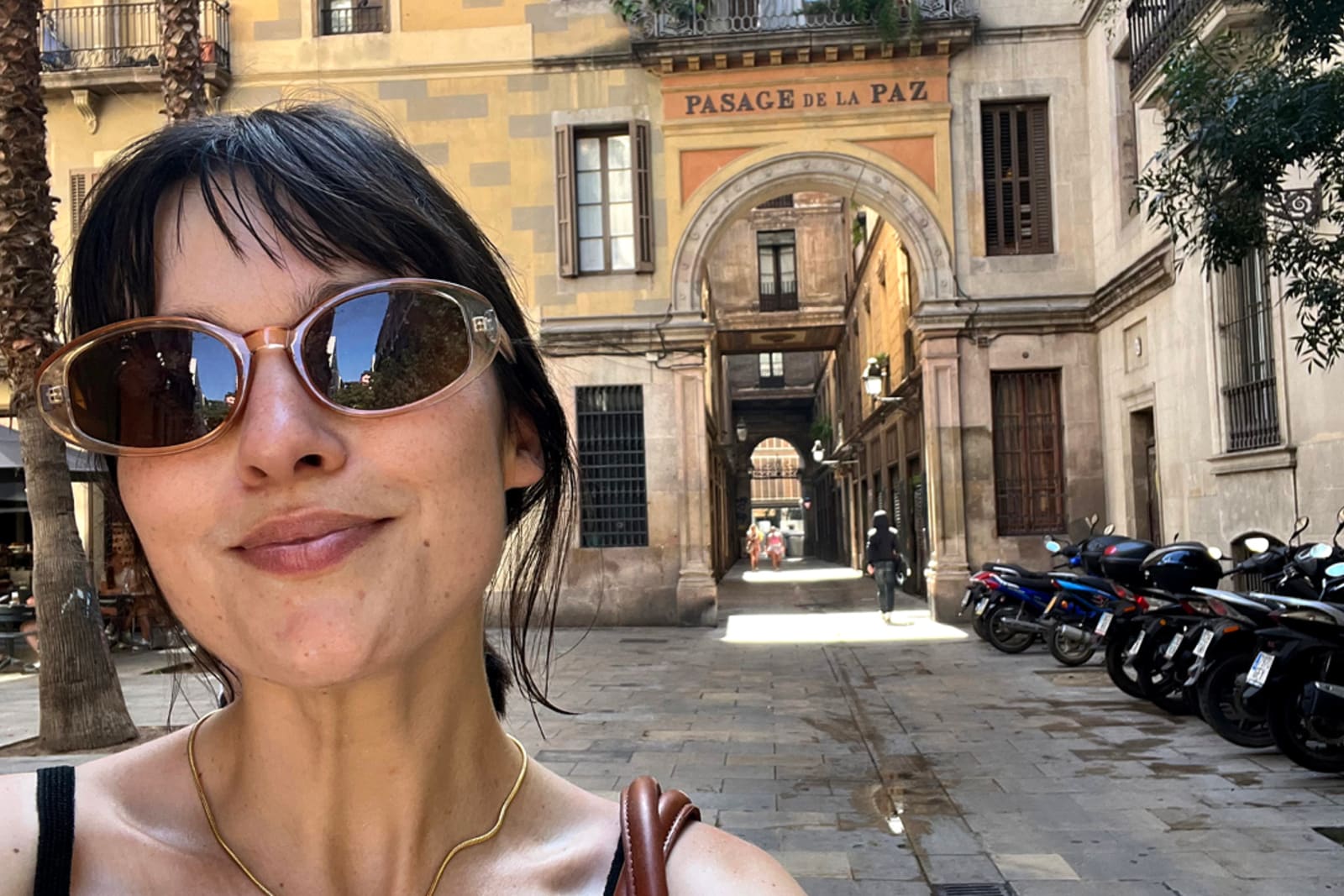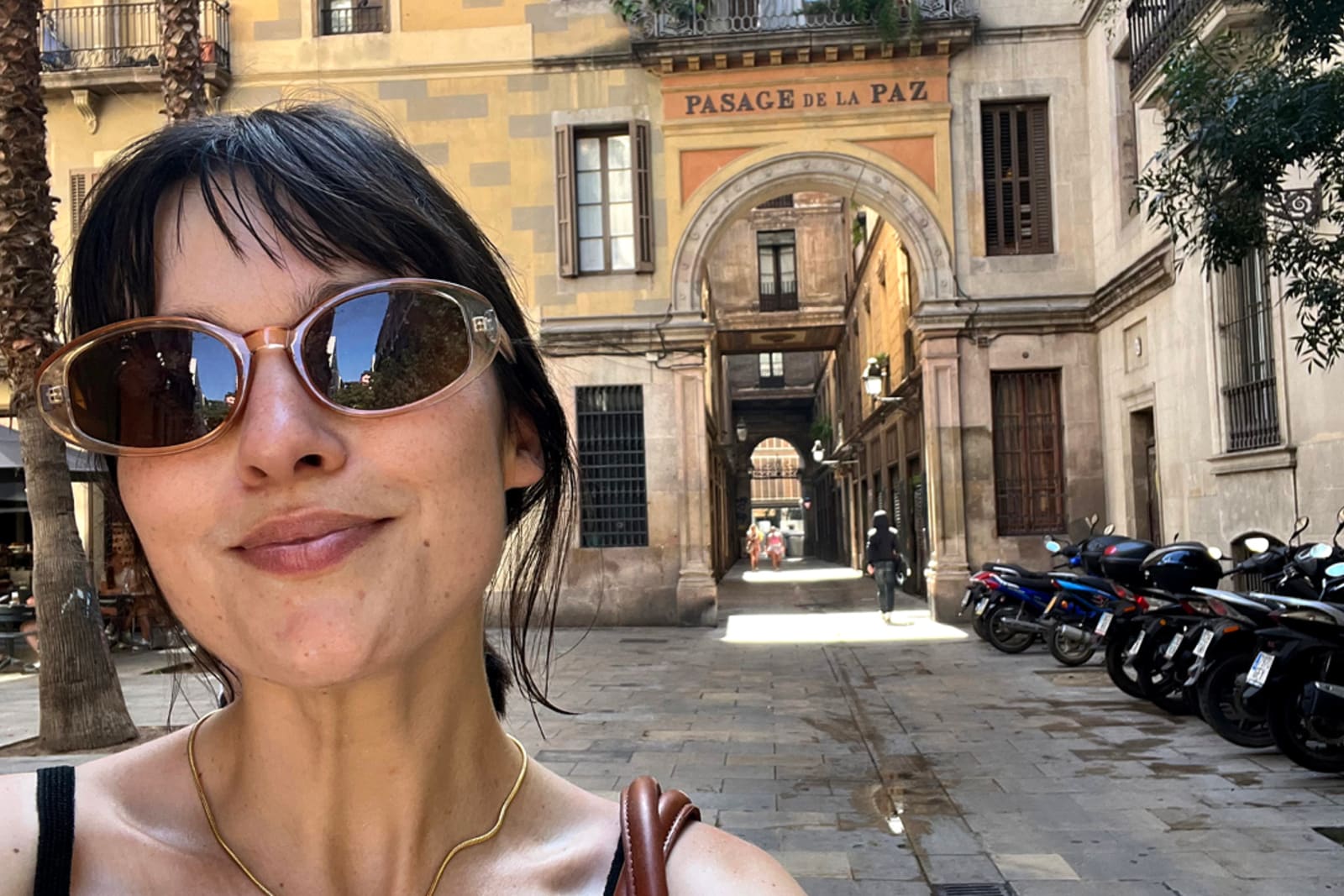 Nicki Clark's dreamy getaway to the Balearic Islands
Based out of our Kitsilano store, Nicki Clark enjoys planning multi-destination holidays for her clients — and recently went on one of them herself. When we spoke with her, she had just returned home from a trip that included stops in London, Barcelona and Mallorca. This was her first time visiting the Balearic Islands and it totally blew her away.
Tell me about your time in Mallorca. What was it like?
I am in love, I am obsessed, I want everyone to go there. The people are so free, the food is so fresh and the water…it's literally bathwater. And it's so clear! I've never seen such fluorescent blue. It was amazing. Swimming in the Mediterranean, and just taking in all my surroundings did wonders for my energy and allowed me to decompress from real life and work.
If someone only had 24 hours to spend in Mallorca, what would you recommend they do?
I think they should grab a coffee and a pastry in Palma. Then they should go to, I would say, Illetas Beach. Swim, relax, have a nap in the sun. Bring snacks and spend the day there. For dinner, go out and enjoy an entire tray of paella with some local wine. Talk to the waiters, learn about their history. Then, go back to the hotel, take advantage of all the amenities and the white robes, and get a good night's sleep. 
What's one thing people should pack for a trip to Mallorca?
If you're going during the summer months, bring flowy easy-breezy clothing because it is hot. You're either going to need to dry off from swimming in the ocean or from sweating out your paella.
Conversely, is there anything people should plan to bring home with them? 
You can find these little hand-carved wooden pomegranates on the island. I got myself one of those. There are also some really amazing ceramics you can get.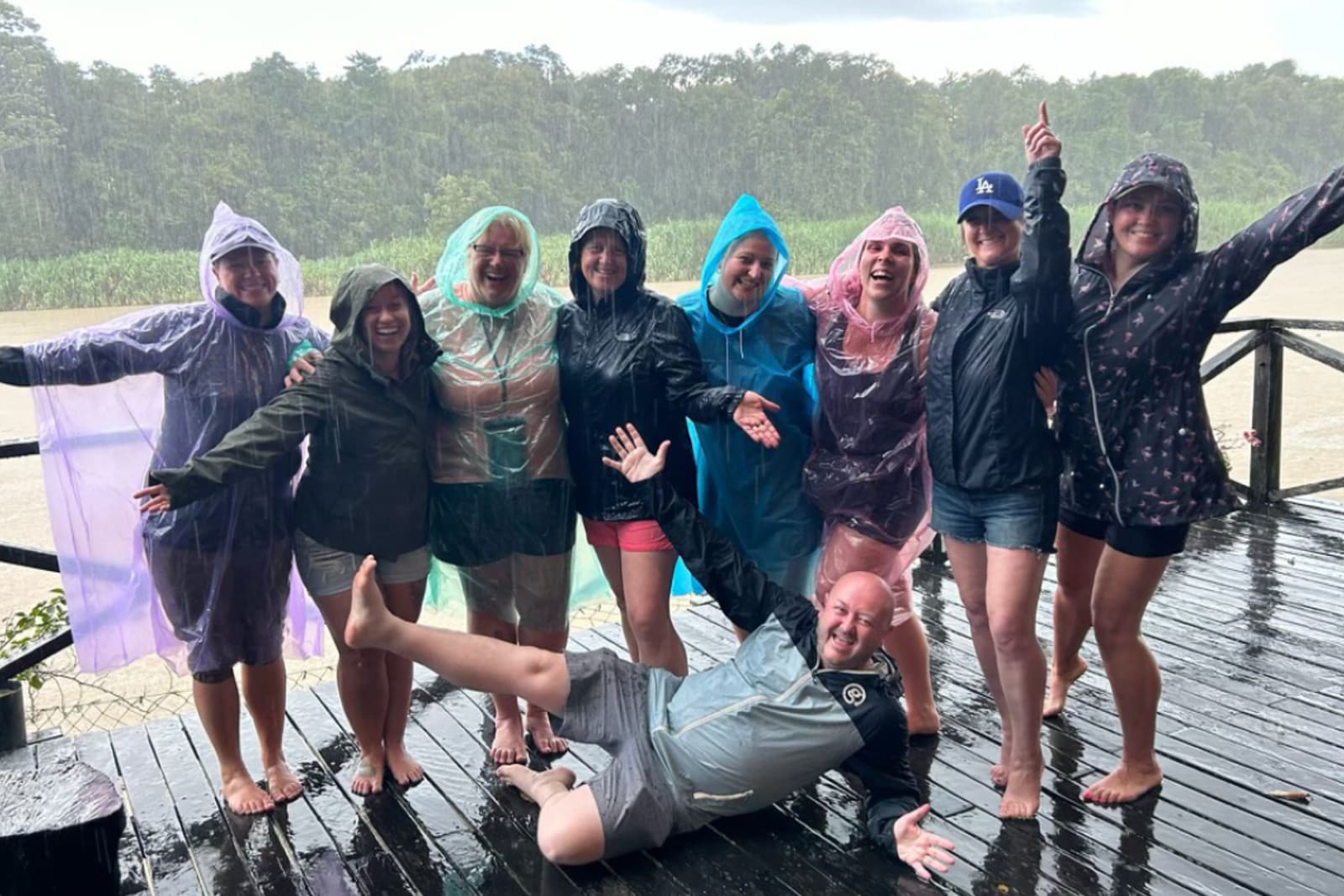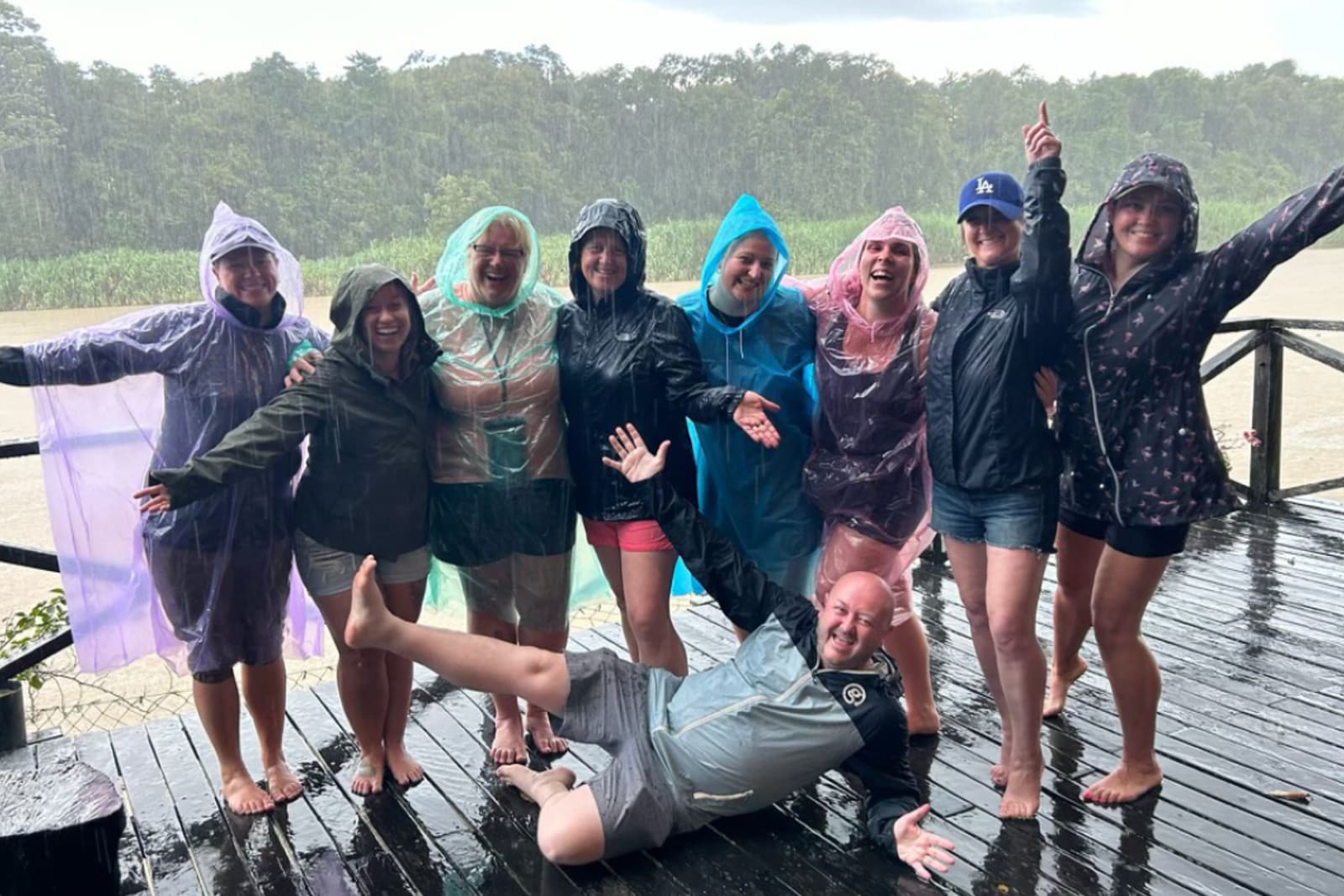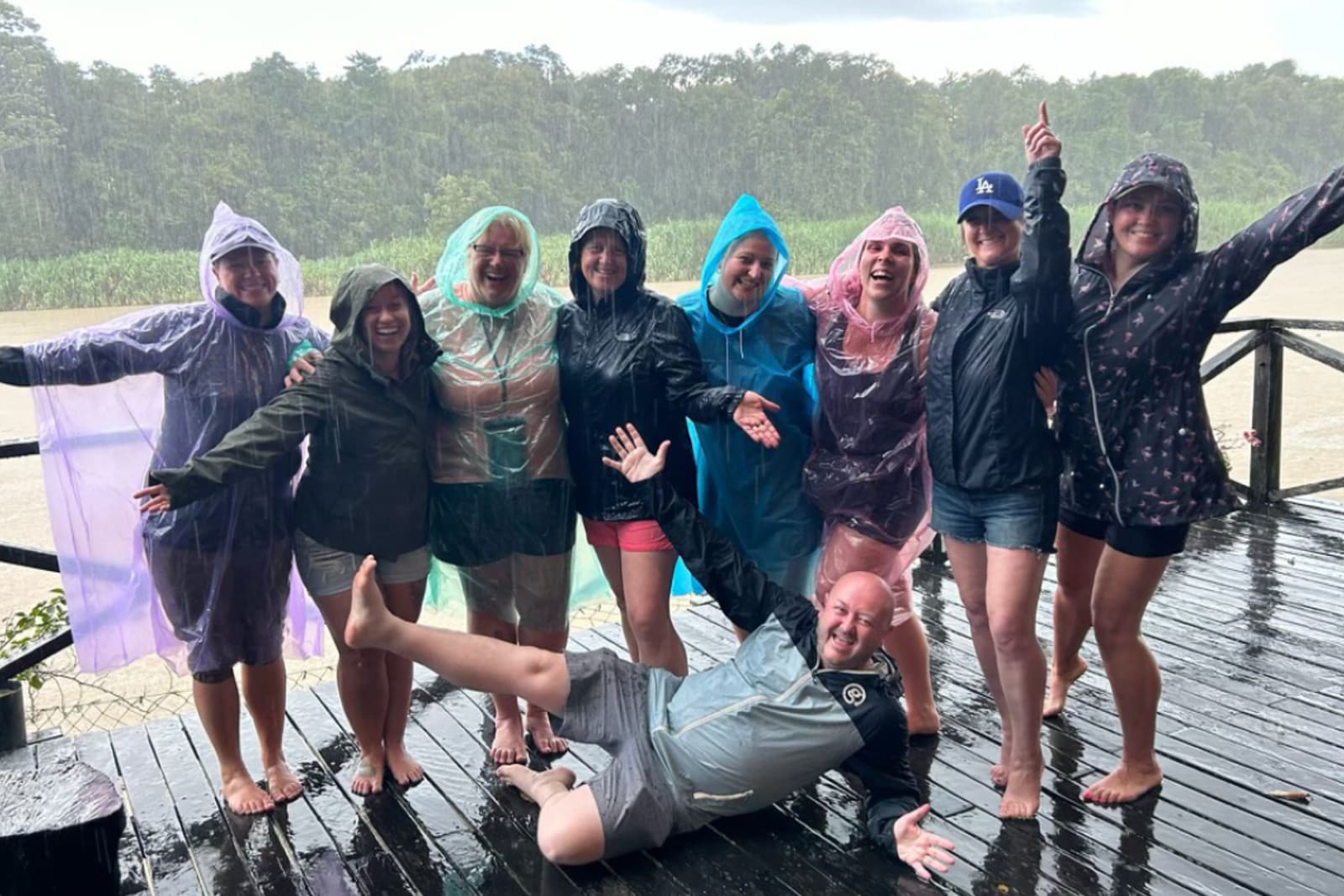 Valery Senyk's bucket-list adventure in Borneo
Valery Senyk just celebrated her one-year Flight Centre anniversary. She has a passion for sustainable tourism and enjoys being put in uncomfortable situations that require her to learn about and navigate different cultures and lifestyles. Most recently, that occurred on a Borneo tour with G Adventures.
What inspired you to go to Borneo?
Borneo is somewhere that I've wanted to go for decades. I'm a huge Jane Goodall and David Attenborough fan. In my early 20s, I watched a documentary about orphan orangutans and elephants, so that inspired it. I've been able to see elephants a few times in the wild while in South Africa, but I hadn't had a chance to see orangutans yet.
I just think orangutans are the cutest things in the world. They're just adorable…the way they swing around, how they're family-oriented. So, the orangutans were the original reason. I bawled my eyes out when I finally got to see them.
What was it like going on tour with G Adventures?
It was a seamless experience. I basically just had to show up. Everything was organized, and I was with a lot of like-minded travellers. I really believe in what G Adventures does. They're all about sustainable tourism, they give back to the communities that we went to.
We stayed at a homestay with a family at the base of Mount Kinabalu, and it was just awesome. You are really immersed in the environment and the atmosphere. Our guide also works for National Geographic, so he was very knowledgeable about the local wildlife.
Aside from the orangutans, what was the biggest highlight of your trip?
The river touring. It really pushed us out of our element. We got on the boat tour the first day, and it was just pouring rain. We got absolutely drenched, but we were all, like, "well, we're not here for a fashion show." 
We saw an elephant, all different types of monkeys and birds. It was really magical.
How would you describe your Borneo trip in three words?
Esoteric, inspiring and heartwarming.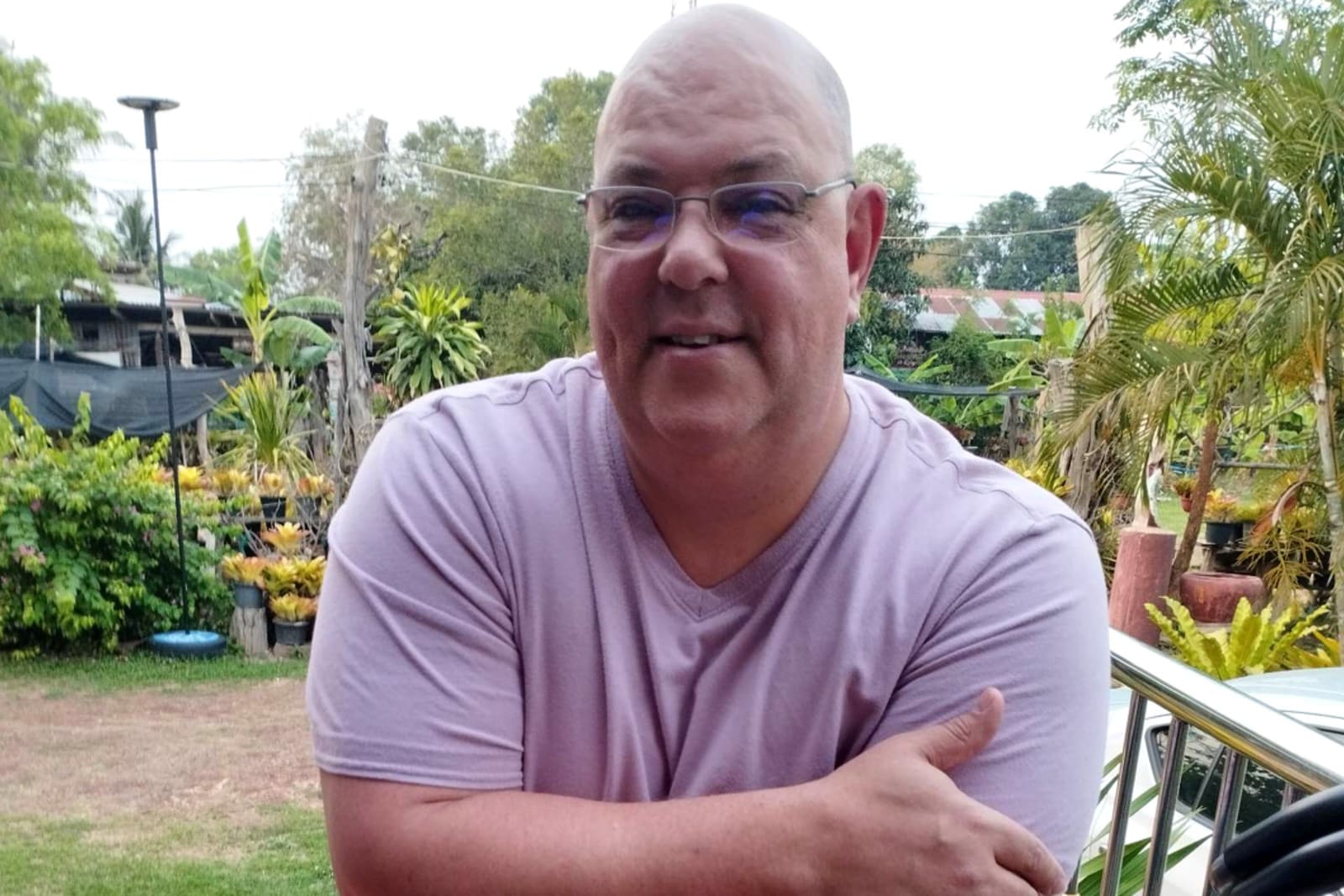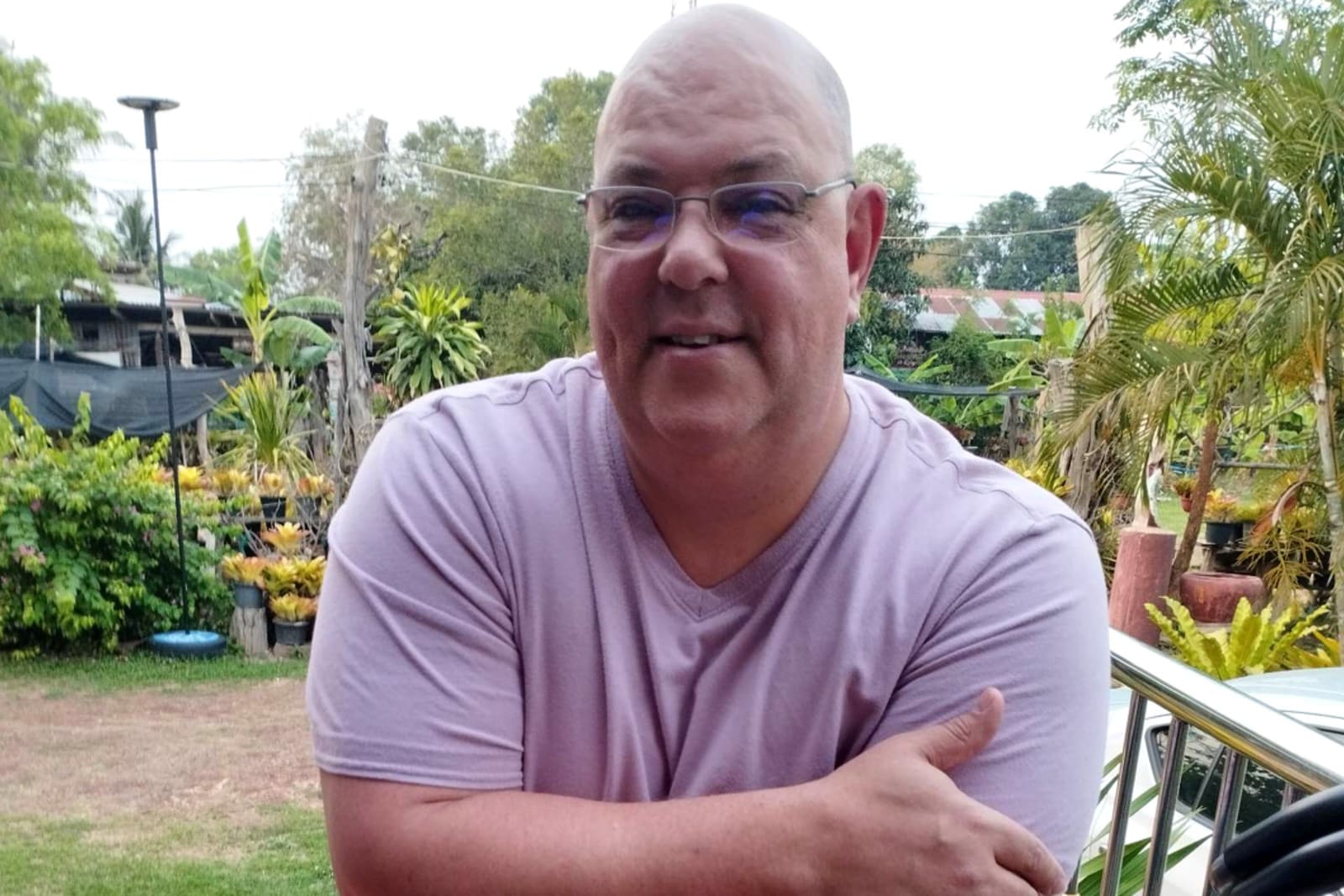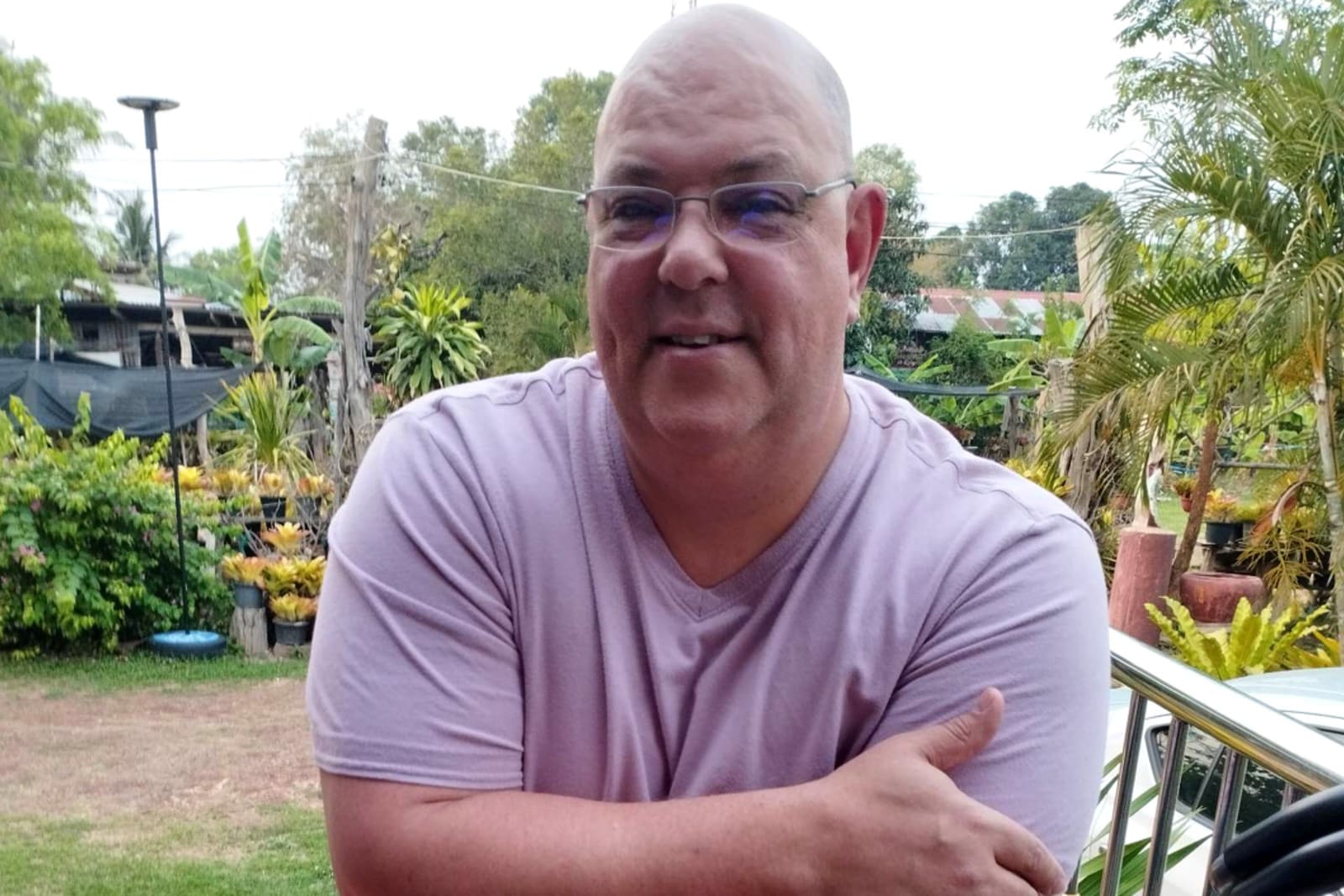 Neil Chesworth's two-month homestay in Thailand
Neil Chesworth enjoys travelling because it lets him explore new environments and escape from the hustle and bustle of everyday life — he likes getting a change of pace. But earlier this year, he took work with him to Thailand, where he lived for two months while visiting his wife.
What did you do during this extended trip to Thailand?
We stayed in a super small town in the northeast part of Thailand in the Uthen district. We rented a little one-bedroom bungalow. It's my wife's friend that owns the homestay.
It was a real combo of working and vacationing. We went to three or four markets in the Nakhon Phanom province, we went to some temples, and we just did some general driving around and looking at the countryside. My daughter came over for the last couple of weeks.
What was the biggest highlight of your trip?
Obviously, the food's a highlight. Uthen cuisine is considerably different from what everyone imagines Thai food to be like. Everybody thinks of green massaman curry, pad thai and pineapple chicken fried rice, but you'll hardly find any of that in Uthen.
You're more likely to find noodle soups, and lots of vegetables and seafood. A real true taste of Thailand.
What was the best thing you ate during your trip?
One of the things I couldn't get enough of was moo ping (grilled pork). I think I ate way too much of that. It's cooked over charcoal and the flavour…we just can't achieve that here. Another thing I was eating non-stop was something the locals call "sour mango". It's just a tart mango that they serve with a little salt, sugar and chili spice mix. 
If someone only had 24 hours to spend in Thailand, what would you recommend they do?
Thailand has some of the most amazing shopping malls, like the IconSiam in Bangkok. It's got water shows and an indoor floating food market. It's an experience. And then go to a night market. That's what I would say: hit up a mall and check out a night market. It'll show you two very different sides of Thailand.
How would you describe Thailand in three words?
As they say, "Land of Smiles". It really, truly is that. 
---
---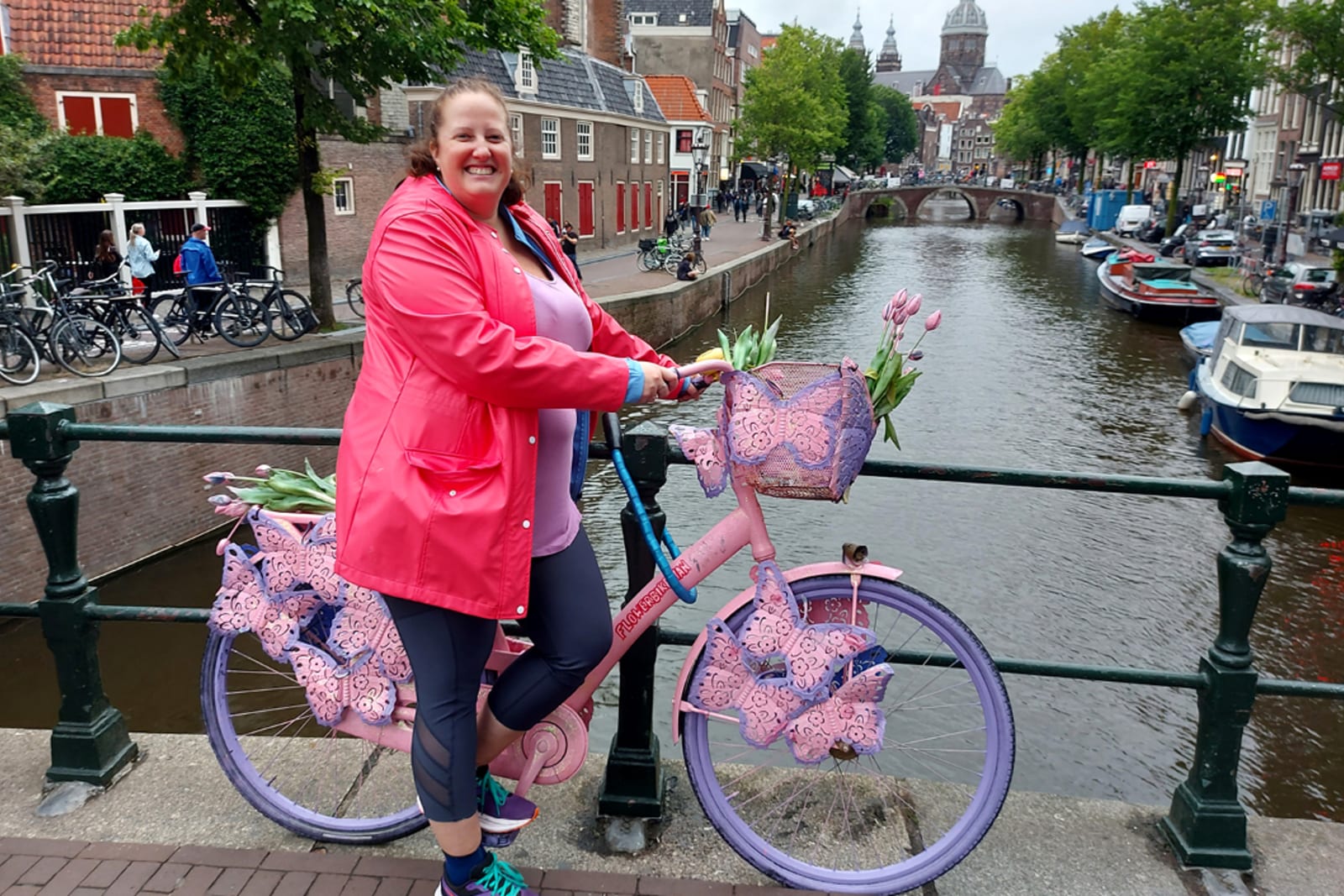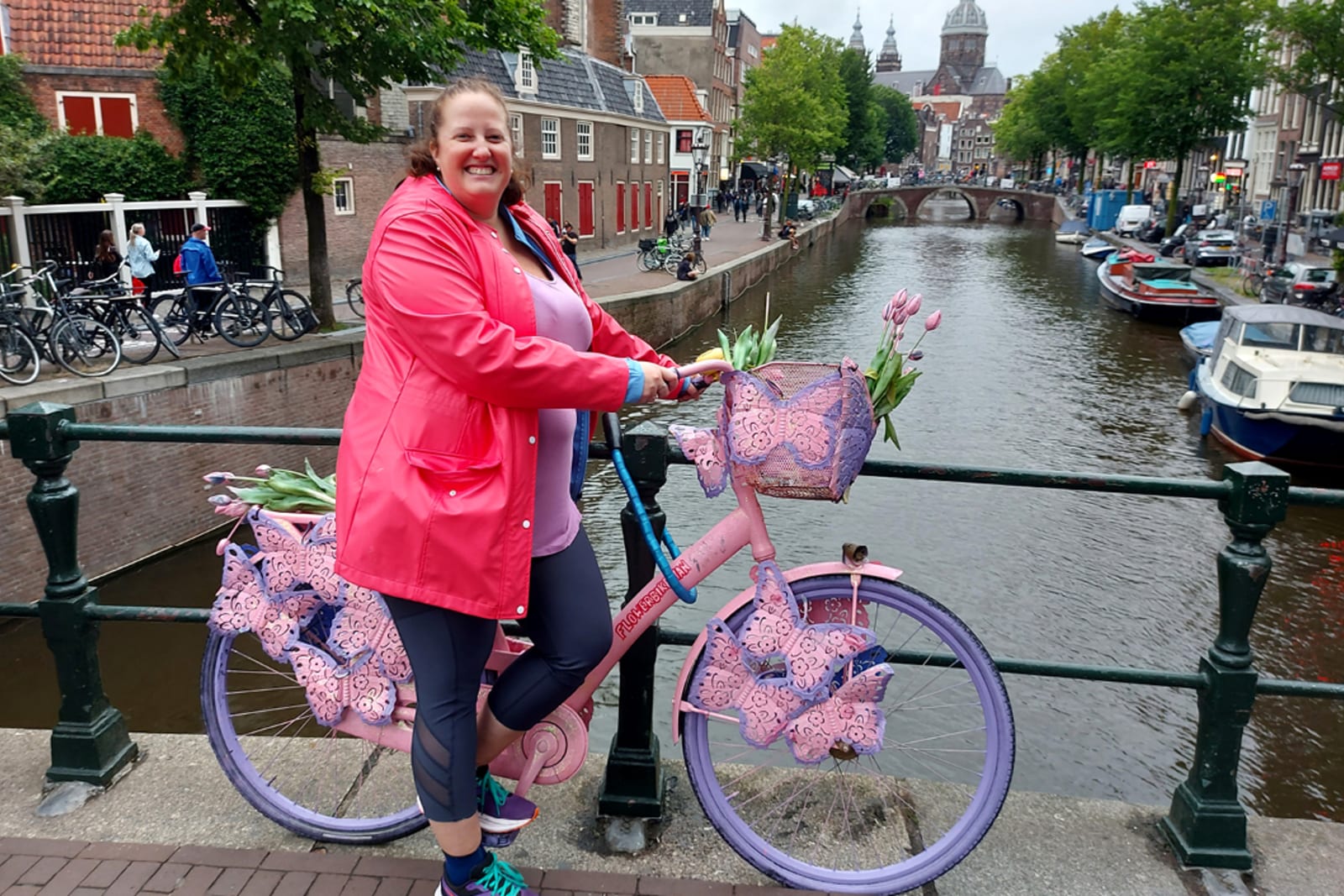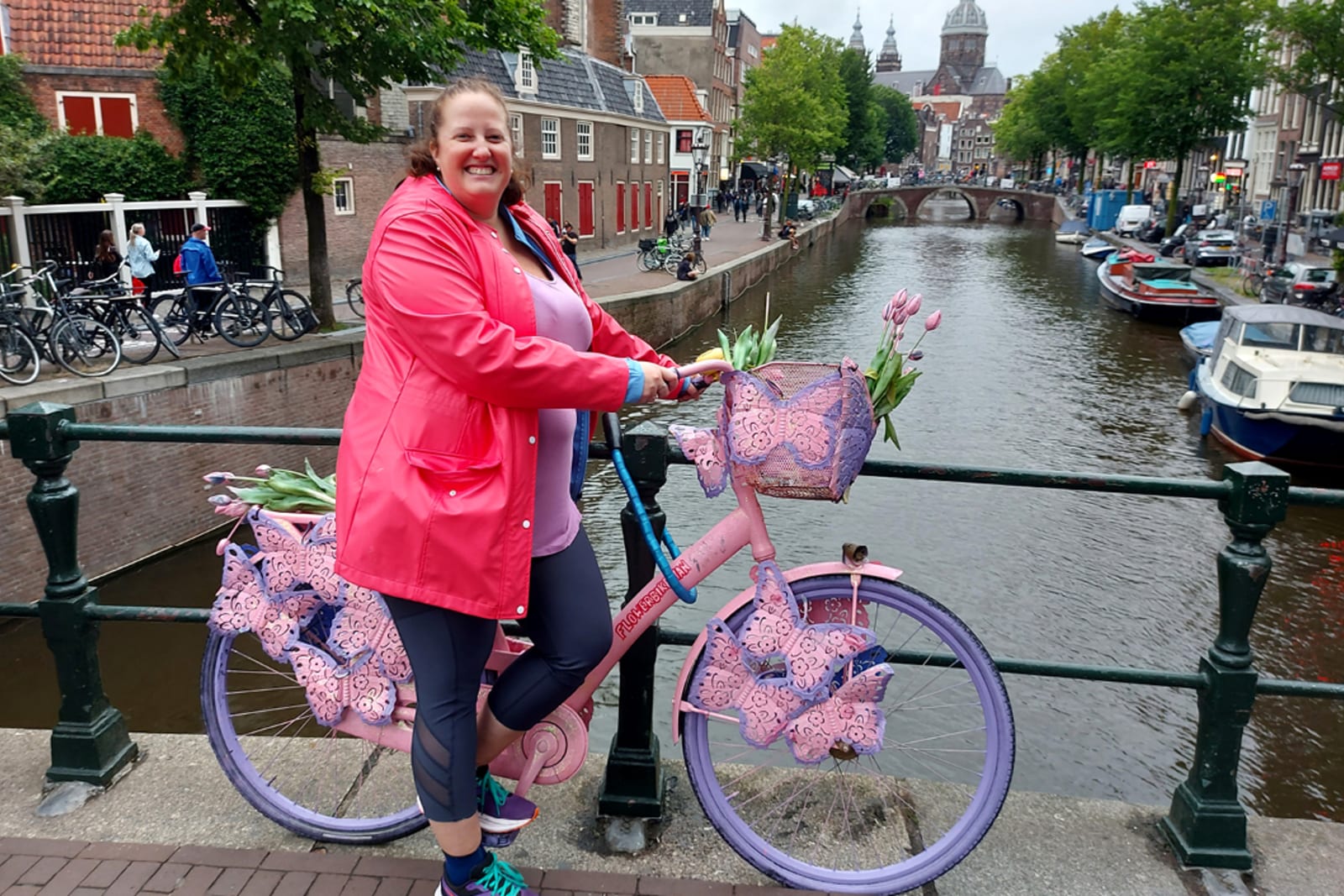 Erin Dougan's first cruise down the Rhine
Despite being a member of Flight Centre' Cruise Specialist team (and working on cruise ships for 2.5 years), Erin Dougan had never been on a river cruise before this year. But that all changed when she was given the opportunity to join a FAM trip with Avalon Waterways. Now, she's fully on board with this style of vacation.
Tell me about your first river cruise. How long was the trip, and where did you go?
The cruise was over seven nights, eight days. We went down the Rhine from Amsterdam, Netherlands to Basel, Switzerland. So, we got to go to Dusseldorf, Salzburg, Koblenz, Heidelberg, Strasbourg, Breisach and more.
What was your favourite port destination?
I loved the quaint little town of Heidelberg. Just the history, and the castle. It was really, really sweet and cute to go and explore. 
How did this river cruise compare to all the ocean cruises you've done?
River cruising was completely different to experience. They're so laid back. I think the maximum capacity of our ship was 166 people…we only had 95 on board. We got to know everyone, and it was truly multi-generational. I still love ocean cruising, but river cruising is so unique — you get to immerse yourself into the cities and the cultures.
What's one thing that everyone should know about river cruising?
I know a lot of people think European river cruises are for seniors, but that's not the case. Depending on which river you wanna go on, what you wanna see, what you wanna do, what cruise line you wanna sail with…there are a lot of options.
It's very different. It's very nice. It's a good way to explore Europe while only having to unpack one time. 
Have our travel consultants inspired you to finally book your dream trip? Get in touch to start planning your next getaway.