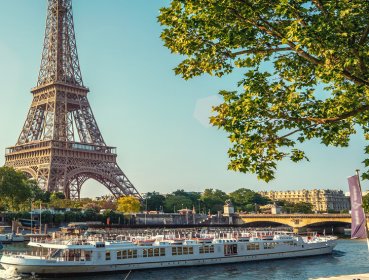 Paris is one of those postcard-perfect cities that is just as mesmerising in real life. The Eiffel Tower, the Arc de Triomphe, the Louvre, the Musee d'Orsay, Basilique de SacreCoeur… the iconic monuments are unforgettable. Then there's the living heart of Paris – the cosy neighbourhood bistros, the chestnuts being roasted on street corners during winter, the local markets, the crepes made to perfection. Find a quaint little cafe, pull up a wicker chair, order yourself a Rose and soak up the ambiance of the City of Light. If you're planning to visit, check out our Paris travel guide and find out how to make the most of your time in this beautiful city. We've collected the best tips from our travel experts, and have top suggestions for things to do, when to travel, where to stay in Paris, getting around and more.
Paris quick facts
Beverages
Bottle of Coke/Pepsi (330ml)
CAD $4.74
Currency
Euro
CAD $1.00 = EUR €0.68
Eating out
Restaurant meal (casual dining)
CAD $21.96
Electricity
Plug type: C
2 pins • 230V
Where to stay in Paris?
Working out where to stay in Paris is all about proximity to the city centre and the prime tourist destinations on offer. For those new to the city, it's worth remembering Paris is divided into 20 arrondissements, or precincts, that spiral out clockwise from the centre on the north bank of the Seine. This means anything from the 1st to the 8th arrondissement is considered fairly central, offering the convenience of being within walking distance of the sites or accessible via a quick Metro ride. From the old city centre of Palais-Royal to the artist's haven of Montmartre, there are accommodation offerings to suit all tastes, budgets, and favoured attractions.
Le Marais is a window into the Paris of the past, featuring cobblestone streets, narrow alleys, and quaint buildings. It's also close to the centre of the city with a vibrant feel, fabulous restaurants, and lots to explore by foot. This positions Le Marais among the popular places to stay in Paris where small-scale hotels and boutique accommodation abound.
---
With a classic Parisian feel, Saint-Germain offers refinement and a central position. From here you can easily walk to the essential sites, and it's widely regarded as one of the best areas to stay in Paris if you're visiting the city for the first time. This convenience and ambience – streets lined with famous cafes like the Cafe des Fleurs and Les Deux Magots, as well as the flagship stores for many international fashion designers - naturally commands a higher price tag, but when in Paris, surely it's the experience that counts.
---
Palais-Royal and 1st Arrondissement
If you're looking to be in the heart of Paris and close to central attractions like the Louvre and Champs-Elysees, you can't go past the Palais-Royal and the 1st arrondissement. This is one of the oldest districts in the city and is dominated by must-see destinations and luxury hotels.
---
Located on the Left Bank, the Latin Quarter has long been a haven for students and the younger generation. These days the accommodation here is often more affordable than central Paris but offers proximity to all the prime tourist sites, as well as a thriving market street – Rue Monge, and restaurant and bar scene. It's also an area steeped in history where streets date back to the 11th century and academia is a way of life.
---
Located on the north bank of the Seine, Montmartre is the heart of the historic artist enclave, where painters, drawers, musicians and sculptors still line the streets and squares. It also offers a spectacular vantage point of Paris from Sacre-Coeur, a view not to be missed at sunset.
---
Things to do in Paris
With renowned art galleries, the finest museums and culture acclaimed across the globe, the endless list of things to do in Paris is limited only by your length of stay. This is a city to explore fine architecture, fine art and fine fashion, to walk in the footsteps of royalty and revolutionaries, and to gain a personal insight into the sites that have inspired so many for so long.
Standing high above Paris, the Eiffel Tower is the most readily recognised symbol of this stunning city. The tower was constructed for the 1889 World Fair, but it now hosts millions of visitors each year looking to explore its heights and see Paris from on high. The Eiffel Tower is open morning and night, every day of the year. If you're up for it, opt to climb the stairs to the viewing deck and avoid waiting in long lines for the lifts.
---
Sacre-Coeur and Montmartre
If you're looking for art, history, holiness and stunning design all rolled into one then Sacre-Coeur is an essential destination. Built to restore moral order to a rebellious neighbourhood of Paris, it sits on the city's highest point at Montmartre. The site has long been favoured by artists keen to capture the beauty of Paris. The cafes that line Place du Tertre are an ideal spot to feast on a crepe and watch the many artists who work in the square hone their art.
---
Pere Lachaise Cemetery is among the most famous in the world as the final resting place of authors, musicians, poets, and artists. Here you'll find epitaphs to the likes of Jim Morrison, Edith Piaf, Moliere, and Oscar Wilde. It's also the largest cemetery within the city of Paris and the first garden cemetery, featuring quaint cobblestone paths, massive mausoleums, and imposing Gothic shrines.
---
Sitting on the banks of the Seine, the architecturally spectacular Musee d'Orsay has a unique focus on one of the most seminal periods in art history. Here you'll find the works of the Impressionists housed in a collection that features names like Renoir, Monet, Manet, Degas, Van Gogh, and Cezanne. As a former train station built for the 1900 World Fair, the building is worth more than a cursory glance.
---
As a modern multidisciplinary cultural centre for the people of Paris, the Centre Pompidou boasts the title of Europe's largest modern art museum. It's a place to wonder at art in almost all forms including sculpture, cinema, paintings, new media, and prints. The Centre Pompidou features over 100,000 works in total, created by over 6,400 artists, and it attracts almost four million visitors a year.
---
Deep beneath the streets of Paris lie Les Catacombes. The network of former mine tunnels is the last resting place of millions of Parisian citizens where bone upon bone line the walls. This unique mass grave was established in the 18th century to solve two problems plaguing Paris: mine tunnels prone to caving in and overflowing cemeteries with sanitation issues.
---
Arc de Triomphe and Champs-Elysees
The setting for some of the most significant moments in French history, the Arc de Triomphe and Champs-Elysees are quite simply must-visit destinations of Paris. The Champs-Elysees features a wide tree-lined street and is known for its luxury boutiques and cafes. It culminates at the western end with the imposing and instantly recognisable Arc de Triomphe. You can actually climb to the top of the Arc, which affords a spectacular view of the city – and one with the Eiffel Tower in it!
---
Synonymous with luxury, Versailles is the ultimate opulent French palace that almost defies belief. Think gold, gold and more gold, gardens that stretch on forever, and a hall of mirrors that reflects extravagance. From the ornate floors to the equally decorative ceilings, Versailles is a destination no traveller should miss. It's located 45 minutes outside of Paris and is easily accessible on the train, or via a day tour.
---
As the world's largest museum, the Louvre is one of the most readily recognised buildings of Paris. Each year it attracts almost 10 million visitors to witness the artworks on offer and explore the historic building in which they are housed. The former fortress and home to French kings became a museum in 1793, and it now accommodates over 35,000 pieces of art dating back up to 7,000 years – including the famed Mona Lisa.
---
The Musee Rodin is home to the sculptures, photographs, objects d'art and sketches of ground-breaking French sculptor, Auguste Rodin. The museum has two sites including the architecturally significant Hotel Biron in Paris and Rodin's villa just outside the city. Both provide the opportunity to witness Rodin's work process, but Hotel Biron encompasses more pieces and also features impressive gardens.
---
An oasis of tranquillity within the sea of bustling activity that is Paris, the Grand Mosquee de Paris is France's oldest surviving place of Muslim worship and also its largest. A major feature of this building is the statuesque 33m-high minaret, but it's also home to fabulous decorative works. Inside the entrance you'll find intricate tile work, calming pools, fountains, and flowers.
---
Paris travel tips
Exploring the beauty of this world-famous city is a lifelong dream for many people, and there are a few Paris travel tips that can help ensure your stay lives up to your expectations. Visitors are required to carry photo ID at all times and be mindful of their personal safety in crowds. Take out travel insurance that covers medical expenses prior to any trip and ensure relevant.
If you're travelling as a tourist for less than 90 days, specific French visas are no longer required. Instead, France is among the European Union countries subject to the Schengen Convention. This allows Australians to travel throughout member nations using a single visa. You'll also need to ensure your passport is valid for six months after you exit France.
---
French food is quite simply the stuff of legend, and Paris is the home of some of the most acclaimed cooking schools and restaurants in the world. It's not all haute cuisine, patisseries and Michelin-starred fine-dining, however. The city also features a vibrant street food scene and the influence of multiculturalism.
---
France Electrical Plugs and Voltage
Electrical plugs and voltage in France are the European standard, comprising two round pins and between 220V and 240V. This means you'll need an adapter if you're intending on taking Australian electrical items. Adapters can be readily acquired at luggage stores and post offices prior to departure or even at the airport.
---
While you'll manage to get around Paris speaking English, the native language is of course French. This beautiful language is easy on the ear but also not too difficult to pick up, with many phrases part of the common English lexicon. It's worth trying to embrace just a little French if you can, as it's certainly appreciated by your Parisian hosts, and will ensure you're treated politely. There are a host of audio tapes, pocket dictionaries and even apps available to assist.
---
The currency of France is the euro (€) and it can be readily obtained prior to your departure at Travel Money Oz or at money changers on arrival. France has strict rules on the declaration of cash, so if you're intending to take over €10,000 in or out of France to a non-EU country, you must declare it on arrival or departure. This includes cash, traveller's cheques, and money orders.
---
Tipping is more of a gesture than a necessity in France, but there are certain occasions when a little extra gratuity is definitely appreciated. These include instances of exceptional service or assistance. It's worth noting restaurant bills incorporate a tip of sorts in the final bill. Known as the service compris, this is required by law to be passed onto staff.
---
There are three airports servicing the city of Paris, but the main destination for international travellers is Charles de Gaulle, also known as Roissy Airport. This is the busiest airport in France, handling over 65 million passengers each year. It features three terminals, duty-free shopping, restaurants and bars, and is located 25km northeast of Paris. Paris Orly Airport to the South services domestic and some European flights, while Paris Beauvais services low cost carriers.
---
Paris food and drink
Paris food and drink has an international reputation for excellence, complexity and incomparable refinement. This is a city home to some of the world's leading culinary schools where Michelin-starred restaurants abound and renowned chefs come to hone their art. While Paris more than lives up to the reputation that precedes it, it's not all haute cuisine, fine-dining and multi-course meals. The capital of gastronomy also features a vibrant cafe scene, sumptuous street food, and fresh food markets that are destined to delight. Meanwhile, the multi-cultural influence means there's flavours to suit all palates and dining to suit all tastes.
Paris Restaurant Precincts
With such a wealth of wonderful cuisine around almost every corner, narrowing down the best Paris restaurant precincts is truly tough. The truth is there's no shortage of great venues to wine, dine or grab a casual meal in this culinary haven. Head to the 6th arrondissement on the left bank of the Seine for upper class restaurants, the Latin Quarter next door for more affordable traditional Parisian bistros and a range of vibrant cafes, or start in the Marais, home to the city's Israeli population, and hence where you'll find a number of delicious Jewish eateries.
---
Come sunset, this city transforms into a haven of festive cafes, cocktail lounges, and elegant venues; Paris' bars and nightlife will keep you entertained long after the sun goes down. From the top-end bars of Place Vendome to renowned entertainment icons like Moulin Rouge, the quaint bars of Place de la Contrescarpe in the Latin Quarter, and the ever-trendy district of Oberkampf, Paris by night is just as enchanting (if not more so) than Paris by day.
---
There are many reasons Parisian food is renowned. Aside from pure skill, much of it comes down to the wealth of fresh food and regional ingredients readily available at traditional food markets. From the moveable feast of Marche Mouffetard to the massive Marche de Bastille, there are a wealth of Paris food markets to delight your senses and whet your appetite. For a more local experience, head to the Marche d'Aligre in the 12th district.
---
Paris is synonymous with cafe culture. Hours can be spent just watching the passing parade. In fact, the history of the Paris cafe scene goes back centuries to include intellectuals pondering the philosophical wonders of the world. While the cafes have always been a mainstay, the coffee has been less highly regarded – but that's all changing as the artisanal coffee movement makes its presence felt. Start your search for the perfect cafe in the trendy Marais district, or Rue des Martyrs in the 9th arrondissement.
---
Where to shop in Paris?
Paris shopping truly lives up to expectations with premium designers, chic outlets, and all the latest fashion trends. This city is the global focal point for haute couture and has been for centuries. While shopping in Paris might be synonymous with fashion, clothing is far from the only retail reward on offer. There's also a host of elegant home furnishing stores and a bevy of artisan delights. Take a stroll down the Canal Saint-Martin to discover bohemian treasures, or peruse the antique wares of the Marche aux Puces de St-Ouen. Just be sure to bring your wallet and have your credit card in reach.
Lined with bookstores, souvenir shops, high-end galleries and fashion boutiques, Boulevard Saint-German is the place where the quest for all the latest chic French offerings is truly satiated. Here you'll find homewares, fashion and trendy eateries intermingled with quaint French buildings on one of the foremost Parisian streets for shopping.
---
Just a short stroll from the Eiffel Tower, Rue du Commerce is where Parisians come to shop, sourcing the latest popular styles, perusing the small boutiques and taking in the Parisian charm. It's known as a hidden retail gem but the secret is certainly out. Many flock to this area where all the latest Paris trends are on offer – without the high-end price tags.
---
Trendy boutiques, vintage stores and restaurants all jostle jovially for prime position in the vibrant shopping precinct of Le Marais. This former home to nobility features narrow pre-revolution streets that accommodate cutting-edge fashion and retro flair. It's a prime destination for tourists and locals alike, with many stores also open on Sunday mornings – unlike the rest of the city
---
This heavenly haven for shoppers offers all the glamour and romance of Paris with some serious retail packed in. Running alongside the Tuileries Garden and Louvre, this stretch is home to so many stores it's hard to visit them all within a single day. There are the big names of the retail realm with unique Paris fashion boutiques also on offer.
---
Spend a day in some of the world's most foremost department stores at the seminal shopping destination that is Boulevard Haussmann. This renowned precinct is home to shopping institutions such as Printemps, Monoprix and Galeries Lafayette. However, it's not all vast department stores and history. Boulevard Haussmann also offers up its fair share of unique boutiques and independent outlets.
---
In the 1970s, the former food market precinct of Les Halles was transformed into one of the most iconic Paris shopping centres – again overhauled in 2016. Where market stall holders once sold fruit and vegetables for the city's restaurants, now trendy boutiques and brand-name stores are housed in a stunning underground, multi-level shopping mall that's also home to cafes, cinemas and all the latest fashions under one convenient roof.
---
When is the best time to travel to Paris?
The weather in Paris sees this perennially popular city embrace four different personalities. Traditionally, spring and summer are considered the best time to travel to Paris, but the truth is the choice comes down to the places you wish to explore. Spring finds the city in full bloom, summer sees it relaxed, while autumn features a reflective ambience, and winter is quiet in its chill.If you wish to avoid the crowds, pick the cooler months. As the Paris temperature drops so too do visitor numbers and costs.
What is Summer like in Paris?
Summer finds Paris in truly laidback mode. This is a time of relaxation, strolling in parks and soaking up the sunshine when the atmosphere is less formal, the pace a little slower, but the crowds a little thicker. Most locals go on holiday in August, so some businesses are closed, however this is peak time for tourists in the city. Appropriate clothing: Loose fitting dresses for women, slacks and shirts for men. Don't forget: A hat for picnics in the picturesque Paris parks.
---
What is Winter like in Paris?
Fresh romance sweeps through Paris as the city welcomes winter. The streets are more delicate in their beauty, the city quieter in its resolve. If you're visiting around Christmas it's a particularly unique time, with Christmas markets, skating rinks, and festive lights. Appropriate clothing: Boots, pants, and winter jackets. Don't forget: Gloves to ward off the winter chill.
---
What is Autumn like in Paris?
Lovers of fine art and culture will relish the nostalgic mood that embraces Paris come the turn of the leaves. Although not peak season, the city is spectacular, quietly welcoming in the chill of the air. Appropriate clothing: Tailored pants, jumpers, and cardigans. Don't forget: An umbrella – the Paris rainfall is on the rise.
---
What is Spring like in Paris?
Of all the Paris seasons, spring represents the city best. Paris suddenly re-emerges from the winter chill, revived and refreshed. It's a time for blossoms, parks and picnics but also a popular tourist season, with the romance of Paris in the springtime too enticing to resist. Appropriate clothing: Layered clothing – the days can quickly turn hot or cold. Don't forget: A jacket.
---
How to get around Paris
The Paris transport system features a wealth of convenient options that will see you navigating this picturesque city with ease. From walking to bicycling and the underground Metro system, getting around Paris is easy, convenient and highly affordable. To get quickly from point A to point B, the Metro is the best means, but if you're looking to truly discover the city and its feel, then exploring by foot or even bicycle allows you to take in all the sights. If you're travelling France by car, it's best to leave your vehicle at your hotel or in the outskirts of the city, as the CBD traffic is notoriously difficult to negotiate, and many hotels do not have parking.
Paris boasts around 15,000 taxis, but that doesn't guarantee there will be one readily available, with peak times and busy periods seeing the service in demand. If you're looking to hail a cab, keep an eye out for the white light, which indicates it's unoccupied (while a yellow or dim light means it's in use). There are also a host of taxi stands dotted conveniently around the city. Uber is also used in Paris and readily available.
---
If you're looking for a faster way to see the city than on foot, Paris bike hire is an easy and convenient option. The city operates the Velib bicycle hire program, allowing users to pick up a bike at any number of locations and return it at a service point of their choosing. The services utilises three-speed, unisex bikes. If you use the bike for less than 30 minutes, it's also free.
---
The Paris public transport system is efficient, organised and easy to use, with bus, tram and underground rail ensuring you get exactly where you want to go safely, conveniently and often very affordably. As one of the oldest underground rail services in the world, the Metro deposits commuters within easy reach of most major tourist destinations, while travelling by bus allows you to see the city.
---
There's something romantic and alluring about walking in Paris. In fact, this is among the best cities to discover on foot, with most major attractions located in proximity to the city. Walking also allows you to discover hidden gems and alleys along the way while gaining a full appreciation of the layout of the city.
---
What are the best parks in Paris?
Paris parks have long been an essential feature of this picturesque city, with the garden tradition dating right back to Roman times. These days the city is dotted with over 421 municipal parks and gardens breathing life, space and sheer beauty into the city. From the formal to the spacious, the parks of Paris are as much a feature as the monuments and museums, allowing you to unfurl a picnic blanket, nibble on a baguette, and bask in the sun taking in all the romance and charm for which this city is famed.
Located in the 19th district, north east of the city centre, Parc des Buttes-Chaumont is certainly worth the trip. This park is less formal than the grand open spaces of Jardin des Tuileries or Jardin des Plantes. Instead, it features waterfalls, winding paths, lush green lawns, temples and cliffs, all the unique result of its past as a quarry. It's the perfect place to enjoy a stroll, settle in for an afternoon, or catch the sunset.
---
Known for its tree-lined promenades, lush lawns and flowering gardens, the Jardin du Luxembourg spans over 25ha and dates back to the 17th century. You'll notice an array of green garden chairs scattered throughout the gardens. If you visit on a weekend, you'll find Parisians playing chess at the tables, while others have moved the chairs, to face one of the ponds, or in winter the sun! The Jardin du Luxembourg is also home to the picturesque Medici Fountain.
---
If you're looking for a quiet spot in Paris to contemplate the past, the Place des Vosges is the perfect destination. This spectacular small park was the first planned square in Paris and is renowned as the most beautiful to enjoy. Framed by museums, it's an inviting space to wander, peruse the shops, or simply sit and relax.
---
First opened in the 16th century, the avenues of Jardin des Tuileries have long been the place to stroll and take in the passing parade. This central park is located between the Louvre and Place de la Concorde and is one of the original Parisian gardens from which many more take their form. Jardin des Tuileries features formal gardens, tree-lined paths, statues, and expansive ponds.
---
The Jardin des Plantes is the main botanical garden of France, containing over 10,000 species of plants. This stunning series of gardens accommodates tropical greenhouses, rose, winter and alpine gardens in addition to four museums and a small zoo. The Jardin des Plantes spans almost 28ha within the 6th arrondissement of Paris.
---
The current requirements for travelling to Paris
Talk to a Paris Travel Expert
Our dedicated team of experts know all the ins and outs of travel and love sharing their knowledge. If you're looking for help planning specific sections of your trip or full itinerary planning, our team is ready and waiting to help create your perfect holiday.
Enquire now