Island Hopping in Greece: Travel Expert Guide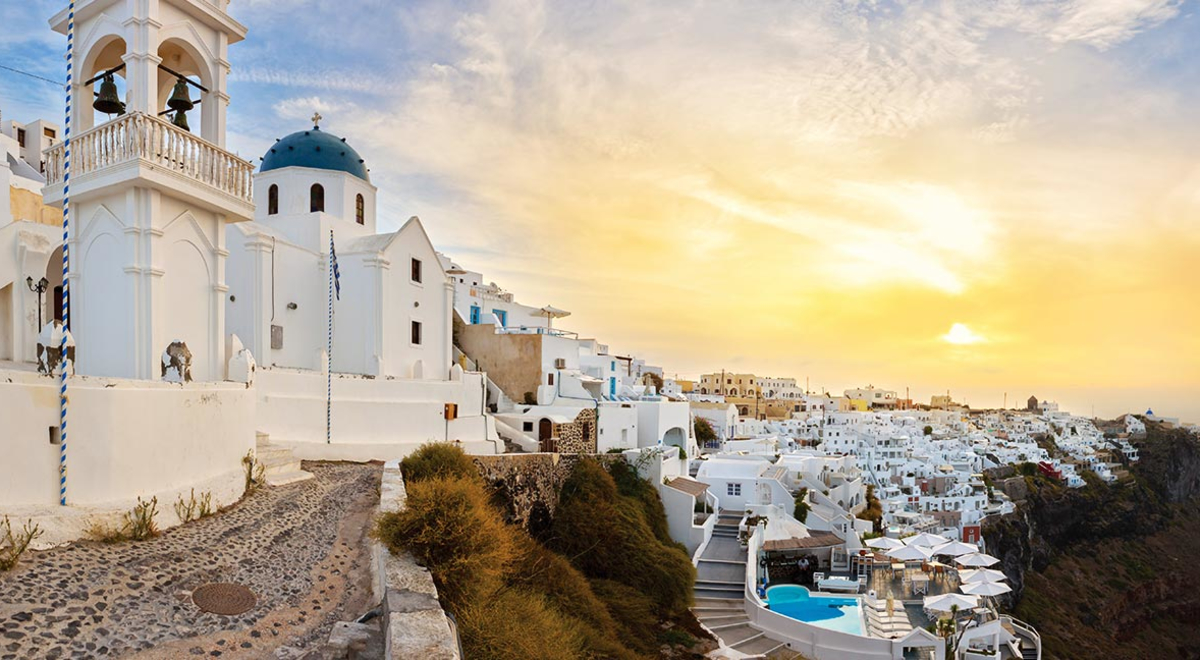 ---
---
Impossibly blue waters, white-washed villages climbing along ancient hills, and cobbled streets leading to charming, colourful ports -- the allure of the Greek Islands is nothing short of mythical. Ask around, and many travellers will tell you that it was those postcard-perfect images of Santorini that spurred them to book that ticket.
But with thousands of islands scattered across both Aegean and Ionian Seas, reaching some of Greece's most picturesque isles require a bit of planning and navigating. Here's what you need to know about island hopping in Greece:
Greek Islands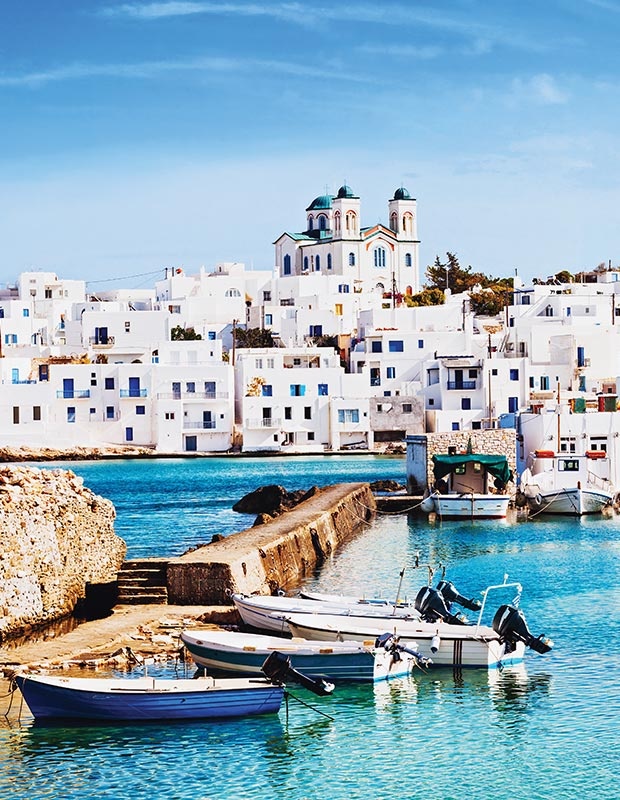 There are seven groups of islands in the Aegean Sea. Among the most visited are the Sporades, the Cyclades, the Dodecanese, and Crete. The Ionian Islands, located on the western side of Peloponnese, south of Italy, are the most culturally diverse and retain historical influences from nearby countries.
Getting to the Greek Islands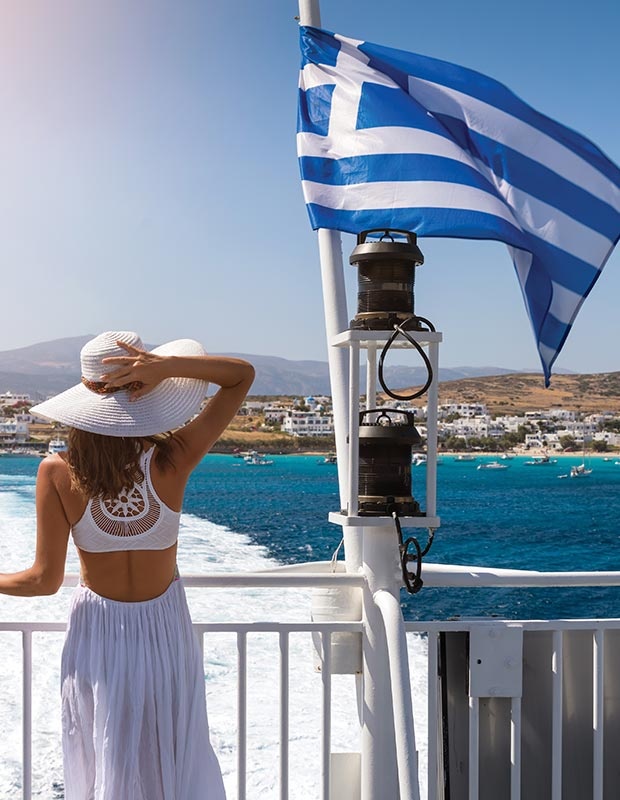 Option 1: Make Your Own Way
The islands are reachable by ferries from three major ports around Athens, Piraeus, Rafina, and Lavrion. For those staying in Athens, Piraeus is the most convenient and has its own metro stop.
As for travelling in-between islands, daily ferries operate from most major island ports, especially on the Cyclades Islands (Mykonos, Santorini, Naxos, and Paros). But ferries from Mykonos to Santorini only operate between late March to early October.
Rhodes also has a daily ferry route to Athens that stops at the Cyclades Islands, but services to Crete are sparse and irregular. Meanwhile, Crete offers daily ferries to Santorini between late March to October.  
It's highly recommended to book your tickets well in advance online before your trip.
Option 2: Guided Tours
You've got tons of choices when it comes to guided tours of Greece and the Greek Islands. Our Travel Experts can help match you to the tour that bests match your travel style and budget. Some of our favourite Greek Island tours are:
Option 3: Sailing Tours
Fully embrace the rhythms of the sea with a guided tour of Greece's Islands via a small group sailing tour! Our Travel Experts' highly recommend these yacht tours:
Option 4: Cruises
For a surprisingly affordable way to visit the Greek Islands, why not give ocean cruises a try? You can opt for a Greece-only cruise or pack in even more European destinations into your trip with a combination itinerary of Italy, Turkey, France, or Spain. Our Travel Experts' favourite Greece cruise lines include:
Best Greek islands to visit
Mykonos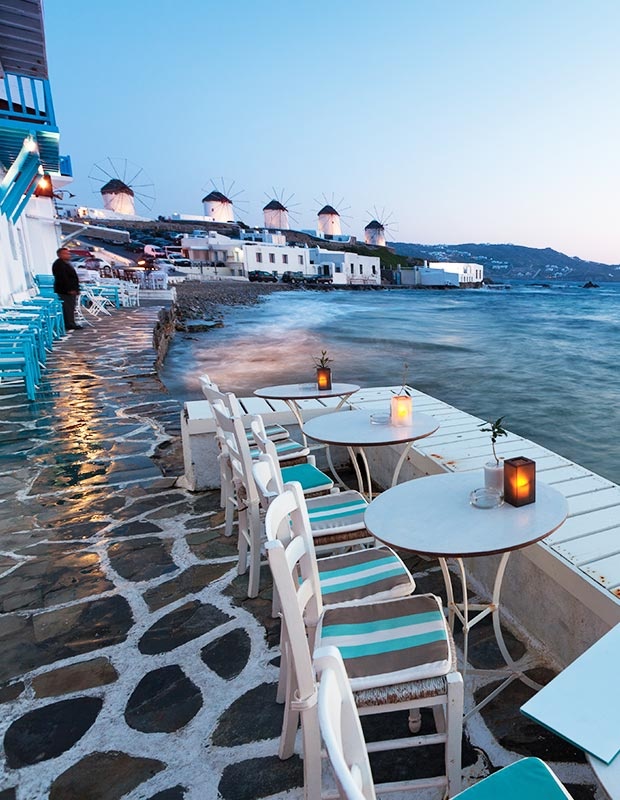 Synonymous with wild parties, vibrant nightlife, and luxury resorts, Mykonos is the island that never sleeps. With gay clubs and swanky bars pumping music all-night, Mykonos is loud with excitement and entertainment options. Still, the island hasn't lost its traditional qualities. In Mykonos town, you'll find many lively cafés, boutique stores, art galleries, and shops lining the cobbled streets. While white-washed Cycladic-style townhouses and rows of windmills are only steps away from the beach and ancient ruins.
Perfect for: Parties, nightlife, romantic getaways, outdoor adventures, beach hopping, dining and shopping.
Santorini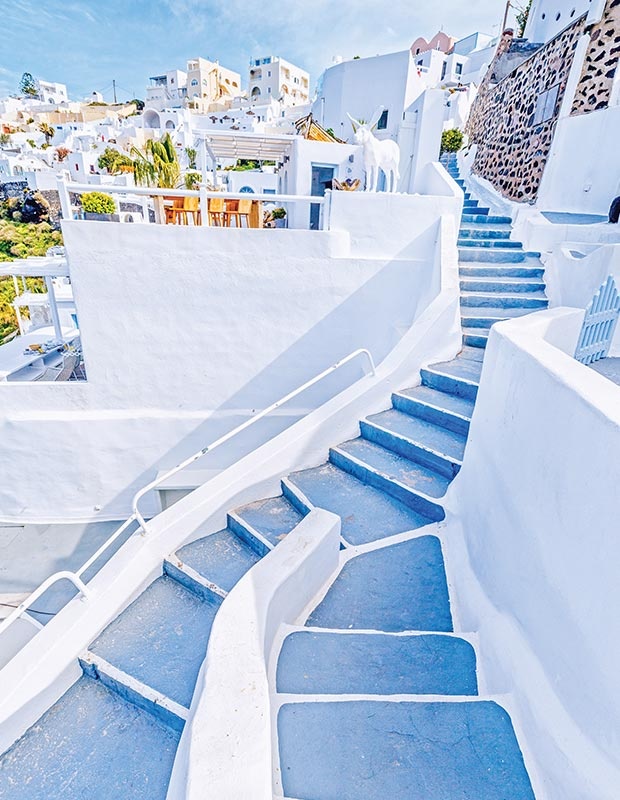 The poster child of Greek Island travel, Santorini's caldera charmed countless honeymooners, backpackers, and vacationers to its cliffside town. In the capital, Fira, visitors are perpetually mesmerized by its chalk-white townhouses with blue domes meandering above volcanic, ashen slopes.  Here, both Cycladic and Venetian architectures house trendy boutique shops, tavernas, hotels, restaurants and cafés. By the coast, you'll find dramatic black sand and pebble sand beaches, organic wineries, and skiffs bobbing beside sleepy ports. While farther inland, historic villages like Pyrgos offers chances to explore authentic Greek island culture.
Perfect for: Romantic getaways, family vacation, outdoor adventures, cultural visit, wine tasting and dining.
Crete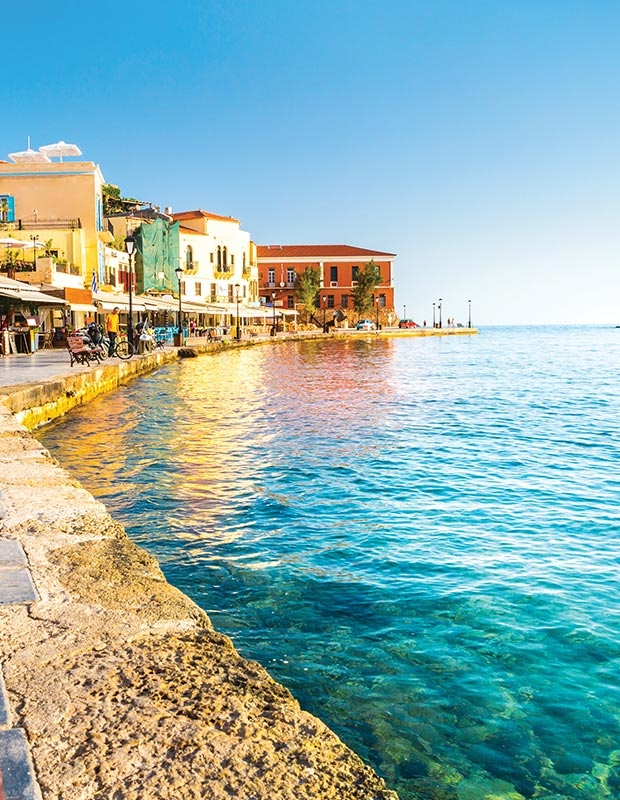 As the largest Greek island, Crete has a bit of everything: history, culture, rugged landscapes, and gleaming resorts. Along the coast, Chania, Rethimno, and Heraklion teem with historic sites, ancient ports with Venetian-style houses, and nature trails winding into valleys and olive groves. Away from the coast, the Minoan palace of Knossos is known as the oldest city in Europe and the largest Bronze Age Archaeological site on the island.
Perfect for: Cultural visit, history tours, outdoor adventures, spa and wellness retreats.
Corfu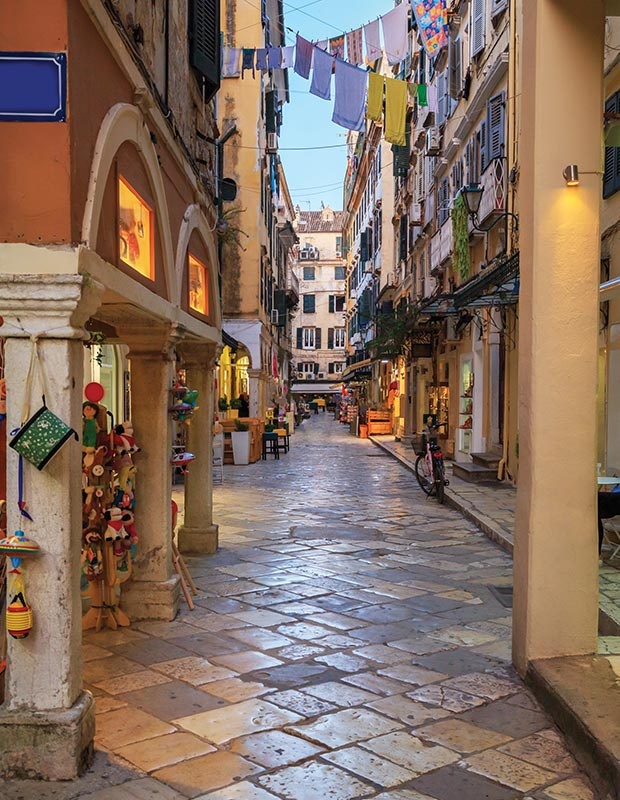 Of all the Greek Islands, Corfu is most culturally-diverse. The main city is a melting pot of Italian, French, and British colonial buildings, pastel-colour houses, and grand manors shaded by olive trees. Backed by both mythology and a Venetian Old Fortress at the edge of town, Corfu is highly distinctive and unique from other Greek cities. Along the coast, you'll find some of the most spectacular beaches in the country, and a few are within earshot of lively tavernas and the din of quaint fishing villages. While venturing beyond the island's cypress-covered hills, the countryside opens up to rolling vineyards and an enchanting scenery that resembles the outskirts of Tuscany.
Perfect for: Cultural visit, history tours, beach hopping, romantic getaways, family vacation, wine tasting and dining.
Rhodes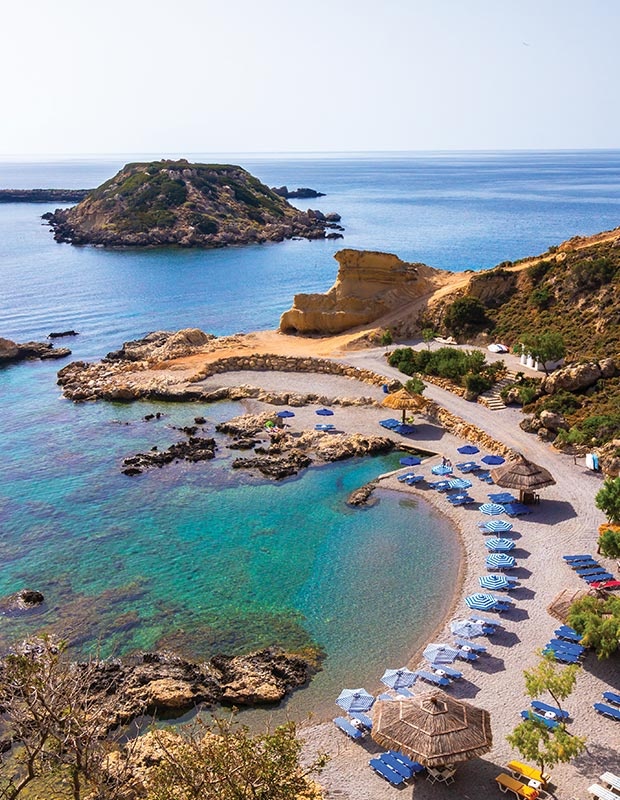 An island for history buffs and those who appreciate medieval architecture, Rhodes is packed with antiquities and historic gems. Known as the 'Island of the Knights', Old Town Rhodes is famous for the Palace of the Grand Master that was once the stronghold of the Knights Hospitaller.  Around the fortifications, labyrinthian cobbled streets link the modern world to remnants of the Roman and Byzantine Empires. Churches, synagogues, and stone archways remain stoic backdrops of busy markets, open-air restaurants, and rooftop bars. Along the southern coast of the island, elegant resorts line the gold sand beaches of Lindos, where history gives way to traditional townhouses overlooking turquoise waters.
Perfect for: History tours, cultural visit, beach hopping, family vacation, and dining.
Naxos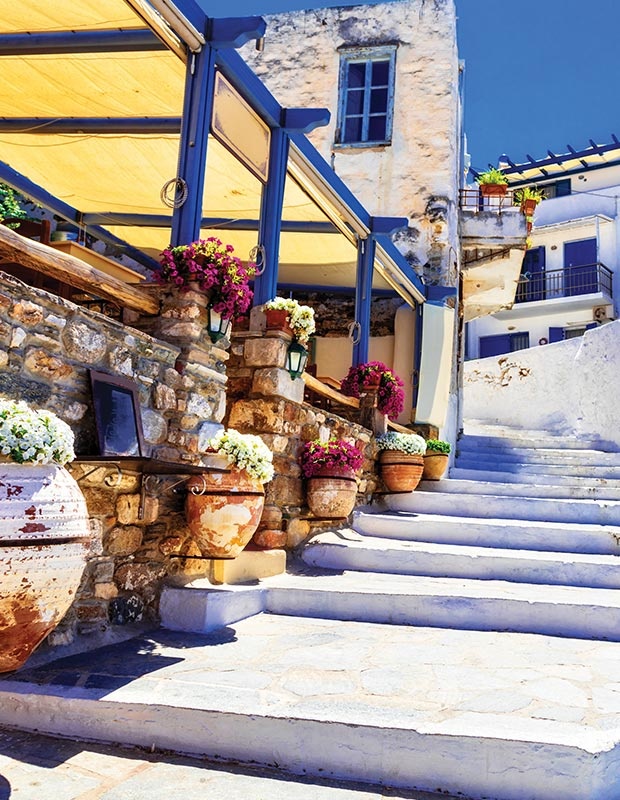 With fertile land, lush greeneries, and unbroken stretches of white-sand beaches, Naxos is an island for excursions. In its main city, sugar cube houses pile on top of the hill around its iconic medieval castle. And below, a maze of alleys and close-knit streets weave together shops, boutique stores, and small eateries spreading out to the harbourfront. The island, once enjoyed the culmination of Classical Greek, Byzantine, Venetian, and Frankish culture, has an eclectic collection of varying architectures. Remote mountain villages like Apiranthos, Halki, and Ano Potamia toward the centre of the island are both scenic and authentic. While beaches such as Plaka, Agios Prokopios, and Agia Anna are tranquil oases for the perfect seaside getaway.
Perfect for: History tours, cultural visit, beach hopping, family vacation, outdoor adventures, romantic getaways, wine tasting and dining.
Paros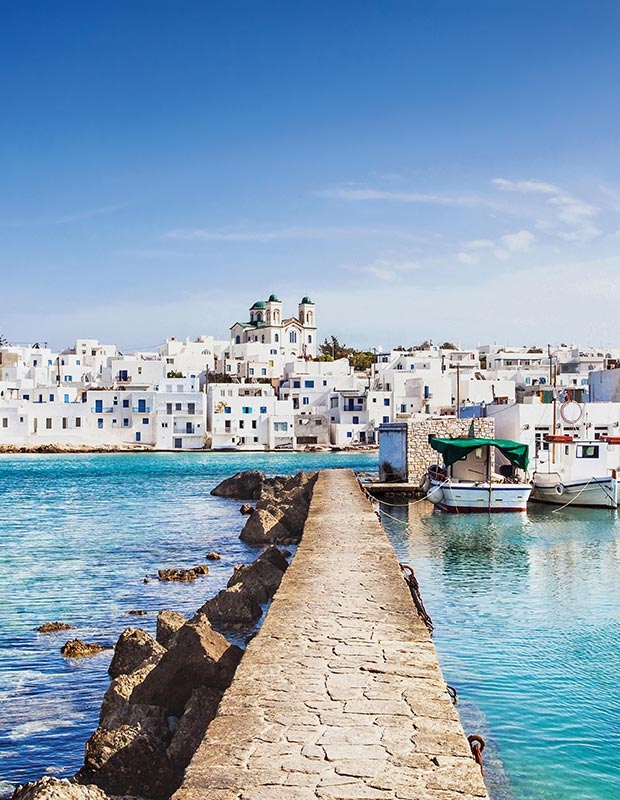 With all the charms you'd expect from a Greek island but none of the crowd, Paros is where you'll find storybook villages draped by bougainvillea and stunning beaches within walking distances from cafés and tavernas. Towns like Parikia, Lefkes, Naousa, and Piso Livadi are filled with white-washed Cycladic houses and churches with blue domes. Bars, restaurants, and nightclubs are never far, so you won't starve for nightlife or authentic Greek cuisine. While beaches such as Kolymbithres, Golden Beach, and Molos are ideal for windsurfing and other water sports.
Perfect for: family vacation, outdoor adventures, romantic getaways, beach hopping, shopping and dining.
Skiathos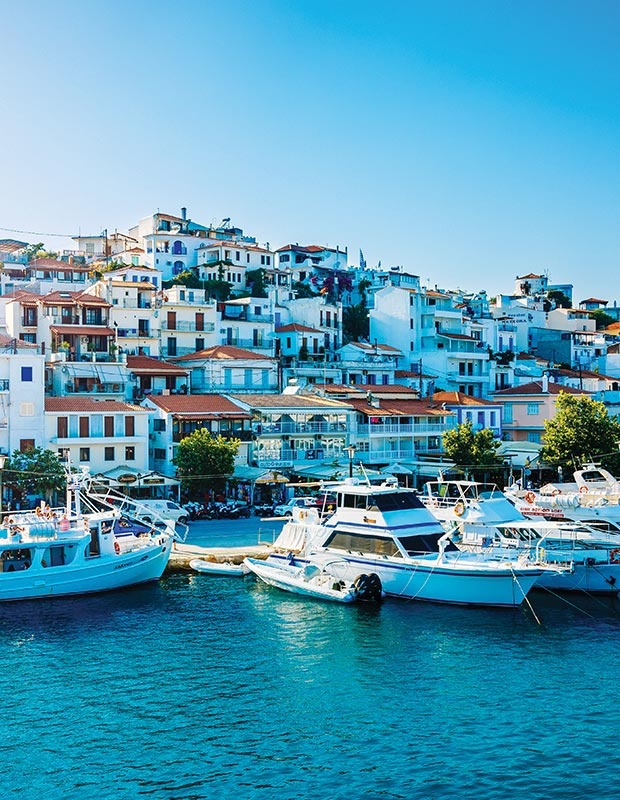 Canopied by green pines and carved by verdant hills rising above more than 60 sandy beaches, Skiathos is one of the Sporades most attractive islands. A mix of modern and traditional buildings with terra cotta roofs cluster around its main town. Here, a wide range of cafés, tavernas, restaurants, and nightclubs feed into the island's vibrant nightlife. Just outside the town, you'll find a handful of medieval monasteries, castles and Byzantine churches. Beach hopping is also easy with the island's many beautiful pebble and golden sand beaches like Lalaria beach, Koukounariés, Kanapitsa, and Banana Beach.
Perfect for: family vacation, outdoor adventures, beach hopping, water sports, shopping and dining.
Ready to catch the golden sunset dipping below the Santorini's breathtaking caldera?