Top 10 Tips for Business Travel in London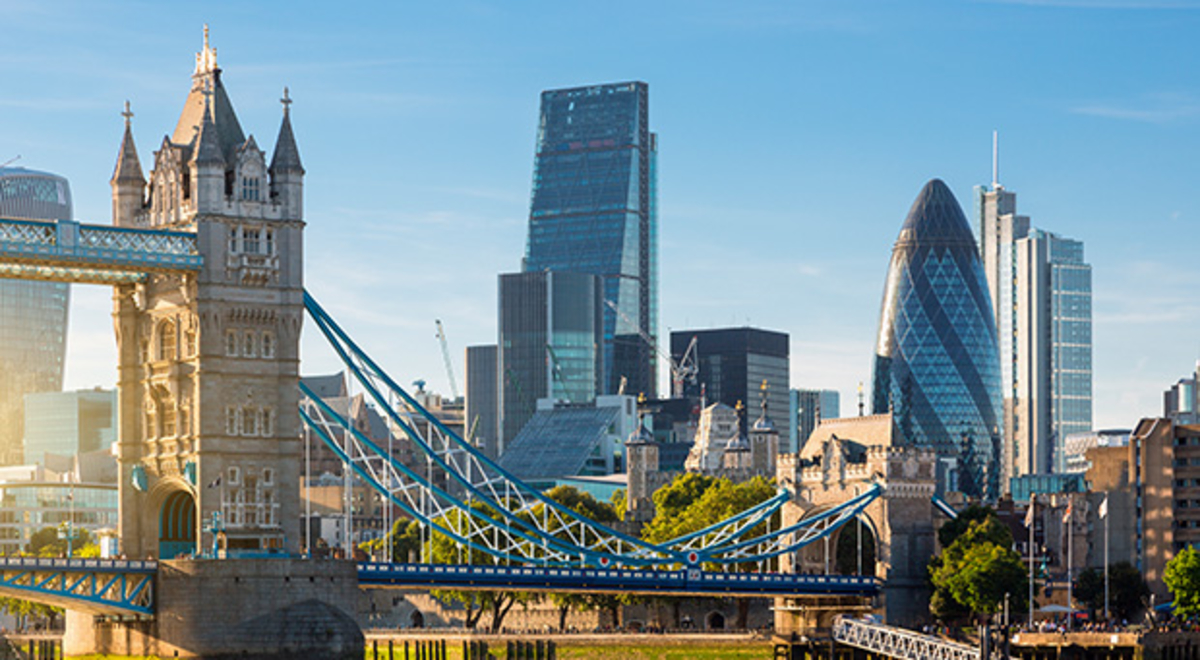 ---
---
Brexit or not, London will continue to be an economic powerhouse and the European centre of business and finance. London always was and always will be a busy place, and navigating this metropolis isn't always easy. Sure, there is no language barrier, but London does possess other obstacles to be aware of, especially if it's your first trip to England. 
Fear not - our London business travel tips have got you covered. 
1. London Heathrow or London Gatwick Airport?
First, let's get you into the right airport. In London, choosing the right or wrong airport can save or cost you valuable time and money - good thing there are just six international airports surrounding London; Stansted Airport (STN), London City (LCY), Southend (SEN), Gatwick Airport (LGW), Heathrow (LHR) and Luton (LTN).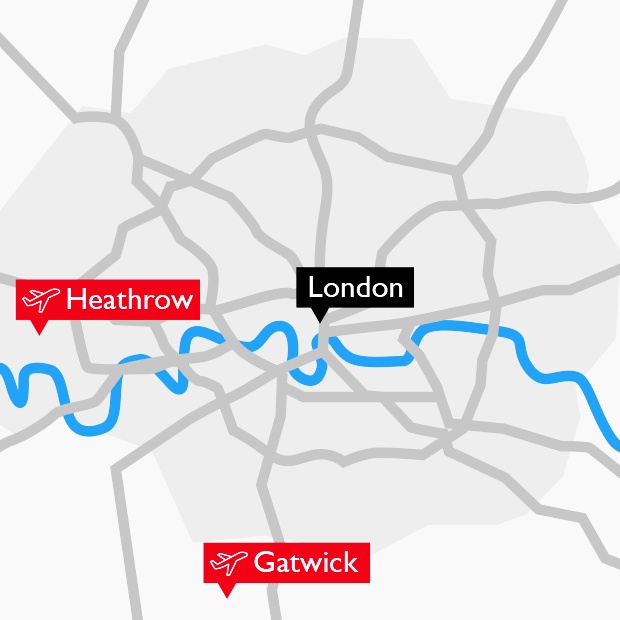 If you're flying into London from Canada, you will most likely fly into either London Heathrow or Gatwick Airport. Currently, Gatwick handles flights with Canadian airline WestJet, and seasonal charter flights with Transat and Sunwing. Non-stop business class flights by Air Canada and British Airways from major Canadian gateways, as well as other scheduled airlines via the US or Europe, fly into and out of Heathrow. 
For those on a stopover or just connecting in London to a flight heading elsewhere in the UK or Europe, it's possible that you may need to change airports in London. Check the itinerary you are booking carefully and allow plenty of time between flights if needing to change airports. 
2. Getting into London
Busy as it is, getting into central London from the airport can be a harrowing experience. Whether you are planning on using a train, taxi, airport express bus, rental car or rideshare vehicle, it's good to know what to expect.
From Heathrow Airport 
By Train
The Heathrow Express train is the fastest way into central London. The journey to and from London Paddington takes 15 to 20 minutes. Trains to London leave Heathrow Airport from approximately 5:00 am until 11:55 pm.
By Bus
National Express operates coach bus service from Heathrow to London Victoria and many destinations around the UK from Heathrow Airport Central Bus Station. On average, buses run three times per hour taking between 35 and 60 minutes to and from London Victoria. National Express also offers a London hotel transfer service to and from Heathrow Airport called Heathrow Hoppa. Some hotel shuttles are also available.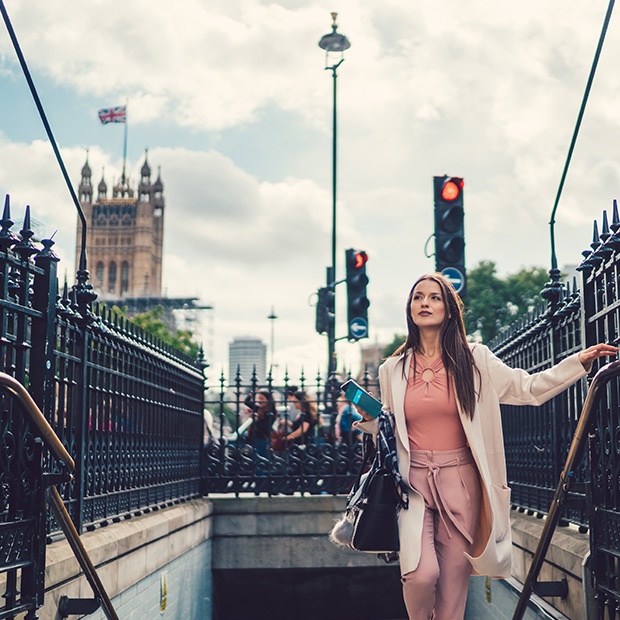 By Tube (Underground/Subway)
The Piccadilly Line on the Tube connects all Heathrow terminals with frequent service to London. There are three stations at Heathrow (one for Terminals 1, 2 & 3, one for Terminal 4 and one for Terminal 5). The journey to central London takes about 50 minutes. You can buy an Oyster Card for the underground or simply tap your credit card or phone if using Apple Pay.  
By Taxi, Rental Car or Rideshare
The journey time to central London from Heathrow by car is approximately 45-60 minutes and can cost between £45 and £70 (or more!) in a taxi. 
Rental cars through Europcar, Enterprise, Hertz, and others, are available for pick up in the Arrivals Hall (via shuttle to airport depot). To arrange a rental car for your business trip, contact an FCBT Travel Manager.
Ridesharing services Uber* and Lyft are also options to and from Heathrow Airport.
Please note: rental cars in the UK (and all of Europe) typically come with manual transmission and automatic vehicles can sometimes double the cost of a rental. If you aren't used to driving on the left side of the road, aren't a confident or experienced driver or used to driving with a stick-shift, driving in London is not recommended. 
From Gatwick Airport
By Train
The Gatwick Express runs non-stop between London Victoria Station (Central London) and London Gatwick Airport every 15 minutes. The journey takes 30-35 minutes. The air-conditioned train is modern and comfortable with refreshments served in both Express and First Class. 
By Bus
National Express offers coach routes to and from Gatwick Airport from many locations around the UK, including between other London airports. You can also catch a bus from as low as £2 with easyBus. This direct low-cost service connects Gatwick Airport and London Victoria Coach Station, Earls Court and West Brompton. If you are using Gatwick's South Terminal, there's even service to London Waterloo.
By Taxi, Rental Car or Rideshare
If choosing to take a taxi, a Saloon Car (up to 3 passengers) will cost between £60-£90 between Gatwick Airport and central London. Expect about an hour in the car.
Car hires through Europcar, Enterprise, Hertz, Avis, Sixt and Budget are available for pick up via shuttle to their respective Gatwick Airport depot, from both the North and South Terminal. To rent a car for your business trip, contact an FCBT Travel Manager.
Ridesharing services Uber* and Lyft are also options to/from Gatwick Airport.
3. Best business hotels in London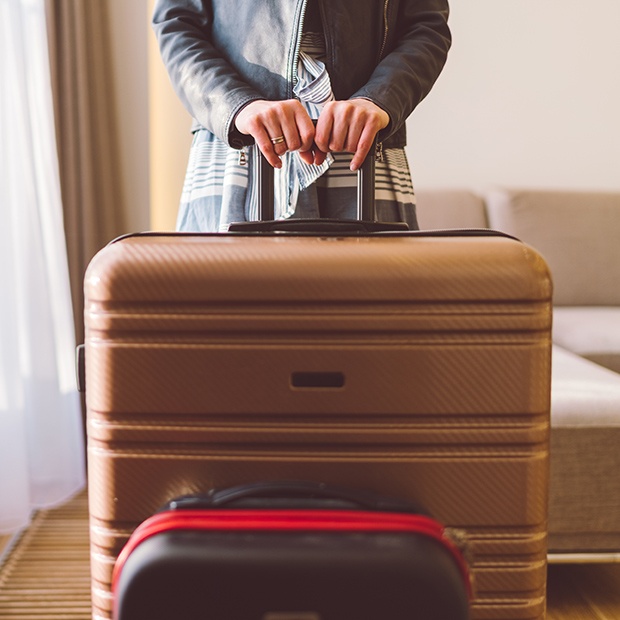 There's no doubt that the best hotels in London will cost you a pretty pence. If you're looking for some of the most popular and convenient accommodations in town, consider the following hotels for your next London business trip, all bookable through an FCBT Travel Manager.
Central London Hotels
Park Plaza Westminster Bridge London

St Martins Lane

Hotel Indigo London – Tower Hill
Heathrow Airport Hotels
Hilton London Heathrow Airport

Hotel Sofitel London Heathrow

London Heathrow Marriott Hotel
Gatwick Airport Hotels
Hampton by Hilton London Gatwick Airport

Holiday Inn London Gatwick Airport

Sofitel London Gatwick 
4. Getting around London
By Public Transit
Central London is quite walkable and very well connected by public transit. Most attractions and points of interest can be reached by the Underground (Tube) or by scheduled bus service (including the big red double-deckers!). For fares, tap an international credit card, use Apple Pay or get an Oyster Card. 
By Taxi, Rental Car or Rideshare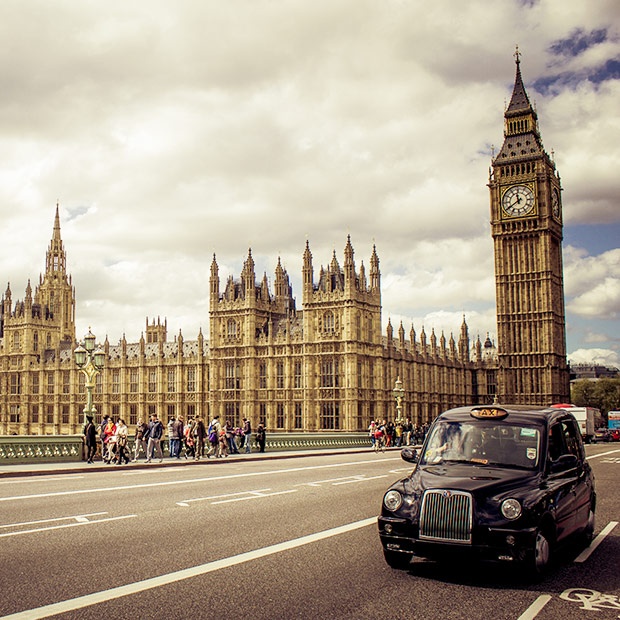 The easiest way of getting around the city is with London's iconic Black Cabs. As the city's official taxi company, Black Cabs are the only taxis that can be hailed in the street. They can also be found at designated taxi stands in prominent places, including many mainline rail, Tube and bus stations, as well as be booked by phone. Fares are metered, and there is a minimum charge of £2.60. All Black Cabs accept payment by credit or debit card. You can tip taxi drivers if you like but most just round up to the nearest pound.
Rental cars can be picked up from the airport, some rail stations, and from depots throughout the city. For more information or to rent a car in London, contact an FCBT Travel Manager. 
Ridesharing services Uber* and Lyft are also options in and around London.
5. Mixing business with pleasure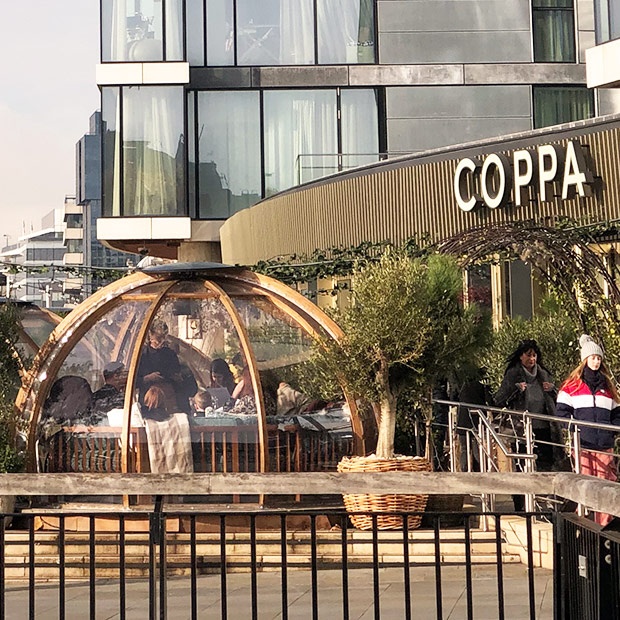 Entertaining clients in London is a cinch. With world-class everything, it's hard to go wrong.  Theatre, football, pub crawl - take your pick. After-dinner drinks are a way of life here and sightseeing is always a good idea, too. 
Here are some fun options from our very own Travel Manager Michael Bennett - FCBT West End.
A fun large bar that allows groups to play interactive games of darts (very British pastime) with great cocktails and snacks. 
A fun way to do a city tour if a client is trying to fit in some sightseeing amongst business.  
After-meeting drinks in a glass igloo next to London's Tower bridge - a great experience with fantastic views and drinks.
6. London restaurants for a business lunch or dinner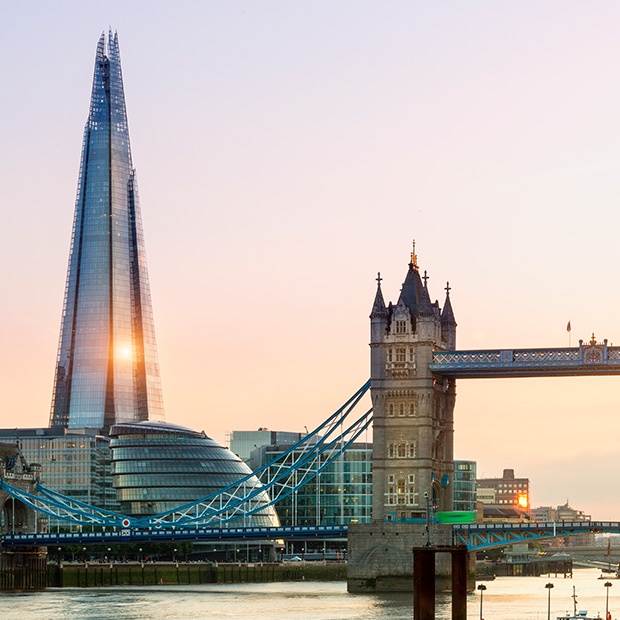 It goes without saying that London boasts a vast arsenal of pubs, restaurants and eateries, many of which are perfect for a celebratory business lunch or dinner. Here are some solid picks from Travel Manager Michael Bennett - FCBT West End.
Angler – Moorgate (Close to Liverpool Street train station) 
A light and airy Michelin Star seafood restaurant with great lunch and tasting menus.
Cabotte – City of London 
French cuisine close to all of the business offices in the city. A more classic and elegant setting for finer dining.
The Shard – London Bridge – Incredible views for the wow factor along with a solid menu. 
7. Staying fit in London
Keep sharp on the road by staying fit. If booking a hotel, opt for one that includes the use of a gym, pool or fitness facility. There are also thousands of gyms (over 7,000 actually!) you can visit for a couple of hours. And if you're still stuck for a workout spot, utilize the local YMCA.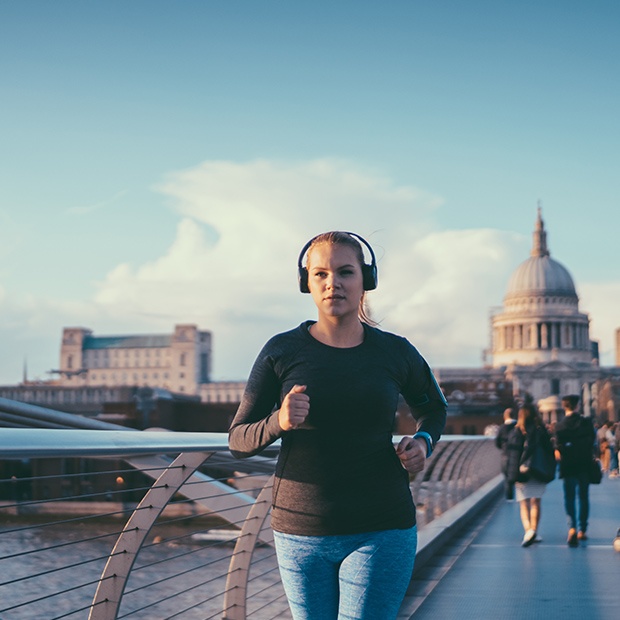 Looking for a personal trainer in London? A friend of FCBT Travel Manager, Tessa Schneider, built an app for that! Download Peach, add your location and get a list of personal trainers in your area, further categorized by the style of training offered. 
Running is always an option, too, and London has some great trails to get you moving, covering parks, bridges, neighbourhoods and the picturesque banks of the Thames. 
8. Extending your London stay 
For any first time visitor to London, you MUST extend your stay, if even for a couple of nights. Generally, there is no extra charge for booking a flight staying a few additional days, leaving only your accommodations and living expenses as an added cost. And London is very much worth the added cost. To price compare your London business trip with an extended one, reach out to our FCBT Travel Managers.
9. Things to do in London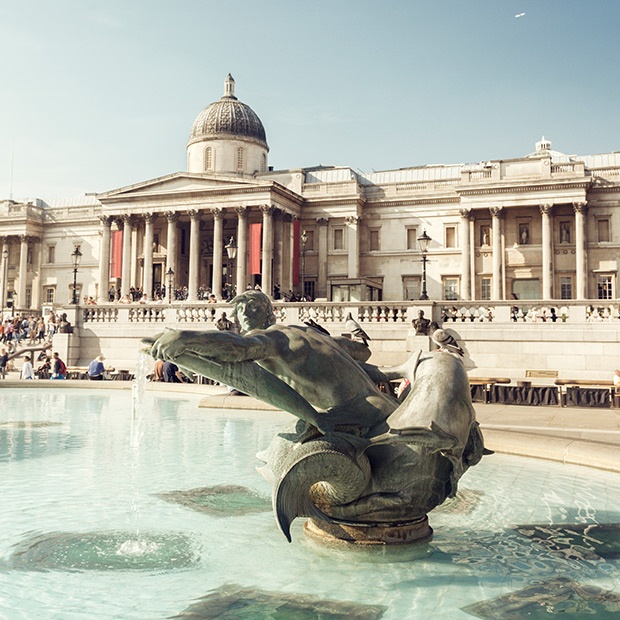 You can quite literally spend forever in London and never be stuck for a new thing to do. Get your bearings by booking a tour of the city. Urban Adventures offers many locally-guided walking tours to familiarize yourself with the city. In London, many museums and galleries are free. The shopping and markets are top-notch. Theatre, live music, dance clubs, and more, all at your fingertips. For a complete list of current goings-on, check out Time Out.
For sports fans, you can't get any more British than by catching a lively football match. London is home to more than a dozen professional football clubs, including Chelsea, Arsenal and West Ham United. Why not get in on the action?
10. Explore nearby attractions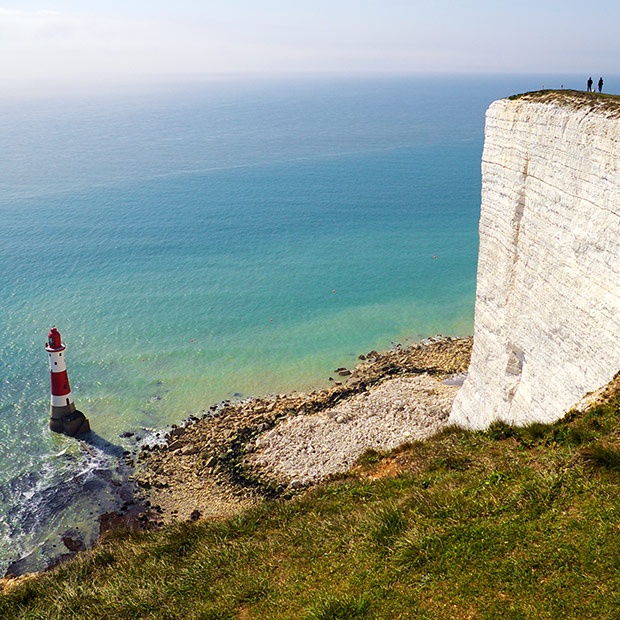 From Brighton and Manchester to the Lake District and Stonehenge, London is surrounded by some amazing cities and attractions. Why not book off some hard-earned vacation time and make a real trip of it? Get out to explore the United Kingdom with a rental car, by train or by tour. Remember, an FCBT Travel Manager can help you with all of that. Cheers!   
*As of November 25, 2019, Uber is not allowed to operate in the city of London after failing to obtain a license or extension.