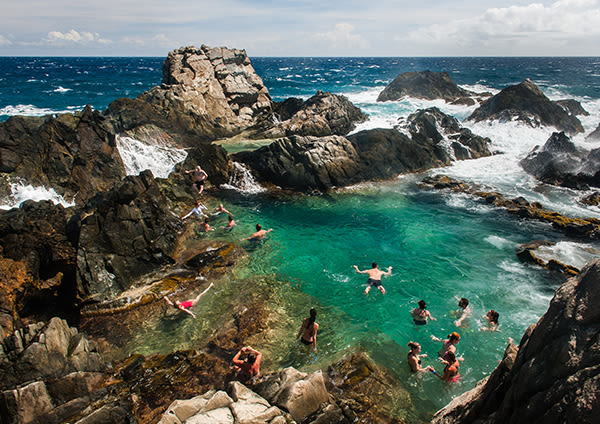 Apart from being in the catchy chorus for the Beach Boys' anthem 'Kokomo', Aruba is the definition of a Caribbean island paradise. With its stunning Natural Pool, white sandy beaches and picturesque rock formations, Aruba has all the ingredients for a dreamy sun-soaked getaway. Spend your days basking in the rays on Palm Beach or Eagle Beach, two of the most popular beaches on the island, while nature lovers can lace up their hiking boots and head for Arikok National Park. The incredible trails lead you through stunning desert landscapes, past unique rock formations as well as plenty of native flora and fauna. If you're looking for a truly budget-is-no-object getaway, you've come to the right place – Aruba has plenty of all-inclusive beach resorts and luxury accommodation options to choose from. Spend blissful days swanning between the pool bar and the world-class dining options, sipping cocktails and surrendering to the relaxed, care-free Caribbean lifestyle. What are you waiting for? Speak to our team of Travel Experts today to start planning your dream Aruba holiday today.
Deals with your name on them...
Explore vacations by interest
Frequently asked questions
What is Aruba best known for?
Apart from being the intro for the Beach Boys' anthem 'Kokomo', Aruba is an island nation located in the Caribbean. World famous for its beaches and laid back island life, Aruba is a top vacation destination for travellers who seek an easy and relaxing vacation.
---
Do I need a car in Aruba?
You don't need a car to get around Aruba, though if you want to get around the island and go at your own pace it might be a great option for you. If you're planning on staying fairly central, you'll find it easy (and probably cheaper!) to use taxis.
---
When is the best time to visit Aruba?
Aruba is a great year-round vacation destination, but it really turns it on for visitors from December through to April. The weather is warm and dry, people are in fine spirits celebrating the new year, and there's lots to do, owing to it being high season. From June to November it is the wet season, but showers don't usually last long in the tropics.
---
What is there to do in Aruba?
Swimming, sunbathing, snorkelling, diving, kite surfing, windsurfing, golf… the list goes on. There really is something for everyone in Aruba. We have no doubt you will quickly fill your days with loads of fun.
---
What part of Aruba has the best beaches?
The north-western side of the island draws the most visitors, in particular Palm Beach. If you're seeking a more relaxed vibe, the beaches on the eastern coast of the island are sure to delight. You can't go to Aruba and not visit Flamingo Beach, where you may see flamingos strolling along the sand.
---
What to take on vacation to Aruba?
Bring anything that will make your beach vacation more relaxing. Swimwear, sunglasses and sunscreen are essential, along with a hat, sandals and some loose clothes to wear if you're stepping off the beach and into a restaurant for lunch or a refreshment.
---
Where to go on vacation in Aruba?
Palm Beach is a firm favourite among travellers to Aruba. It is a great all-rounder, with luxury resorts, calm waters for kids, lots of cafes and restaurants, and a bustling night scene. Eagle Beach nearby is also a favourite, particularly if you're keen to hit the (golf) green on your vacation. If you're seeking watersports, Arashi Beach is great for snorkelling and diving, while windsurfers should proceed to Hadicurari Beach. Where to go on vacation in Aruba all depends on what you want to experience during your time here. Chat to us today and we'll help narrow your choices.
---
How do I go about cancelling my Aruba vacation package?
---
...loading
Popular vacation destinations