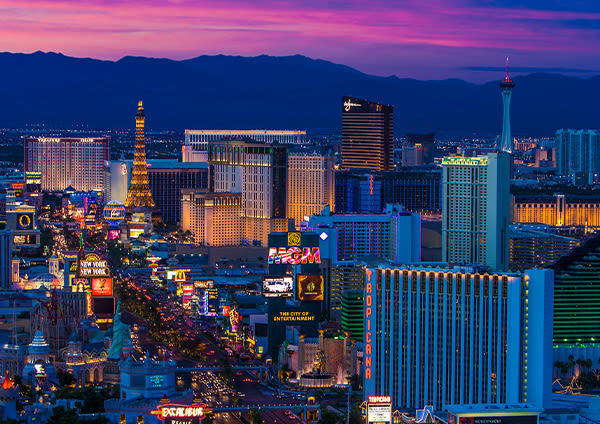 Get ready to experience the ultimate holiday destination of all time – Las Vegas, baby! Whether it's a wild The Hangover-style adventure or you're just here for the food, Sin City delivers in spades. Known for its flashy neon lights, extravagant shows and events, thrilling attractions and larger-than-life casinos including the world-famous Bellagio Hotel Las Vegas, the pyramid-shaped Luxor Hotel & Casino and MGM Grand, to name a few, Las Vegas truly is unlike anywhere else on Earth. Feeling lucky? Hit the tables for a game, ride the High Roller ferris wheel, sip and snack your way along the Vegas Strip, head to 'Old Vegas' to learn about the Mob's greatest hits (and no, we're not talking about music), dance until the wee hours, watch the fountain, take a limo out to snap a pic at the Vegas sign – it's impossible to be bored in Vegas! Then, when you need a break from gambling, take the 13-mile scenic drive to Red Rock Canyon or go all out and head to the Grand Canyon to marvel at one of Mother Nature's most awe-inspiring creations. Las Vegas holidays are a truly unforgettable experience and despite the tired cliche – what happens in Vegas – your memories will last a lifetime, unless the cocktails tasted a little too good. What are you waiting for? Talk to our team about our Las Vegas holiday packages today and get ready to go all in, no bluffing.
Deals with your name on them...
Explore vacations by interest
Explore Las Vegas
Where to stay in Las Vegas
Where to stay in Las Vegas
Deciding where to stay in Las Vegas is, in some ways, unimportant. No matter where you base yourself, there's always something happening in every nook, cranny, and nearby casino. There's entertainment and excitement galore within walking distance from just about anywhere. With Vegas public transportation running the length of The Strip and into the downtown area, you're never far away from wherever you want to be. The surrounding streets and suburbs all offer excellent accommodation options, along with plenty more to see. Outside of the bustling Las Vegas Boulevard you'll discover that the city has much more to offer than flash and glamour too. Experience the Vegas that locals call home.
Read travel guide
The Strip
Las Vegas Boulevard beckons you in with its outrageous neon charm. The Strip is lined on both sides with everything that's quintessentially Vegas. Casinos, hotels, restaurants, shopping malls, theatres, entertainment, and so much more bring the desert city to life. This is the Vegas that is known around the world.
East and West of The Strip
If you're after convenience and lower prices, a hotel just to the east or west of The Strip is your best bet. To the east is the University of Nevada Las Vegas (UNLV), large golf courses, and shopping malls. The western side is home to what locals call "the real Las Vegas" with regular supermarkets, bakeries, and town living. Here you can take a break from the casino lifestyle.
Fremont Street and Downtown
Downtown and Fremont Street are north of The Strip in Vegas' central business district. This area is home to the vintage casinos and hotels of Vegas' golden era. Downtown is also home to the city's burgeoning arts district. Galleries and museums dot the popular area, introducing you to a more refined part of the city.
Frequently asked questions
How many days do you need in Vegas?
It depends, do you enjoy sleep? Las Vegas – aka Sin City – has a way of blurring days into nights and nights into days. Many hit Vegas for a wild weekend, while some prefer to spend three or four days exploring the strip. The restaurants alone are reason enough to linger a little longer.
---
What to take on holiday to Las Vegas?
Vegas is all about the glitz and glamour, so dress to impress. After all, if you can't wear sequins and heels at 9am in Vegas, where can you? 
---
Where to go on holiday in Las Vegas?
The Main Strip of Las Vegas is where you want to be. Most of the things you want to see will be within walking distance.
---
How do I go about cancelling my Nevada holiday package?
---
What should I do on my first night in Vegas?
Whoa, easy tiger. Don't go too hard on your first night, unless of course you want to waste the next day sleeping. Ease into your Vegas vacay by enjoying a nice meal, snapping a pic at the famous 'Welcome to Fabulous Las Vegas' sign, watch the Bellagio Fountains or ride the High Roller Las Vegas Ferris Wheel. Or, you could do none of those things, because Vegas, baby!
---
When is the best time to visit Las Vegas?
Vegas is a year-round party destination. If you're dreaming of rooftop pool parties and day clubs, summer sizzles in more ways than one. Spring and fall are generally the most popular times to visit as the temperature is a little more bearable. Naturally, holidays are big in Vegas, with Memorial Day, July 4th, Labor Day weekend, Christmas and New Years drawing big crowds.
---
What is there to do in Las Vegas?
Practise your poker face for a game or ten, hit the slot machines, wander from casino to casino getting wonderfully lost, take a culinary tour of the high-end steakhouses, catch a show, take a chopper out to the desert to see the sites, head to 'Old Vegas' to learn about the Mob's greatest hits (and no, we're not talking about music), dance until the wee hours, ride the Ferris Wheel, watch the dancing fountain at the Bellagio, take a limo out to the Vegas sign – Vegas is anything you want it to be and so much more!
---
How to find the best holiday package to Nevada?
Sign up to get the hottest deals sent straight to your phone & emails here. You can also check out our deals online, or speak to one of our Travel Experts.
---
...loading
Popular vacation destinations